Our last day on Rishiri Island. We would be departing by ferry around 2 pm, and then taking a long bus journey going all the way back to Sapporo late tonight.
The small patch of sunshine we had yesterday gave way to a grey sky in the morning, and the weather forecast also didn't look promising.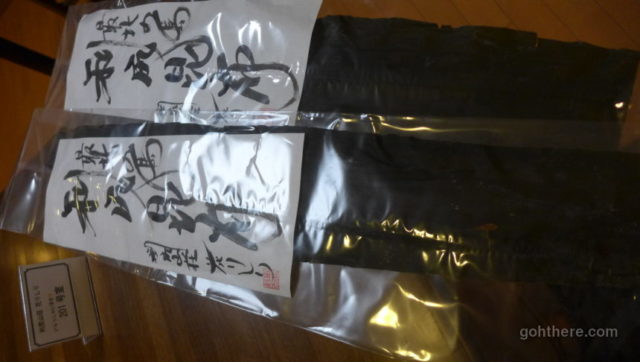 The hostess gave us two huge pieces of Rishiri konbu (seaweed) (利尻昆布) as souvenir.  Rishiri konbu is highly regarded as having great flavour; and it's said that Rebun sea urchin's high quality is thanks to having these as their main food source.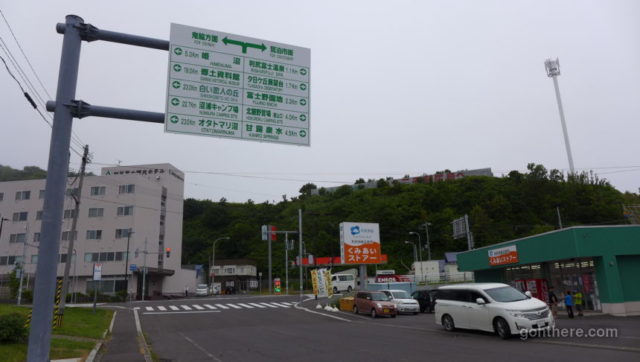 During dinner last night, the hostess had kindly agreed to let us borrow the bicycles again today, as we intended to finish yesterday's ride – attempting that uphill section to Hime Pond. We would leave our luggages behind after checking out, and then collect them at the ferry terminal. That was our plan anyway.
As we were ready to go, that unfriendly staff came to the front desk, and told us it's not possible to lend us the bicycles after check out. We said the hostess didn't have any problem when we asked yesterday. Believe it or not – he retorted, "that's only what my mom thinks, but I don't agree with that".
So it turned out this guy was the hostess's son – that explains why someone who didn't even greet the guests would still be around, instead of being fired.
To be fair, I understand letting guests carrying on using the accommodation's property after checking out is a favour only. But it is unacceptable to say OK one day and then retract the day after, as this would be disrupting our plans. And even if indeed you decided to change your mind later, then at least be a bit more apologetic. What kind of attitude was it to tell your guests that "you don't agree with your mom"?
The only thing he agreed to do would be to drive us to the ferry terminal, which has a rental cycle shop and coin lockers. So be it, it's not worth wasting our breath to argue.
It's a shame, as the room and food at guesthouse Hanarishiri (花りしり) were of pretty good quality, and the hostess was very welcoming.
Kanro Spring (甘露泉水)
At the ferry terminal, we found the rental cycles were fairly expensive at almost a thousand yen per hour. So instead we had a change of plan, to do a hike to Kanro Spring, which is 4 km away.
Kanro Spring is just past the trail head for climbing Mount Rishiri (利尻山). The spring is accessible by road except the last 500 metres, so much of our hike would just be on paved road, but at least we could walk on part of the trail!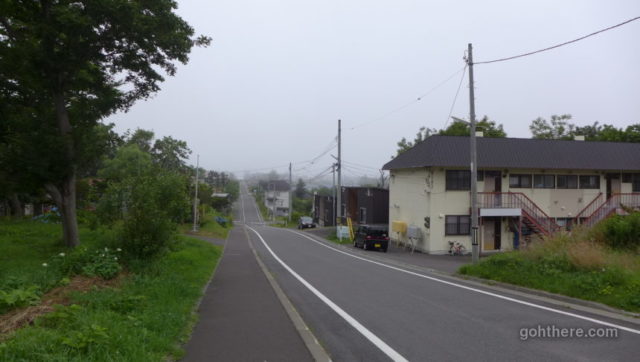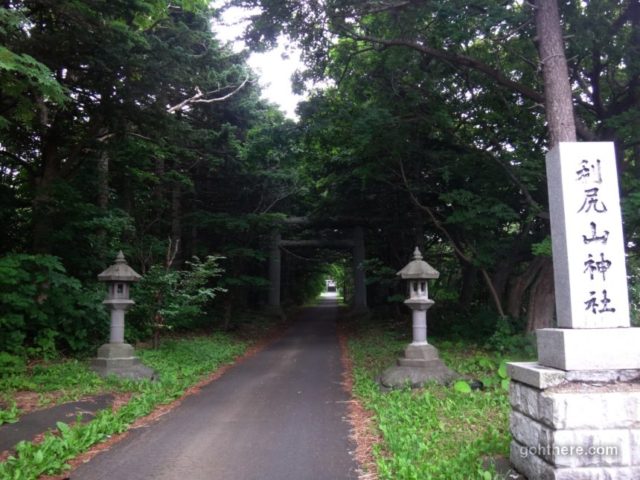 Rishirizan Shrine (利尻山神社)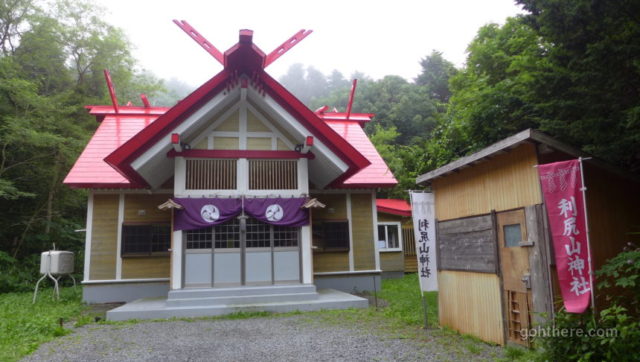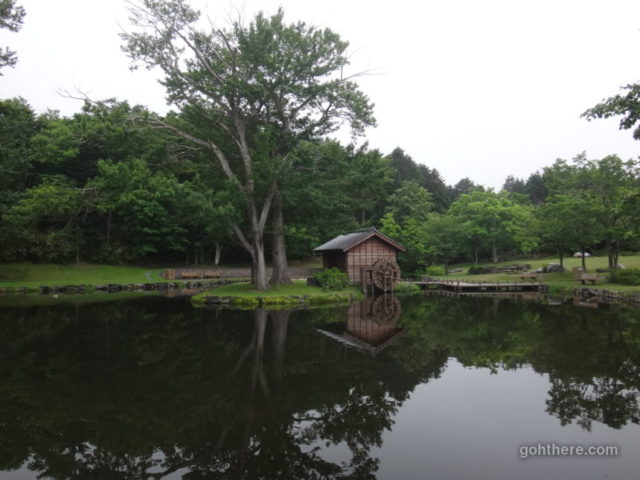 Going past the landscape garden we saw on our first day.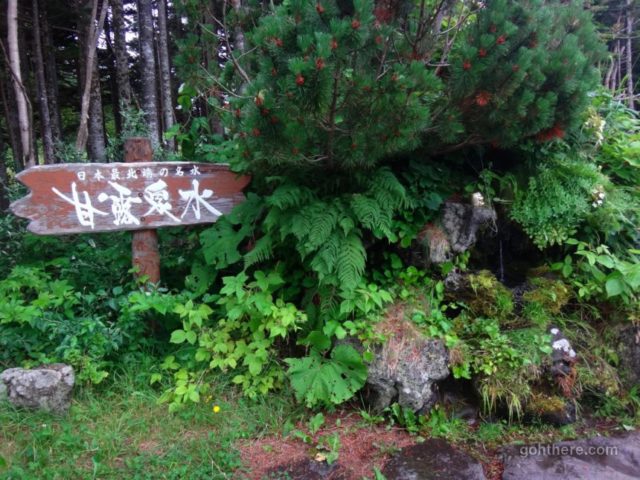 Just past the Rishirifuji Hot Spring spa (利尻富士温泉), there's already a Kanro Spring! But don't be fooled, the real one is much further up!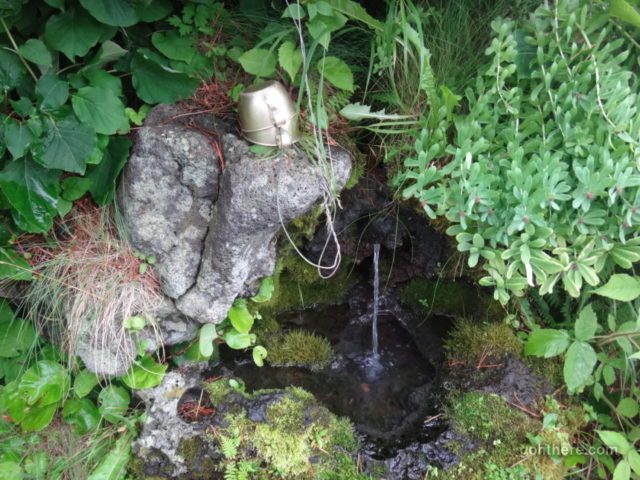 Topped up our water supply here…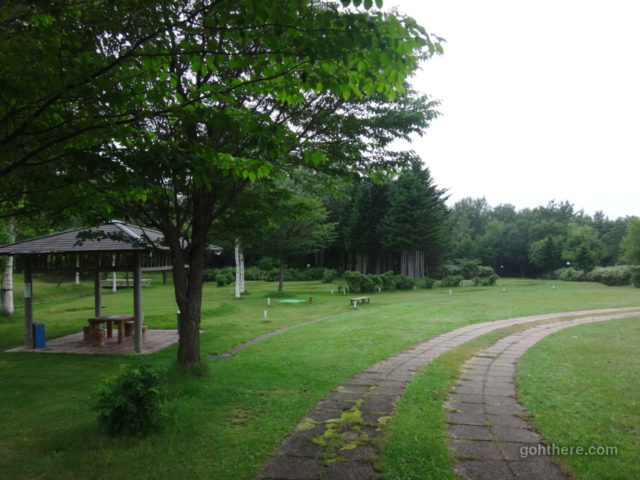 Fujimi-ga-oka Golf Park (富士見ヶ丘パークゴルフ場).
A light rain started and we had to put on the waterproofs.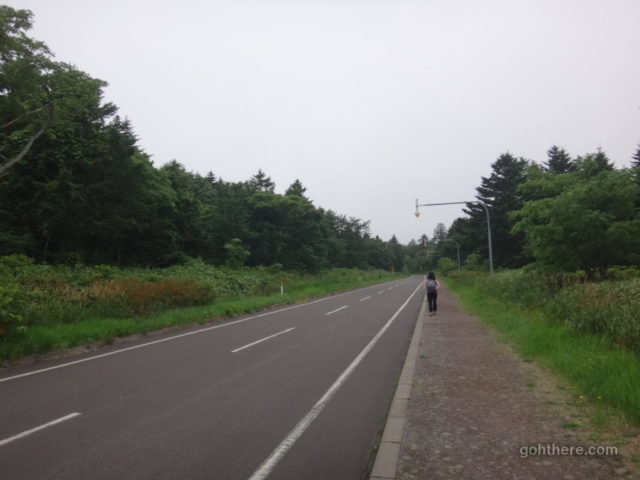 Going uphill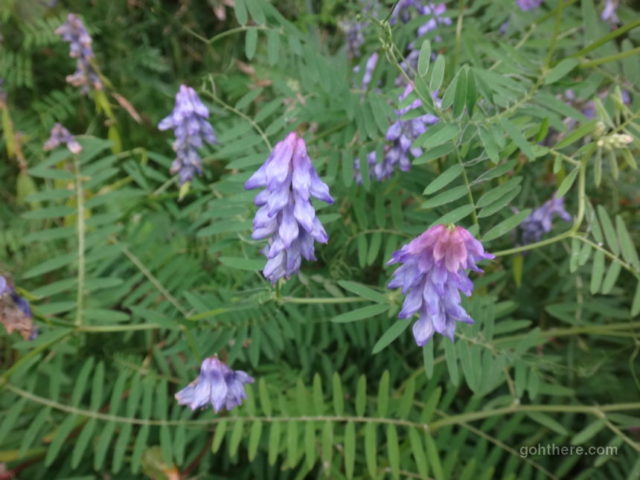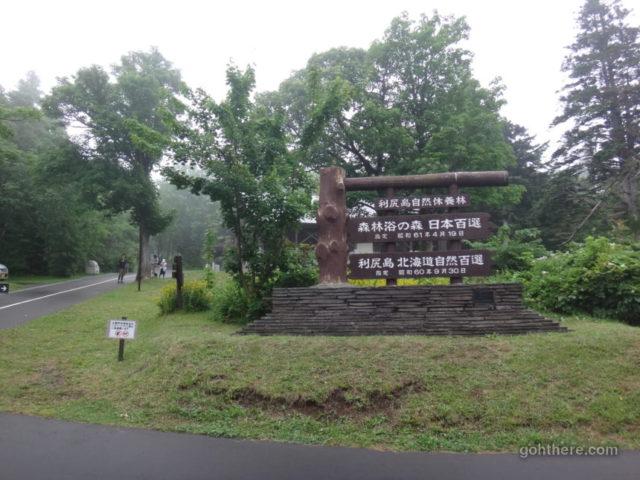 End of the pave road is the Rishiri North Campsite.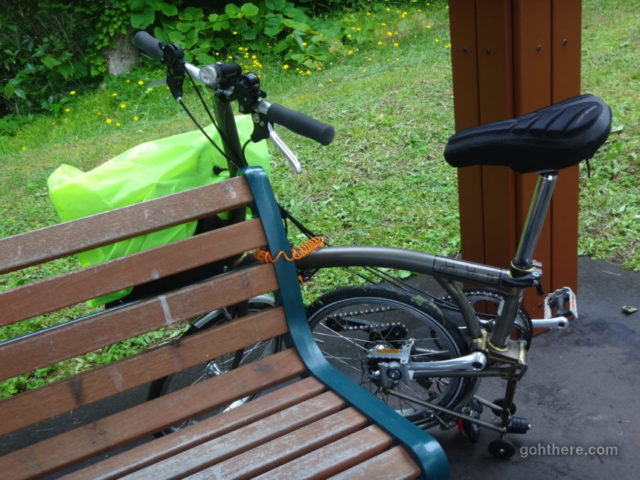 Someone parked their Brompton bicycle here. Hiking up Mount Rishiri perhaps?
It would've been nice if we could bring our Bromptons too.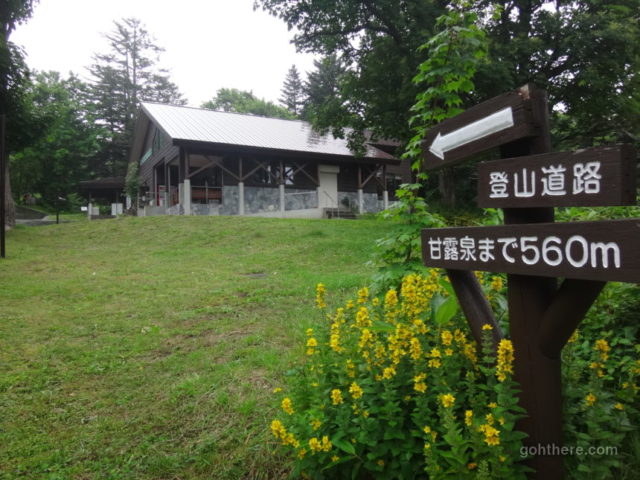 Sign for the Mount Rishiri trail head, and Kanro Spring is just another 560m.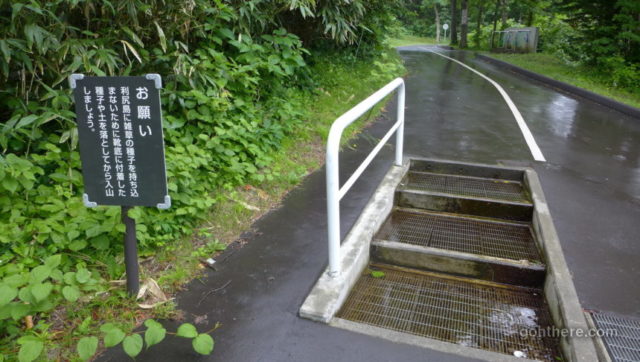 These drains are for cleaning the hiking shoes before going up Mount Rishiri – to avoid bringing in any alien plant seeds.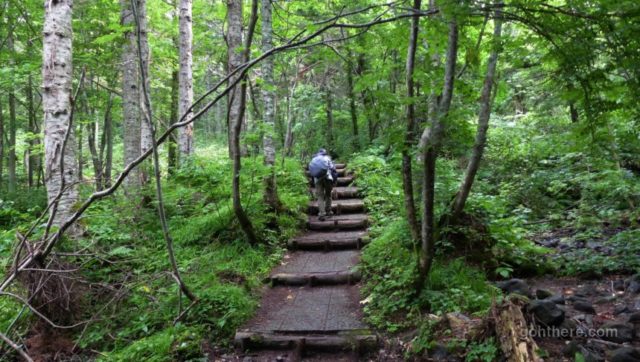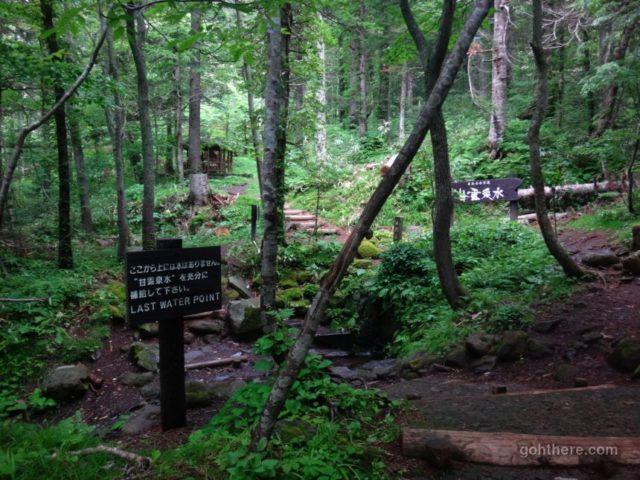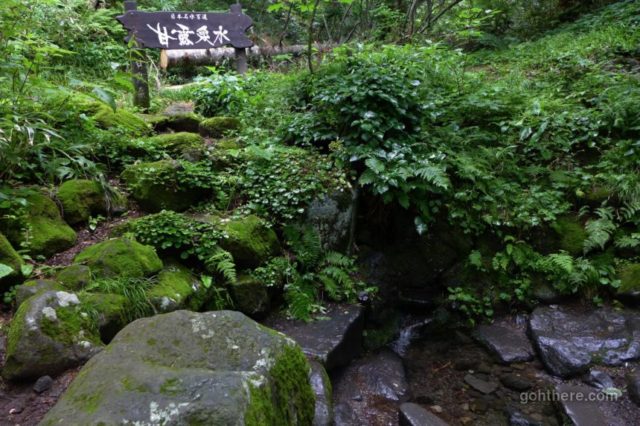 This is the Kanro Spring! (甘露泉水)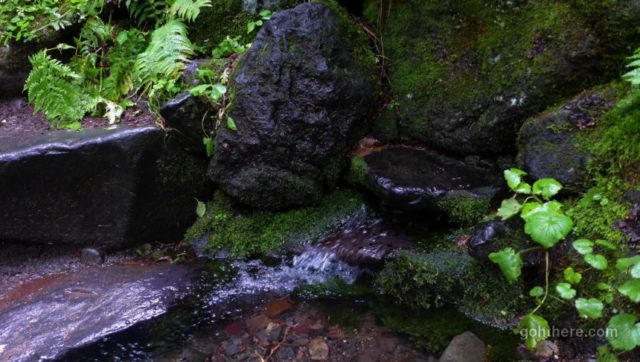 Water gushing out from between the rocks. We filled up a few bottles of the fresh cold water.
This is the last watering point on the Mount Rishiri trail so is important for climbers.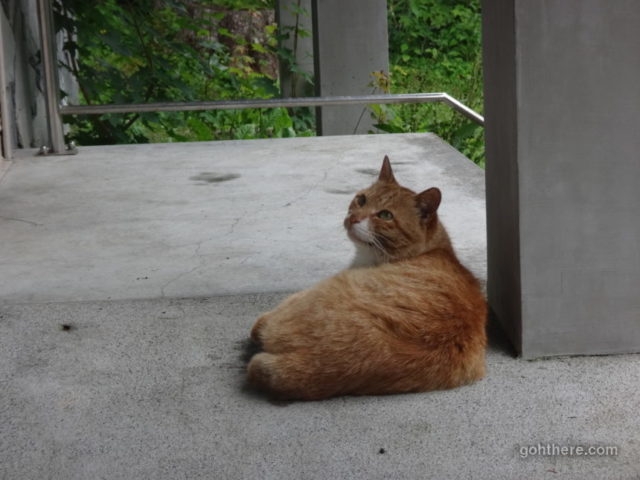 Cat taking cover from the rain near the campsite building.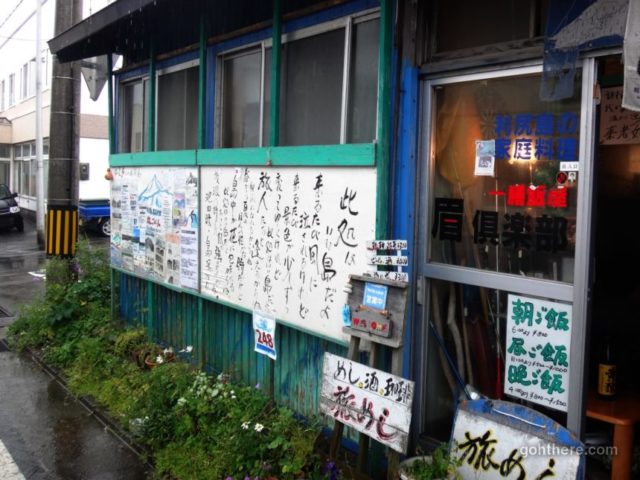 Very hungry after the 8 km walk. We went back to Oshidomari town to try out this interesting eatery "Tabimeshi" (旅めし) that we went past before. Lots of handwriting and comments from visitors outside.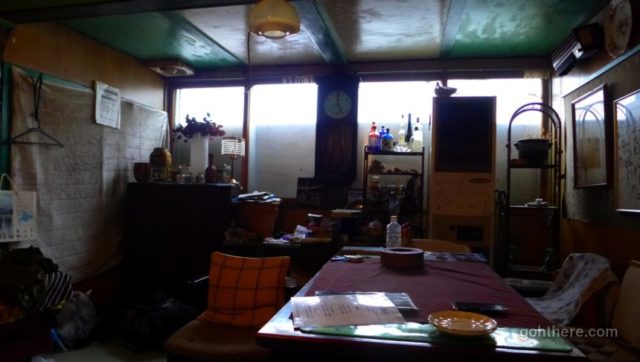 Once inside, it didn't look at all like a restaurant but more like a sitting room – a pretty retro one that is!
It turned out this is also a (very) budget accommodation for travellers. Don't expect a modern toilet here.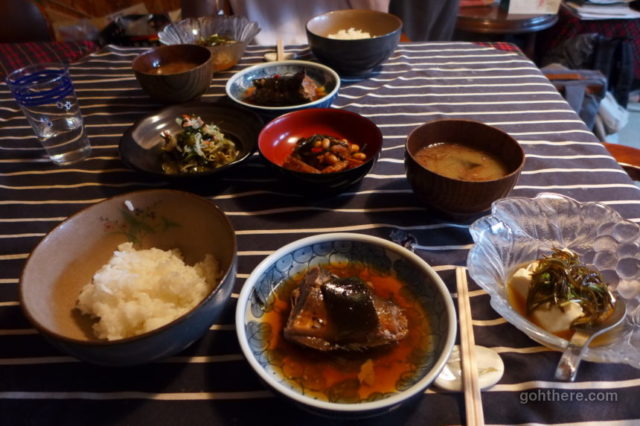 A set meal with fish cooked in soy sauce and kobu; tofu and other stuff.
The owner is a lively old man and he proudly showed us a thick guestbook with comments by people from around the world. There were already several for today and we put down another.
From the past comments, apparently were many (mainly Japanese of course) were doing a round trip of Japan.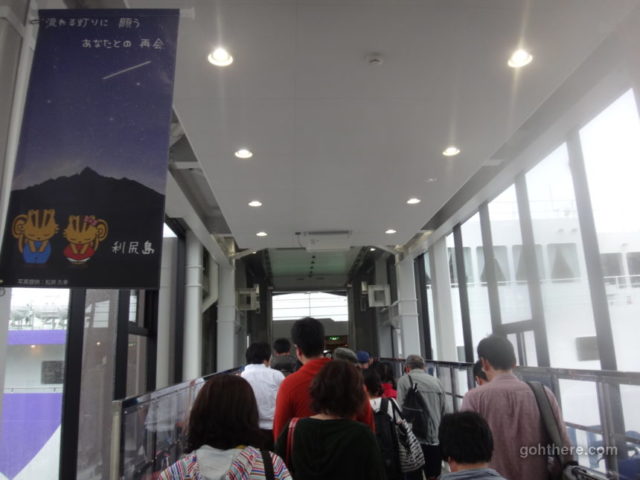 After lunch, it was time for the departing ferry.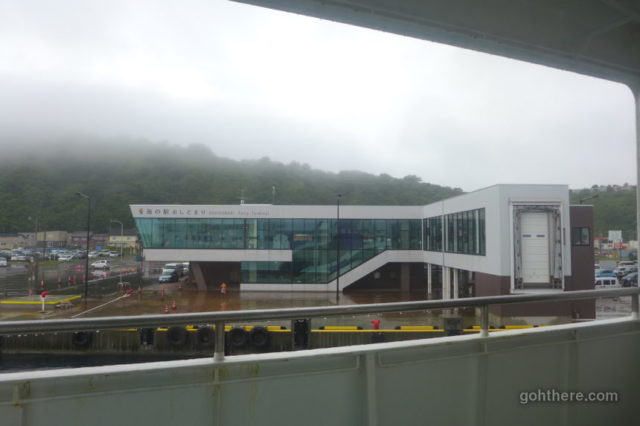 Oshidomari ferry terminal.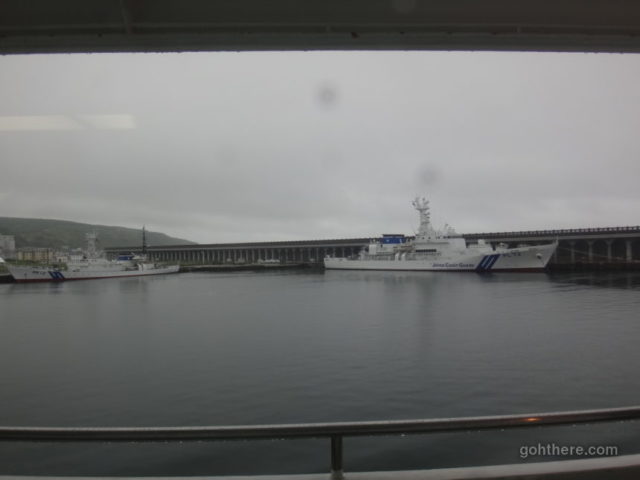 Back to Wakkanai (稚内) after 4 days.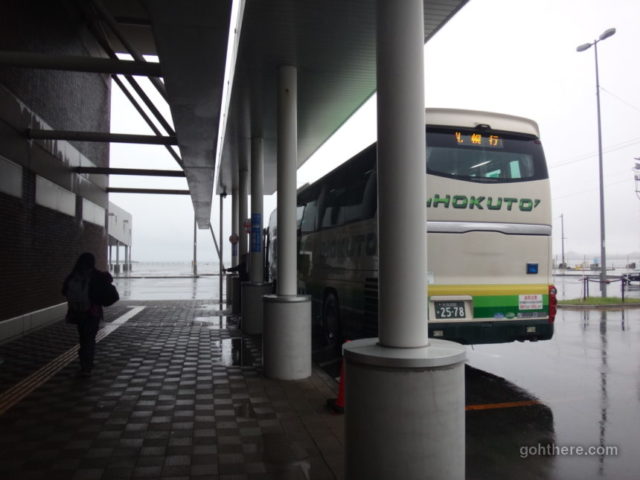 Rain was pretty heavy, but fortunately the bus stop was right at the ferry terminal. No need to do a 15 minute walk to the one by the train station.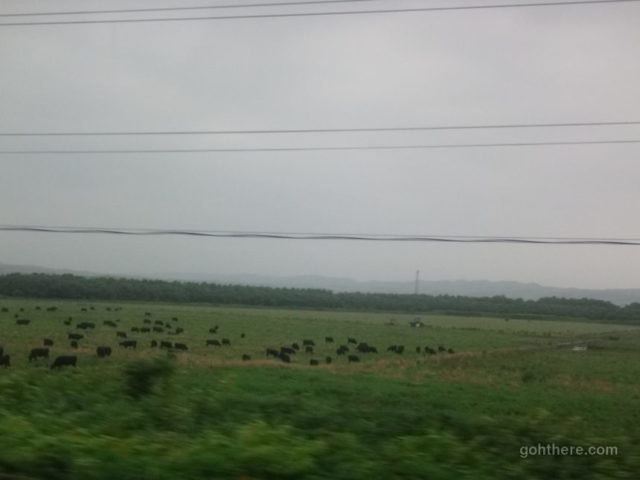 Going past the farms in Soya.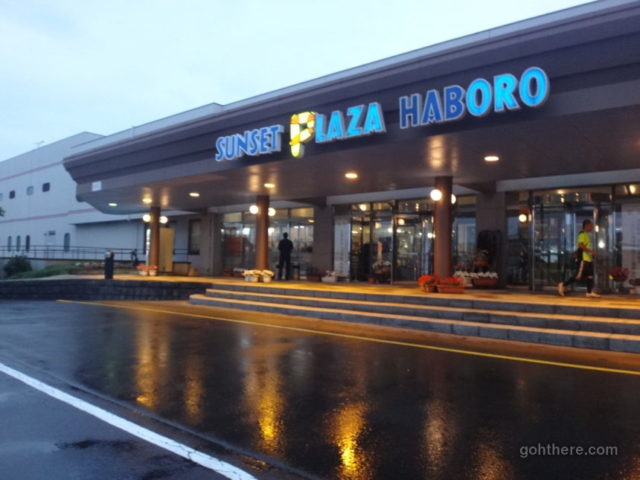 The bus ride to Sapporo would take over 6 hours. There's a break half way at Haboro (羽幌). This is another transport hub for ferry going to the nearby outlying islands Yakishiri (焼尻島) and Tenuri (天売島). Compared to Rebun and Rishiri, these are much less well known as travel destinations, but still interesting places nonetheless. You can find Suffolk sheep roaming on one while the other is the largest habitat for a type of seabird.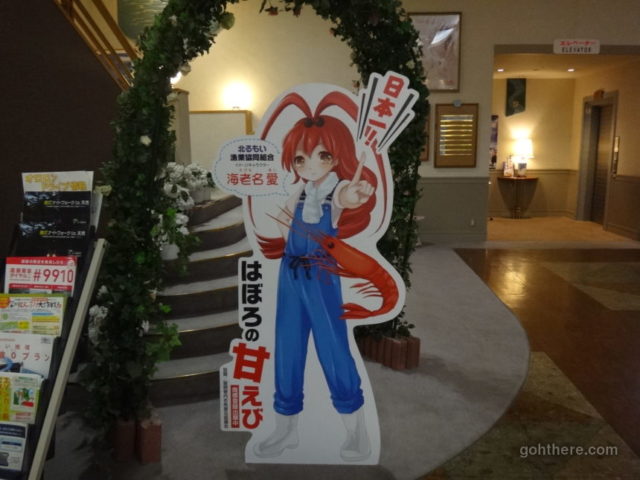 Mandatory cute girl character to promote the place.
Sapporo City (札幌市)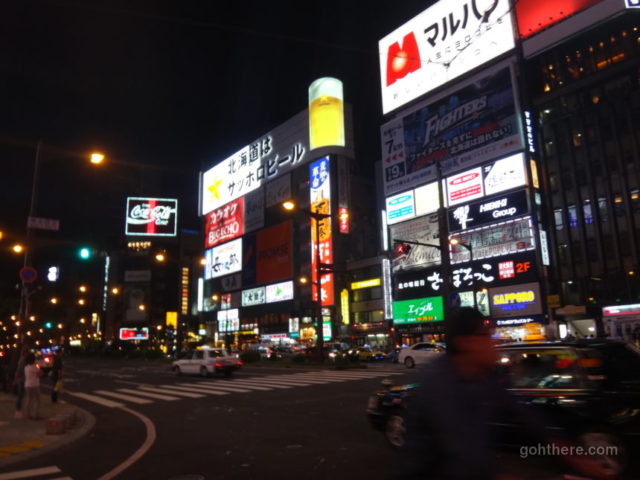 We were finally back to the shiny neon lights of Sapporo City at 11 pm.
After checking in at the hotel, we promptly headed out to the nearby bustling Susukino district (すすきの), for a very late dinner.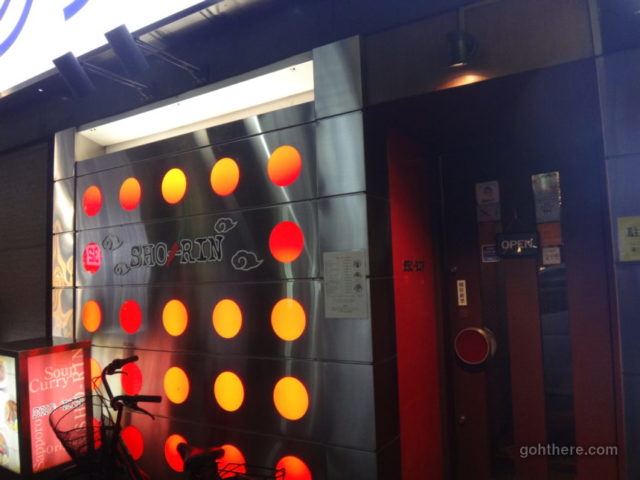 We shortlisted a few places with good reviews that were still opened after midnight. Despite the late hour many places were full; eventually we found this place called "Sho-rin".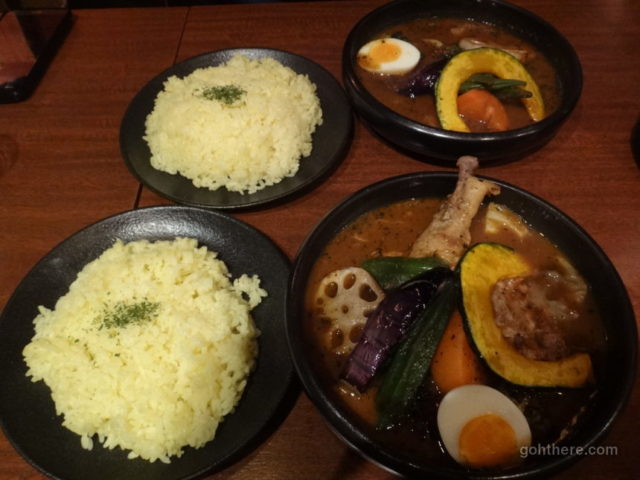 Hearty soup curry to satisfy our hunger…