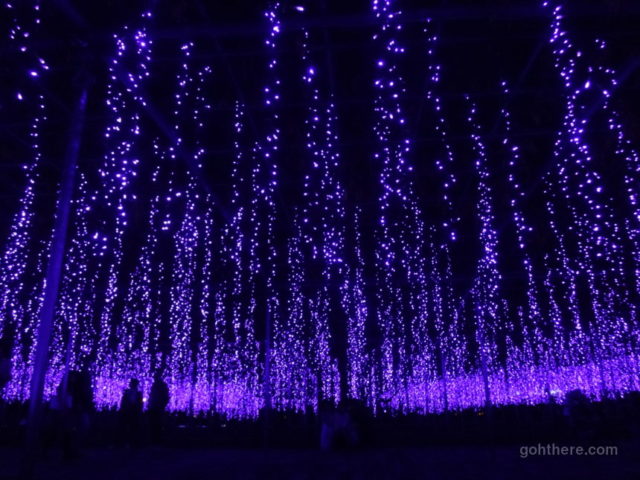 It's late November and autumn colours are arriving in Tokyo and the Kanto area. We set our sight a bit further away from the popular (crowded) viewing spots in Tokyo, and headed out for "Momiji-dani" (もみじ谷), literally "Maple Valley", in Ashikaga town (足利市), which is 2 hours by train from Tokyo. Its official site boasts an impressive "1000 Japanese maple trees". Reality turned out not quite matching our expectation – but fortunately, we came upon a beautiful winter lights event in the same area, making it a worthwhile outing.
Ashikaga is in Tochigi prefecture (栃木県), north-east of Tokyo. Actually we had already been there once before, in spring last year, for the spectacular wisteria displays in Ashikaga Flower Park (足利フラワーパーク). This also happened to be the venue of the lights event we were going to. But first, let's check out the autumn leaves…
Momiji-dani / Maple Valley – Orihime Park (もみじ谷・織姫公園)
There are two train stations in Ashikaga town – the Ashikaga-shi station (足利市駅) on the Tobu Isezaki line (東武伊勢崎線), and Ashikaga station (足利駅) on the JR line. But regardless of which, to get to Maple Valley, which is inside Orihime Park (織姫公園), would require another 30-minute walk, according to the official site.
It was strangely vague on directions for walking, but as we found the location on Google Map, we didn't think too much of it. 2 km shouldn't be a problem.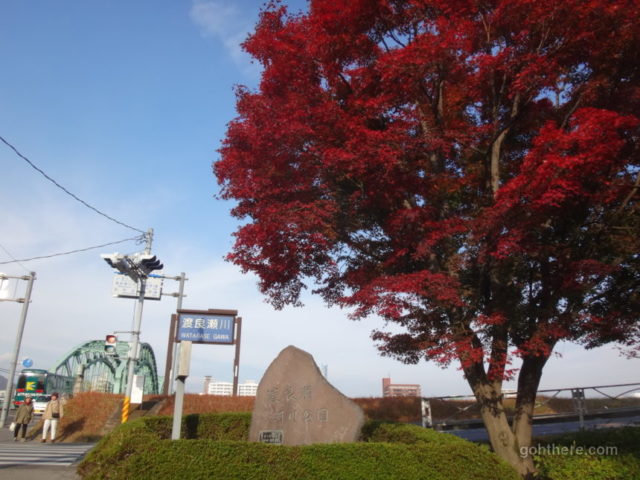 Coming out of the Ashikaga-shi station and greeting by a tree with brilliant colour, looking promising!
From there we had to cross the bridge over Watarase River (渡良瀬川) and continue north.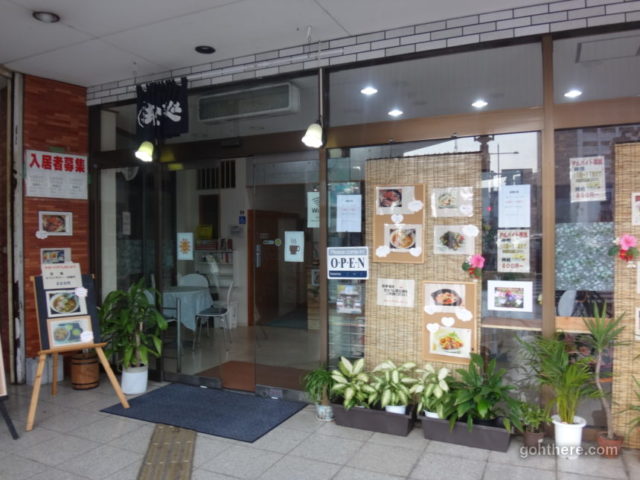 We hadn't had lunch yet, and on the way we saw this somewhat shabby-looking eatery – but on closer inspection on the menu, the prices were amazingly cheap. We gave it a try.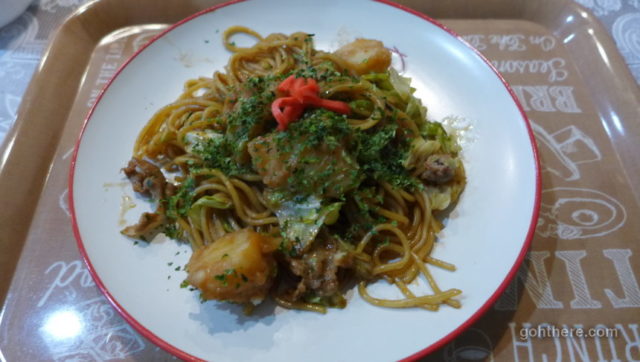 Yaki-soba (fried noodles) with potatoes for 200 yen. The potatoes were marinated!
We also ordered Kara-age (fried chicken), again only 200 yen. Freshly fried.
Overall an extremely cheap, local family style place.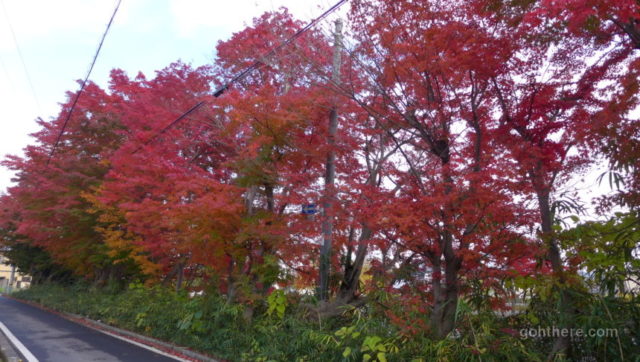 We continued on, following Google Map. We started to see a nice line of trees in red, and from the map we should be close now, maybe another 10 minutes?
But soon after there was a turn leading uphill – and a fairly narrow one that was, without pavement. There was also an annoyingly large amount of traffic on that road.
That's not the main problem though – Google Map's direction was to follow this road uphill for about 5 minutes, and then diverge off to a path which should lead to the Orihime Park. But when we got to that point, we saw that path was simply unwalkable – it looked like had been neglected for ages and was completely overgrown with trees.
Instead, we decided to continue on the road, which according to the map should lead to the park's car park. I bet all those cars were going for Maple Valley, so it should be fine to just follow them.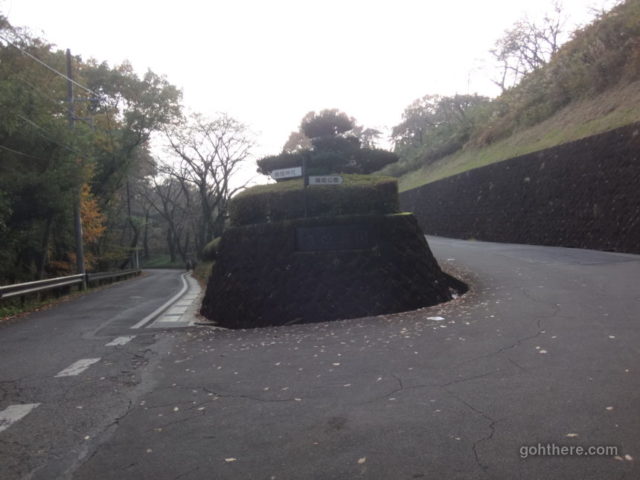 After going uphill for another 15 minutes, we finally saw the sign saying Orihime Park.
No wonder it seemed all the people went there by car – the whole setup was extremely unfriendly to walkers – non-existent directions, no pavement, even Google Map was wrong!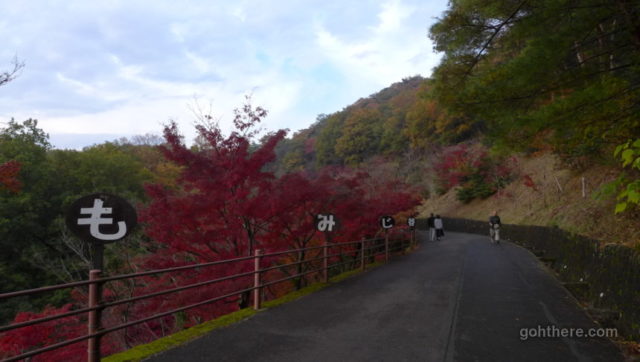 Momiji-dani (もみじ谷)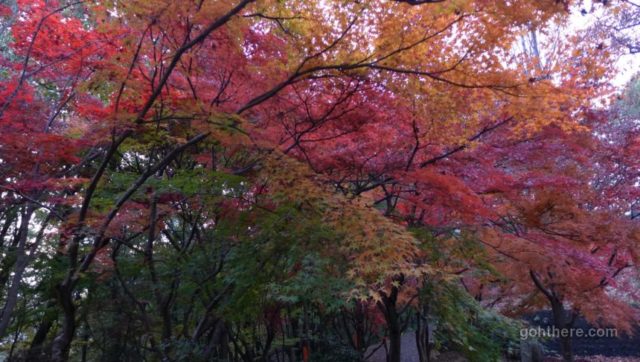 Japanese maples in different shades of colour.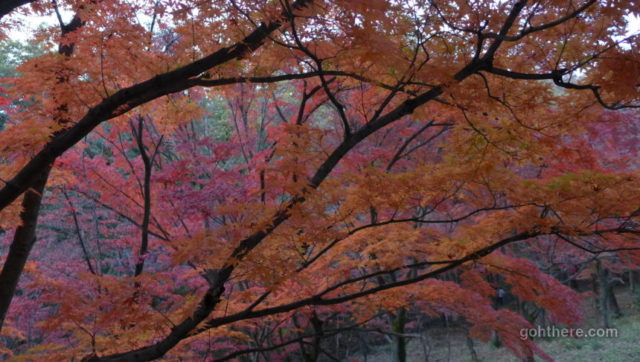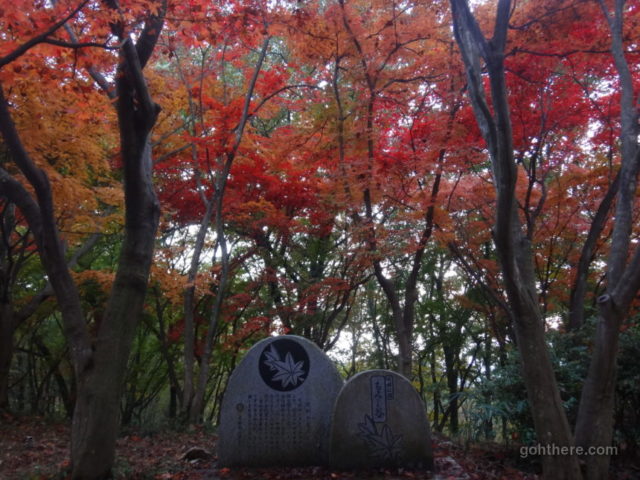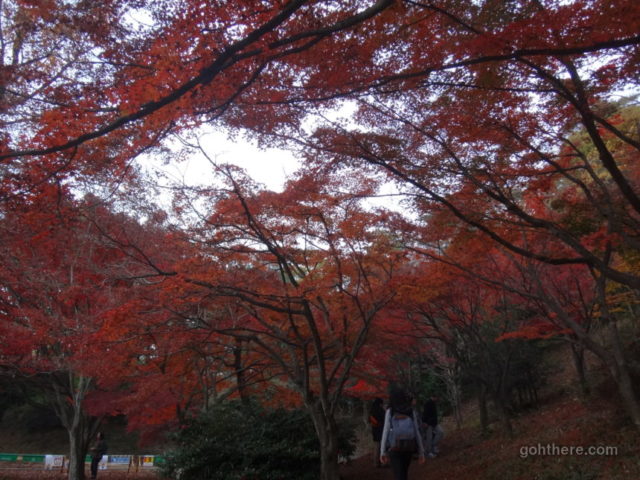 This was probably the best spot; but that was about it – I really didn't get the impression it was near the scale of 1000 trees.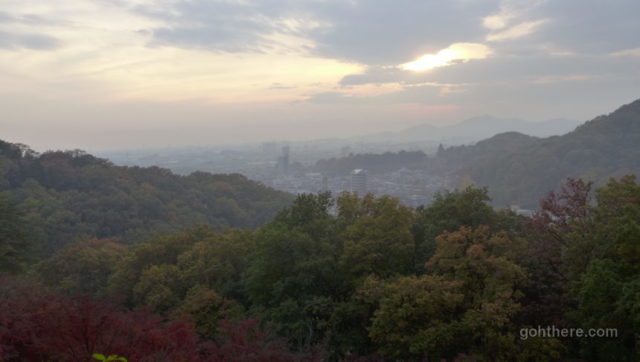 A trail going up further. This is supposedly a famous spot for night scene too.
Ashikaga Flower Park Light Displays "Flower Fantasy" (あしかがフラワーパーク・イルミネーション・光の花の庭)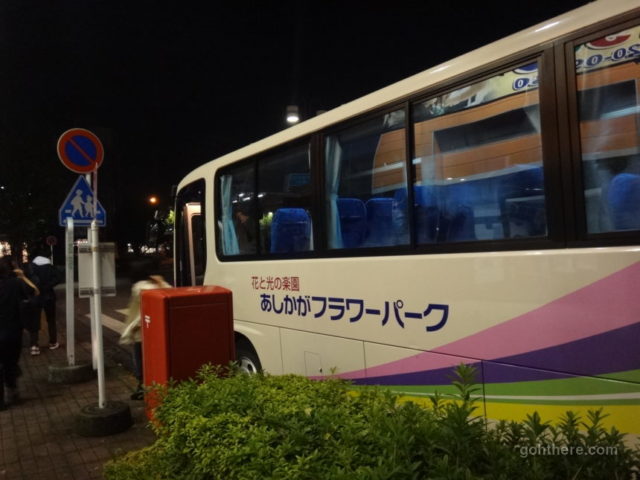 Maple Valley turned out to be a bit of a let down; but the time was just about right after we walked back to Ashikaga-shi station, as we could catch the free hourly shuttle bus for the event at Ashikaga Flower Park (足利フラワーパーク).
The light displays run from late November till February (well, the flower park has to attract business during the winter months too!). It's supposedly one of the "top 3 illumination events in Kanto". Take this kind of claim with a pinch of salt, but given the great experience we've had there before, our hopes were high this time.
The shuttle bus only runs on weekends and takes half an hour; the park is also accessible by train (quicker), plus a 15 minutes walk.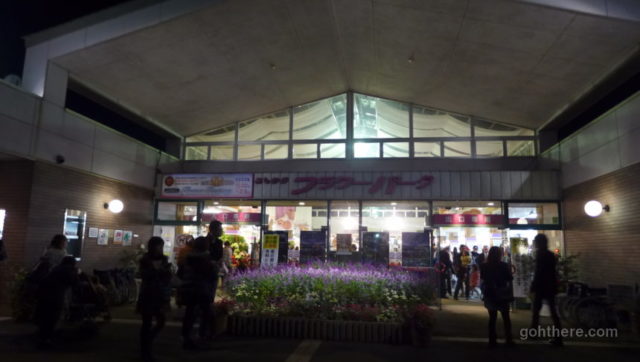 The park entrance, our second time here. Admission was 800 yen per person.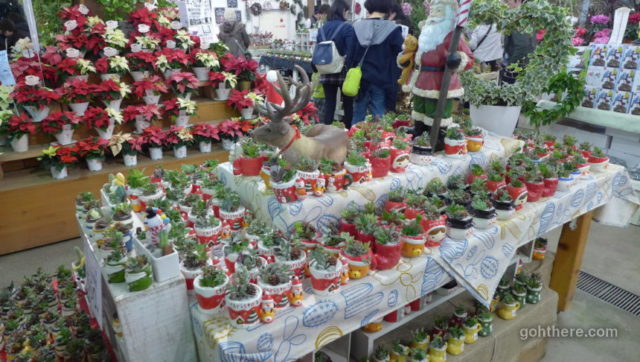 Before the main park area is a garden centre. Lots of Christmas-themed plants and decorations.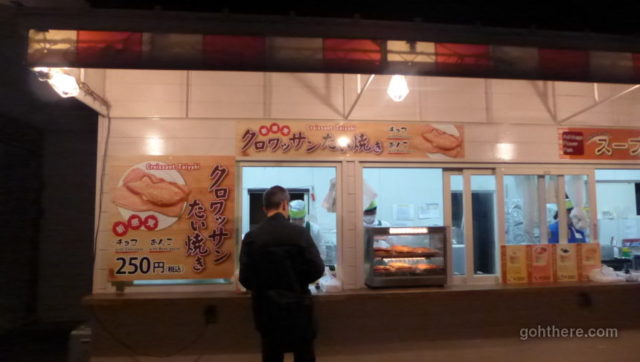 We had to replenish some energy before exploring. No worry, there were plenty available. This croissant with chocolate filling was delicious – albeit unhealthy.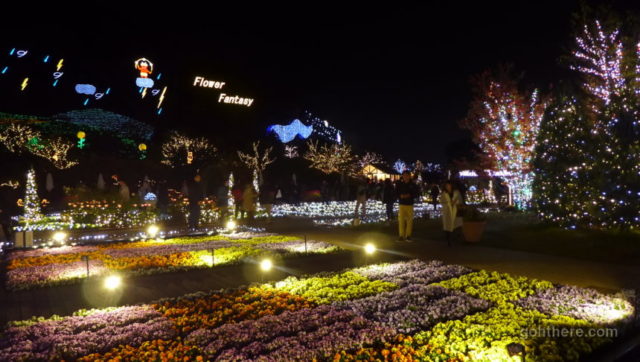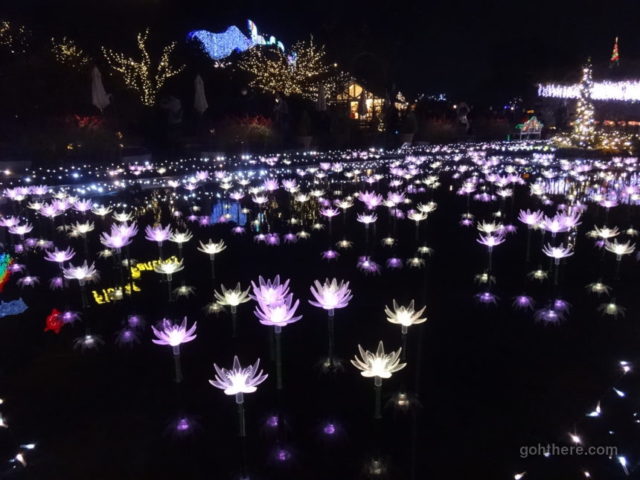 Great use of water to give some nice reflection of the lotus light.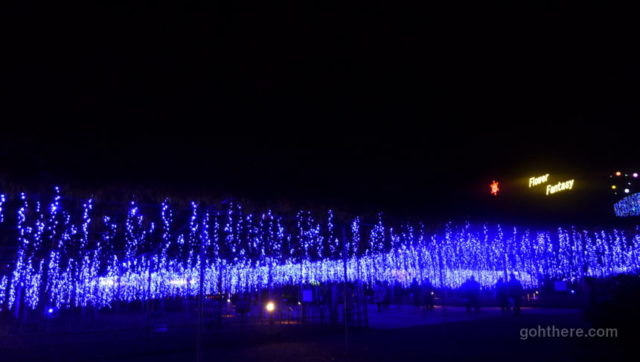 And this was the best part! Millions of tiny purple lights hanging on trellis, like a winter version of the park's famous wisteria displays.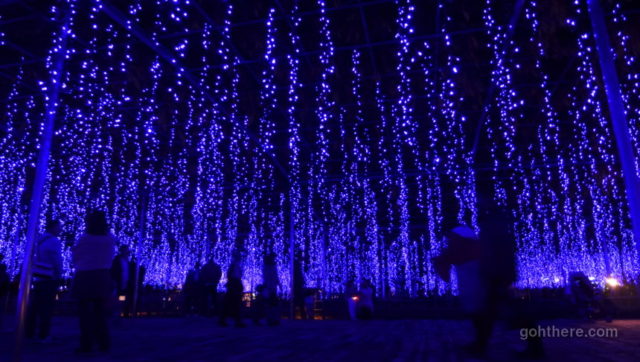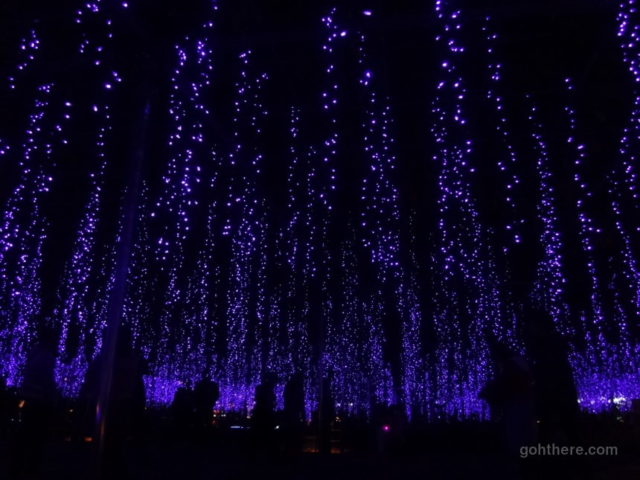 Brightness gradually changing.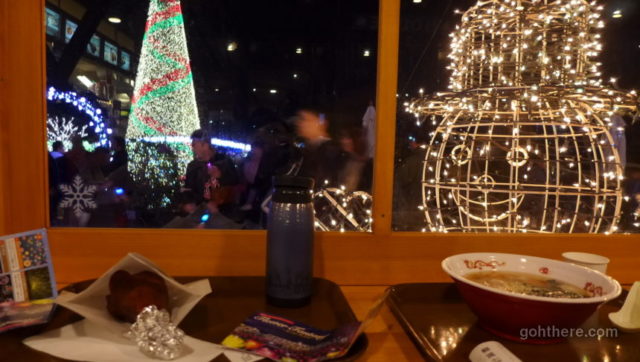 Further in the park there's a canteen. Typical amusement park food – turkey leg and ramen.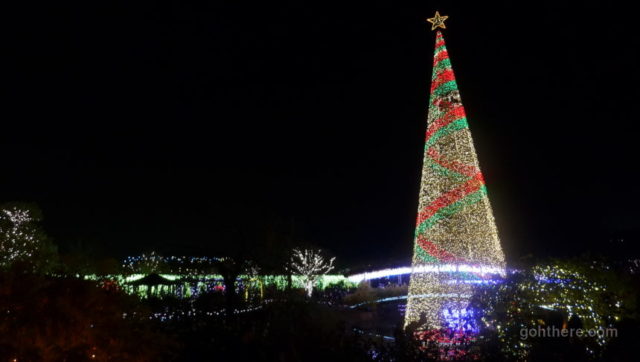 Christmas tree of lights.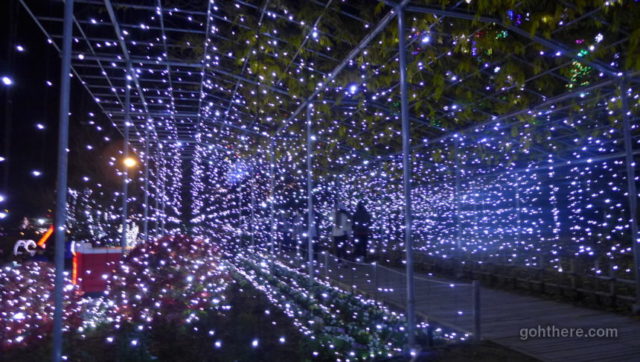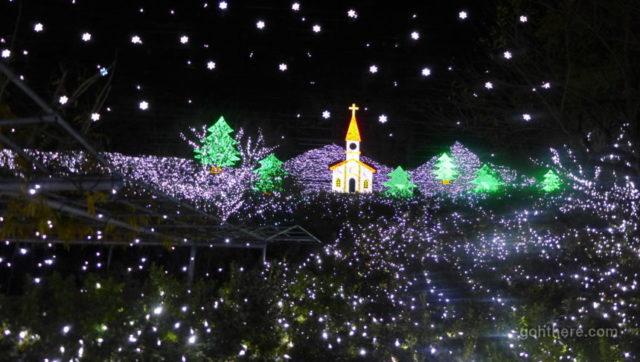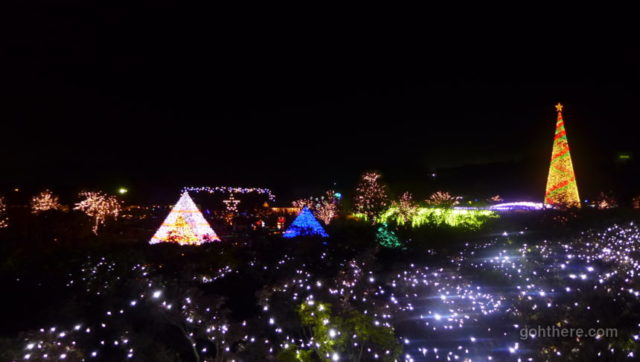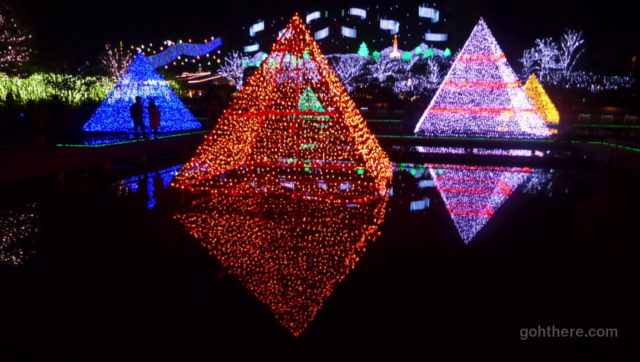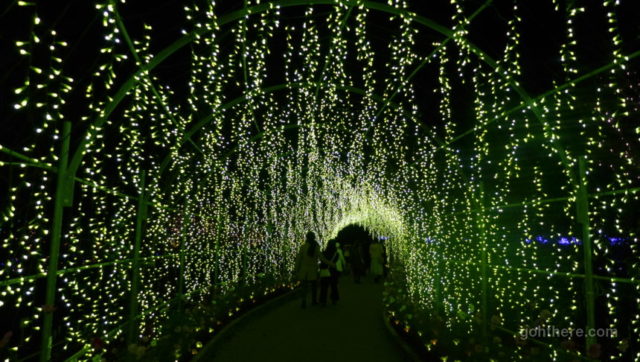 There is no green wisteria flowers, but it's possible to have green lights.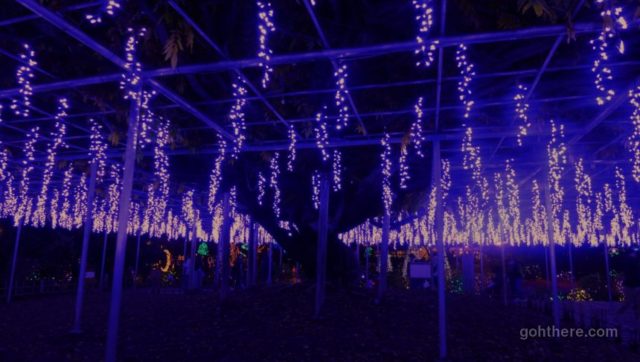 The tree in the middle was the real wisteria tree. In winter we had lights in place of flowers.
The Japanese name of the event is pretty fitting – garden of flowers of lights (光の花の庭).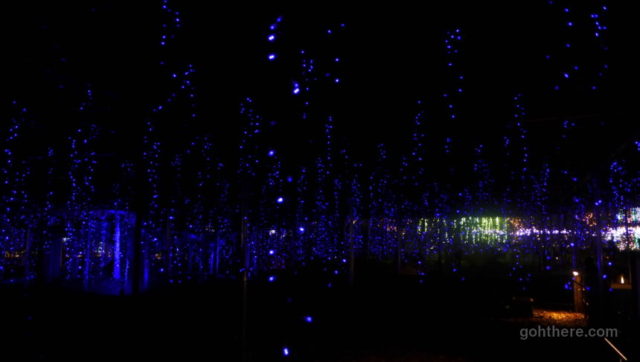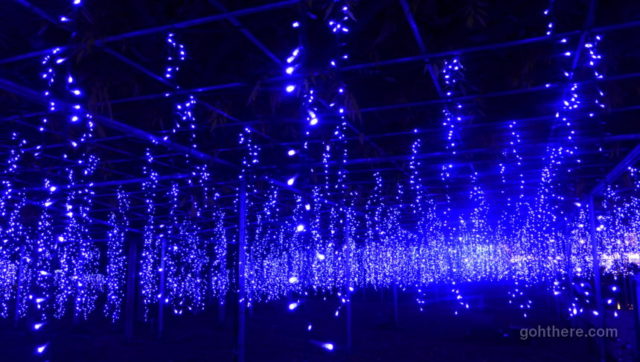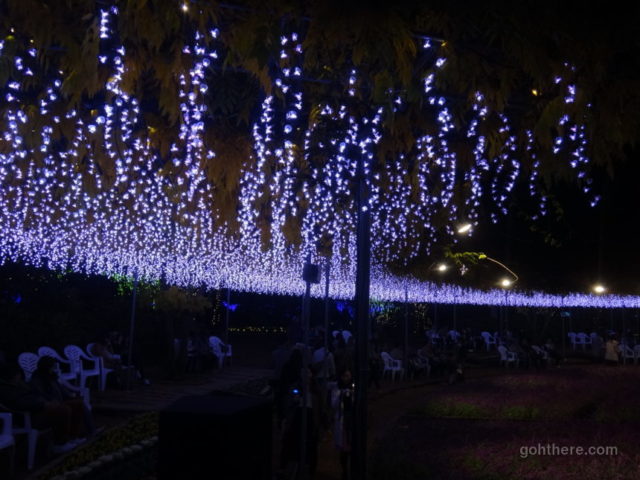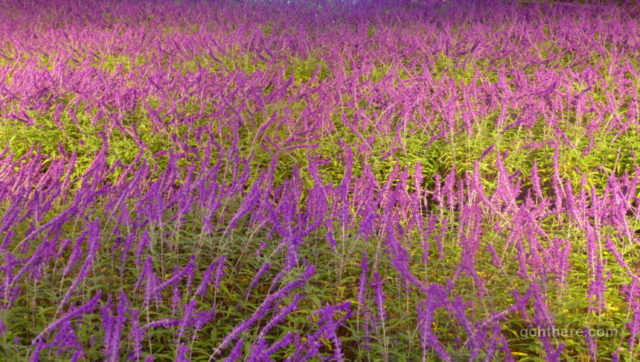 Not many real flowers in this time of the year, but there was a large field of this purple flowers, which smelled like mango.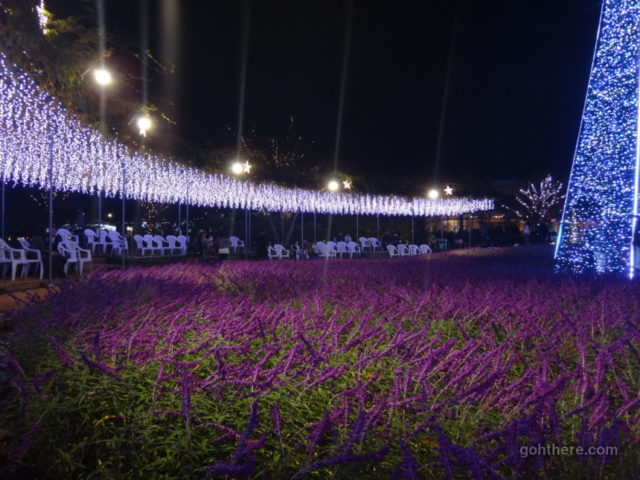 We arrived at the part around 5:30 pm and stayed until 7:30 pm; there were still more to see, eat and do, but we had to catch the return shuttle bus to the train station, as otherwise it would be fairly late by the time we get back home in Tokyo!