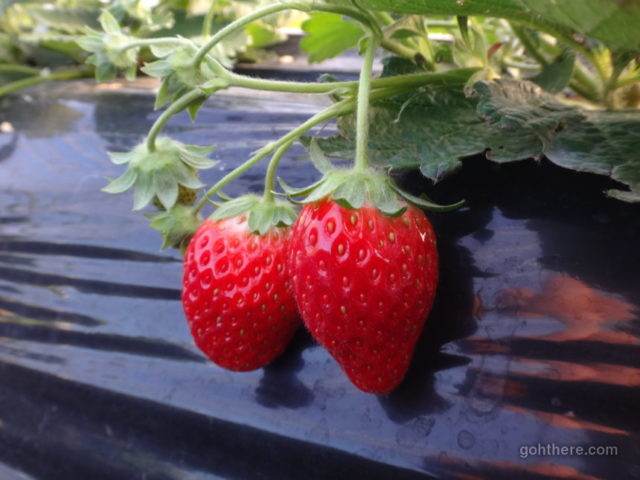 Strawberry picking season in Japan starts from December, and lasts up to early May. We went three times in past two years: in Jan, early Feb, and most recently last April. One interesting thing we noticed was that prices everywhere are always highest early in the season, and then get progressively cheaper. We realised why after the visit in April – the strawberries tasted bland by that time!
Indeed Jan to Feb is the best season, so this year we went early. We like going to the strawberry farms near Kunozan (久能山) in Shizuoka prefecture (静岡県), as there are opportunities nearby for hiking (see previous post) or cycling which makes a great day trip. But getting there by Shinkansen is a bit expensive, so this time we decided to go for somewhere different.
Tochigi prefecture (栃木県) is the top (or at least one of the top) producer of strawberries in Japan, and Mashiko Danchi (益子いちご団地) is the largest strawberry field there, with 110 greenhouses. Since it's so big, there's no need to book in advance, and it's unlikely to get crowded in each greenhouse. There's also no time limit, unlike most other farms where maximum stay is typically 30 minutes. What's more, it's within walking distance from a train station, whereas the others are usually only accessible by car or infrequent buses.
Having said that, it shouldn't be a surprise that such a large strawberry field is somewhat far from the Tokyo metropolis. The nearest station, Kitayama (北山) on the Maoka Railway (真岡鉄道), require 4 changes from our home in central Tokyo, with a total journey time of over 3 hours.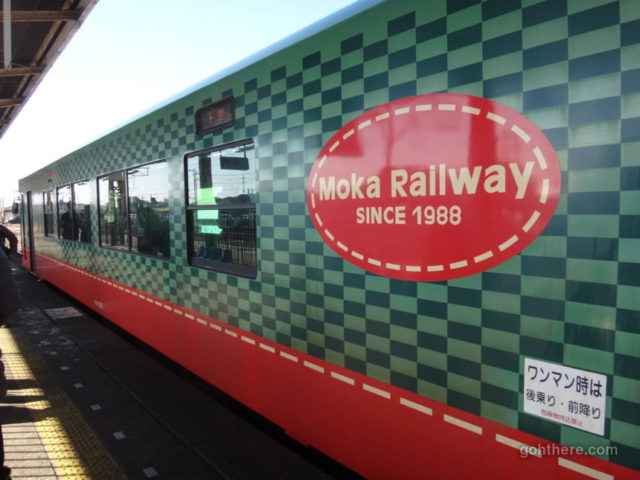 Maoka Railway is the last leg of the journey. It's a single track rural line. There are occasional steam locomotive services as well, mainly tourist oriented and cost a little extra.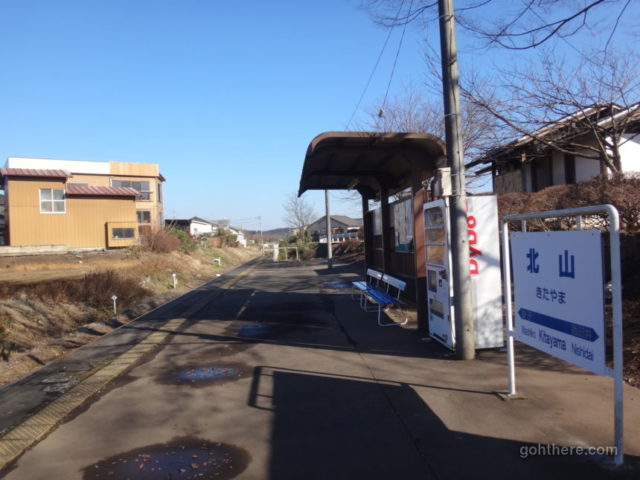 Getting off at Kitayama (北山). Very much a rural station. From there it's just a 10 minute or so walk along the main road to the Mashiko Strawberry Field.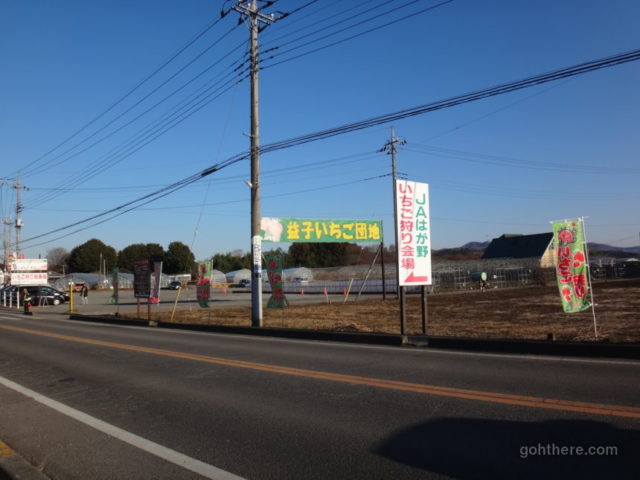 A large signage for Mashiko Strawberry Field (益子いちご団地). Despite its proximity to the train station, it seems most visitors came here by car and there were large car parks on both sides of the road (and we were the only people getting off that train station!)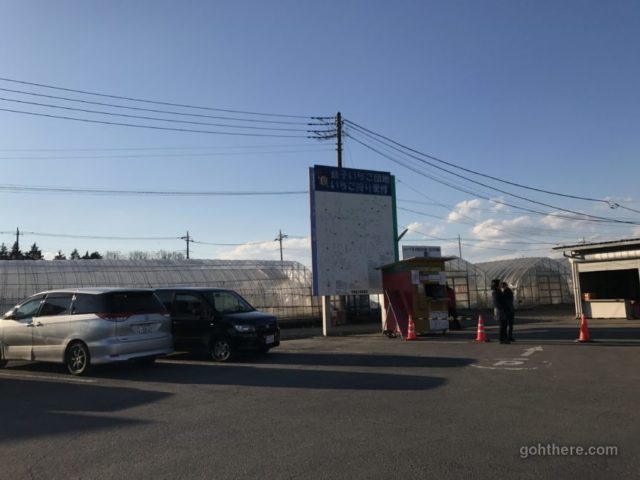 We paid at a small booth next to the car park. The staff then gave us a ticket with a number indicating which greenhouse we should go to.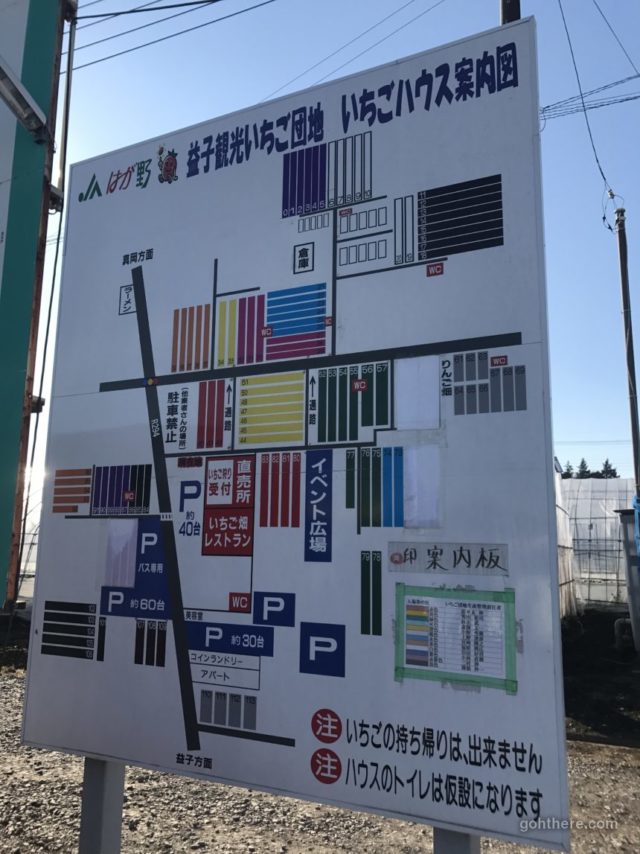 A large map next to the booth showing the location of the greenhouses. Doesn't seem to be a hundred here, but still a lot!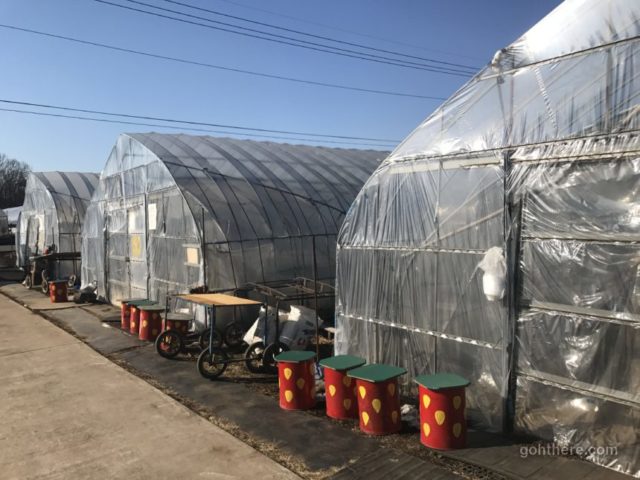 Some stools with strawberry colours.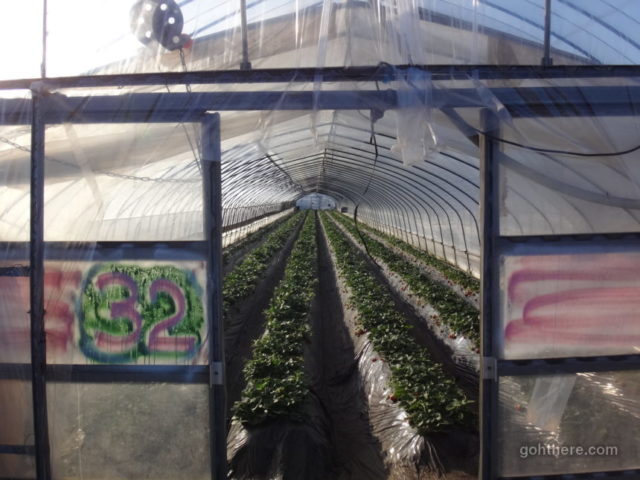 This is greenhouse number 32 we were assigned. We handed the ticket to the staff outside.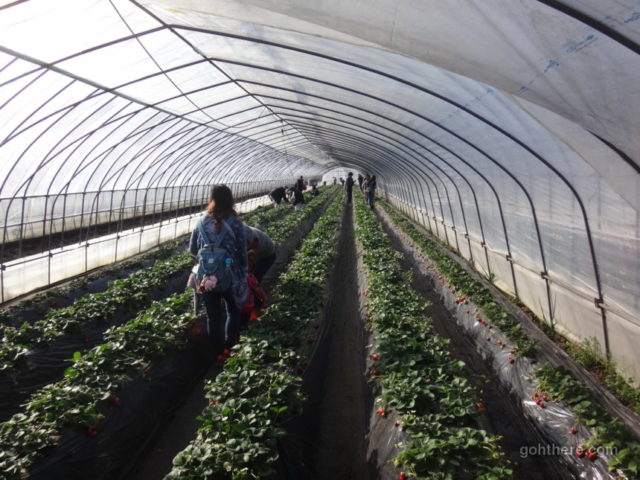 Each greenhouse is shared by several groups of visitors, but it has plenty of space.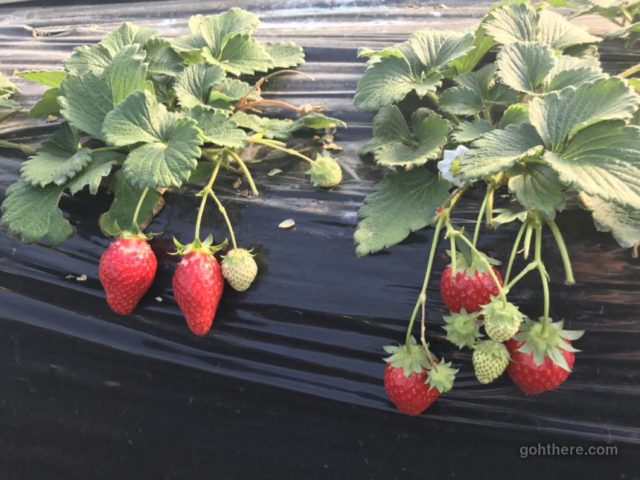 Very sweet. Being in season makes all the difference.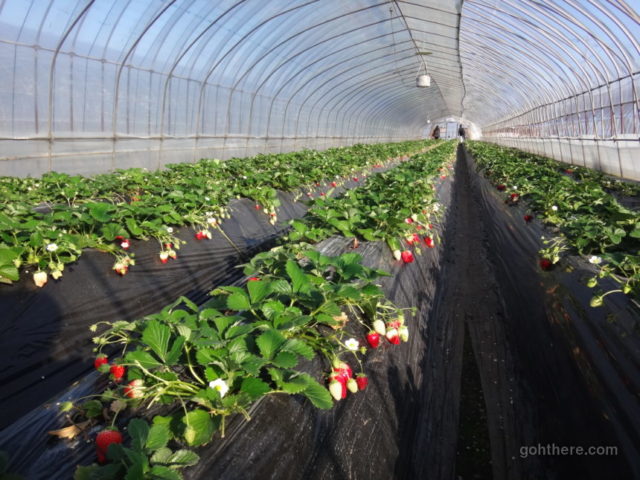 Lots of strawberries!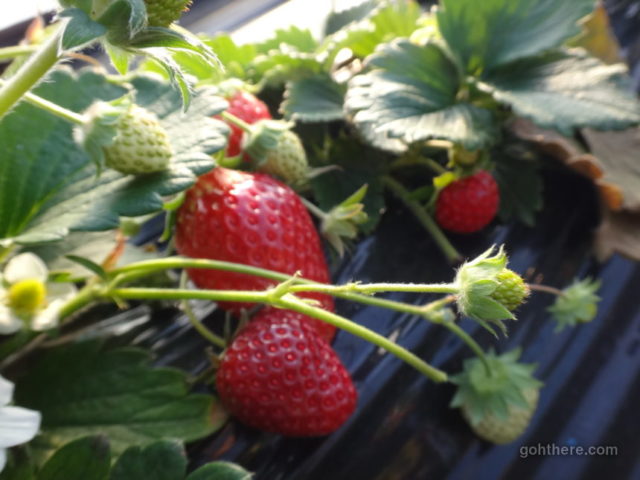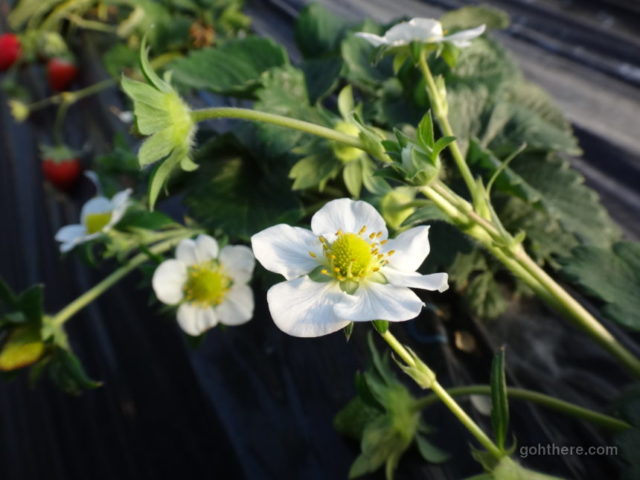 Strawberry flowers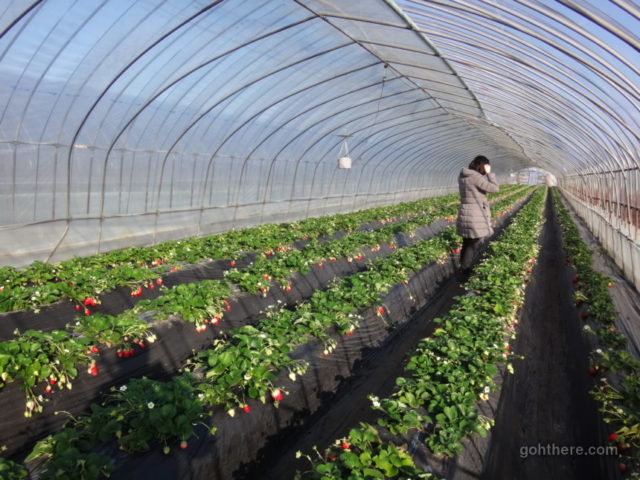 Although there's no time limit, most people left within half an hour. We did about an hour and by then we felt we had a whole month's worth of strawberries.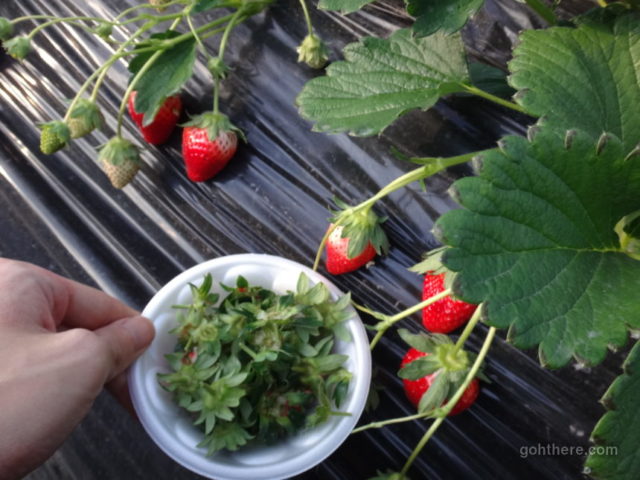 My strawberry picking "result".
There's still quite some time before the next train. We felt overloaded with sugar having had so many strawberries, so we wanted to get some salty food for balance. Unfortunately, the ramen place near the farm wasn't opened yet (it's closed between lunch and dinner hours). The farm itself has a cafe too, but the hot food section was also closed already.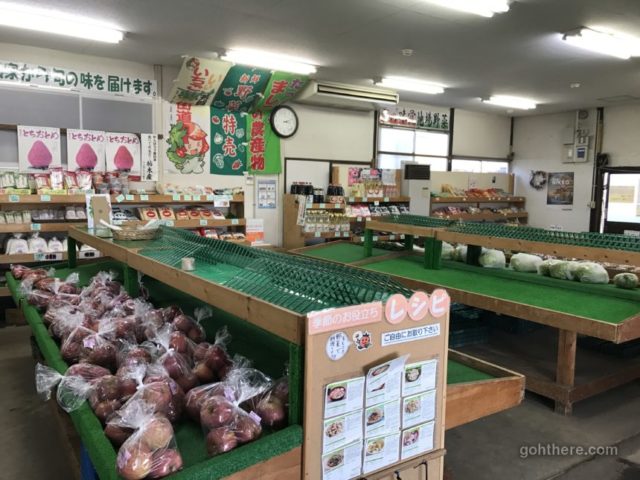 In the farm store though we found some instant cup noodles. We picked the curry flavour and the staff kindly gave us hot water to cook it. Not the most healthy, but the curry soup tasted great after having all that strawberries.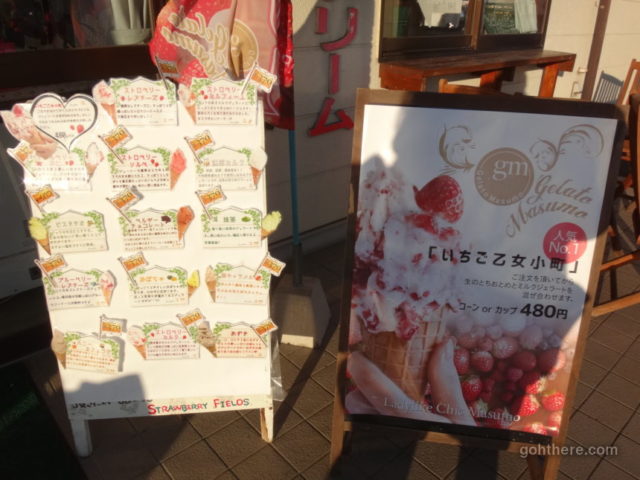 Strawberry ice cream available at the farm cafe. Looks good and many visitors having it, but for now we didn't want any more sugary food!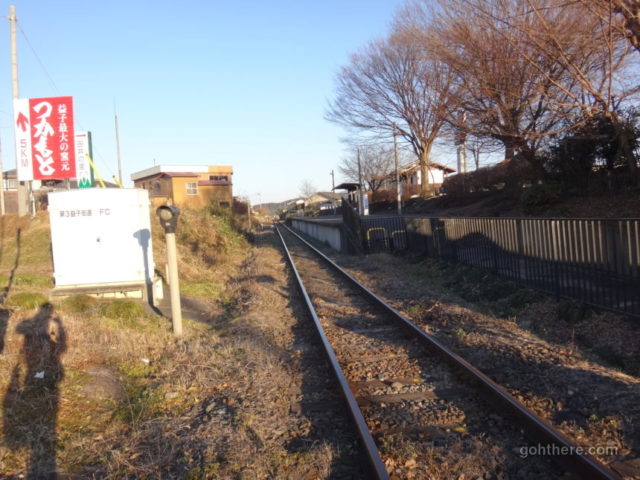 We took the train after 4 pm. It's another several changes before getting back to Tokyo, and we nearly missed one connection because our electronic pass just didn't seem to work well with some of these rural lines, and we had to ask the station staff to reset for us. Better pay cash fares next time…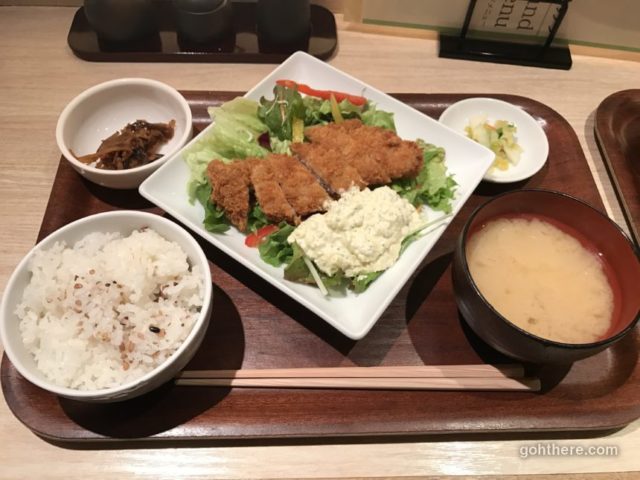 We got off at Ueno station (上野駅) to grab dinner (it's past 7 pm by then). Found this place called Midori no Kitchen (みどりのキッチン) serving dishes targeting the health conscious. This tuna cutlet was good!