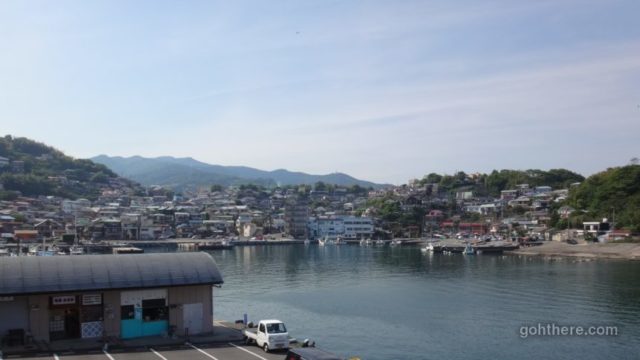 During my parents' visit in Japan in Golden Week earlier this month, we made a day trip to Oiso (大磯), a fairly small seaside town south-west of Tokyo. It was the only day during their trip when we didn't have to battle the crowd, and it was great we could take a relaxed stroll and enjoyed some peace. Oiso is not at all hard to visit, accessible in just one hour by the Tokaido line (東海道線) local train.
With fine weather over this weekend, I wanted to go for something similar again but venture a bit further. This time to another small town on the coast, called Manazuru (真鶴).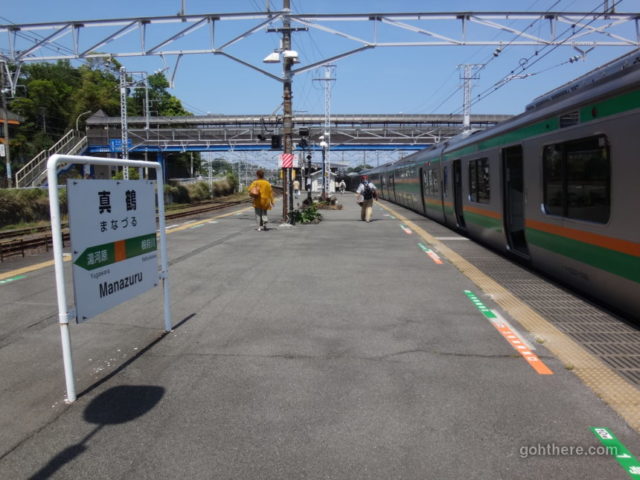 After 2 hours from Tokyo, the train was already pretty empty, and only a few people got off here.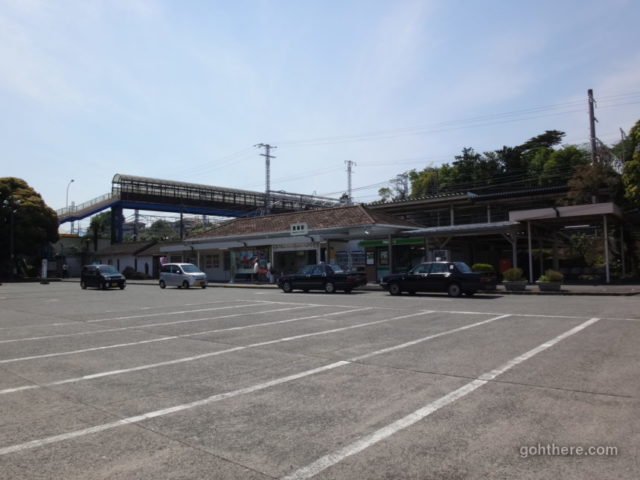 Manazuru station (真鶴駅). It's larger than those rural ones with just a platform and nothing else, but contrast this with the flood of people in stations in Tokyo!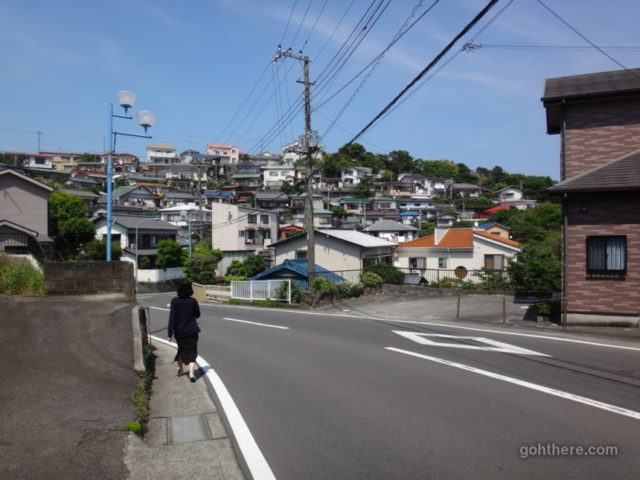 We made a pretty late start, and by the time we arrived it was already 1 pm, so searching for lunch was the first priority. Manazuru is pretty small, and many of the restaurants are clustered around the port area. It's just about 15-20 minutes' walk downhill from the train station.
This main road is part of the "Manzuru walking trail" (真鶴周遊ウォーキングコース), which begins from the train station, and going all the way out near the tip of the Manazuru Peninsula. A map is available outside the train station.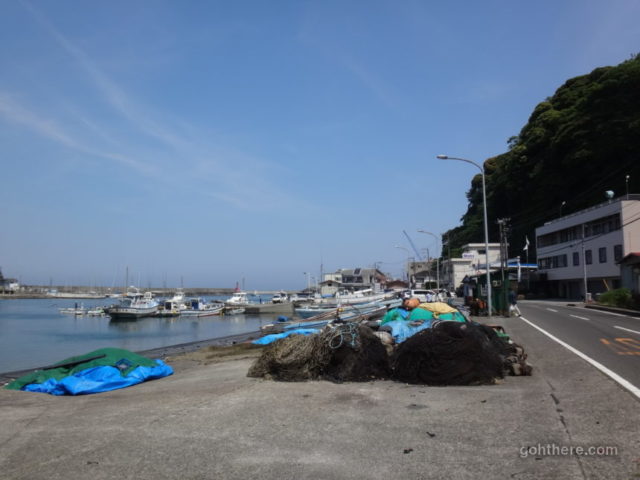 Near the port area, we saw fishing equipment like net and buoy on the side of the road.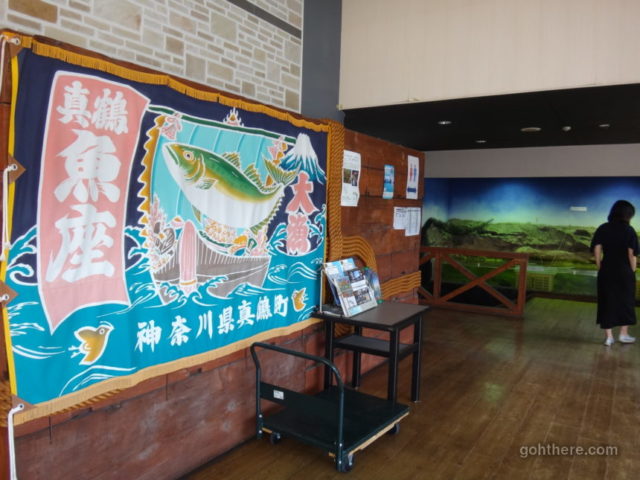 Initially we had wanted to try a small eatery with good reviews, but it's already closed by 1:30pm. The bigger restaurant (魚座) next to it would be opened until 3pm, so we went there instead.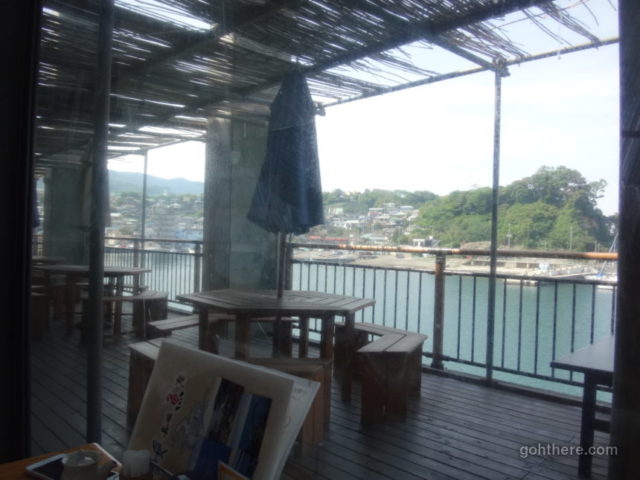 Outdoor seats have good views of the sea and Manazuru Port.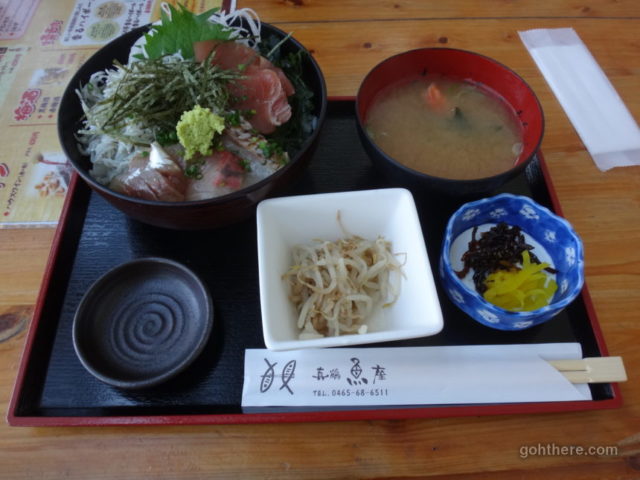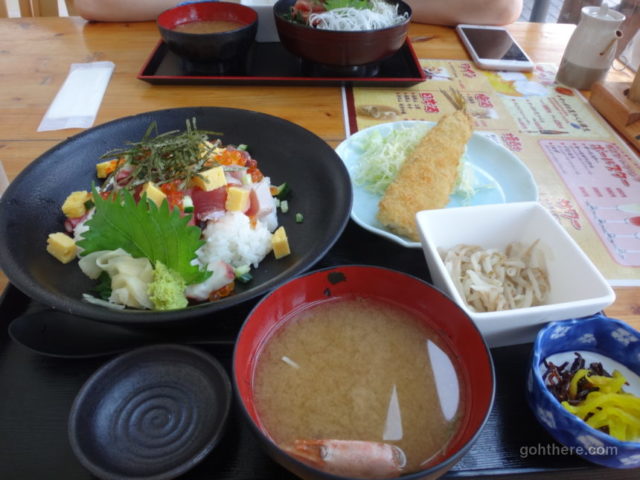 I had a set meal with a bowl of rice topped with diced raw fish, octopus, and strangely, eggs. It was very much average, but the deep fried "local fish" (地魚) managed to score a few points.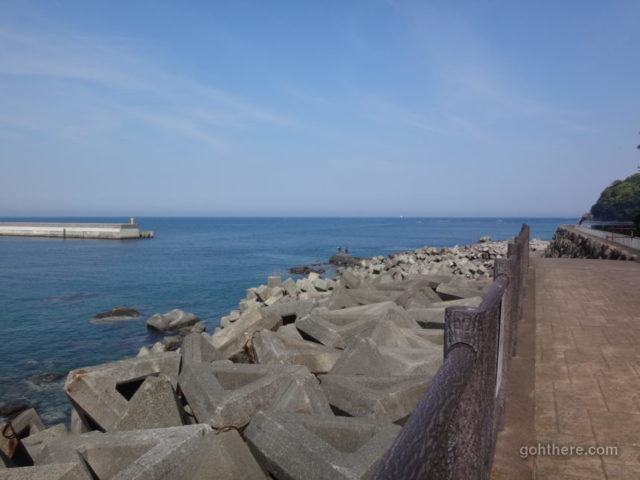 After lunch, we continued on the walking trail following the road, eventually reaching a promenade.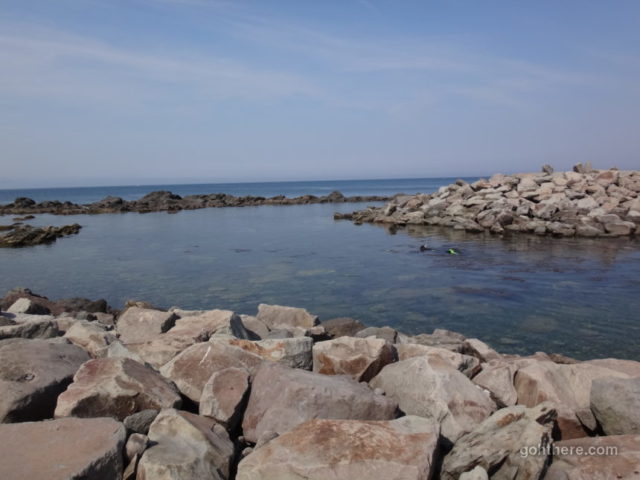 The water was extremely clear. There was this person snorkelling in the area behind the breakwater, and several people taking a rest near the shore with their wetsuits laid out to dry. Apparently a good place for diving.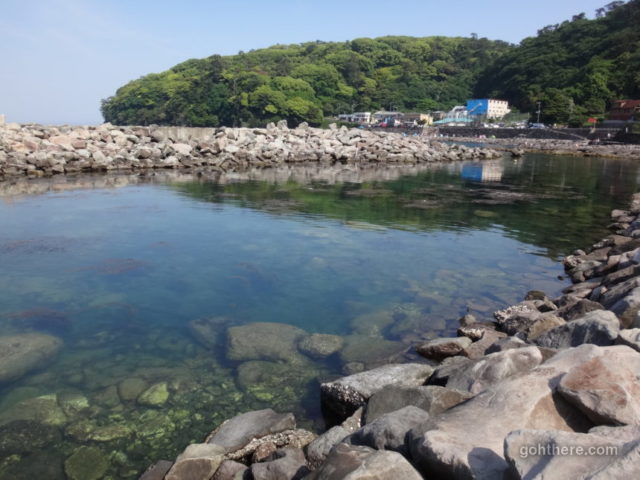 Could see through to the bottom, and there were lots of fish.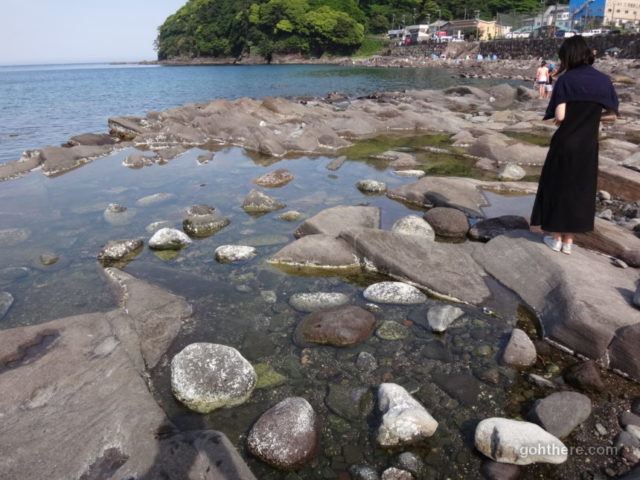 A bit further ahead was a large rock pool area. It's brimming with life – looking closer we saw small crabs, shrimps and lots more!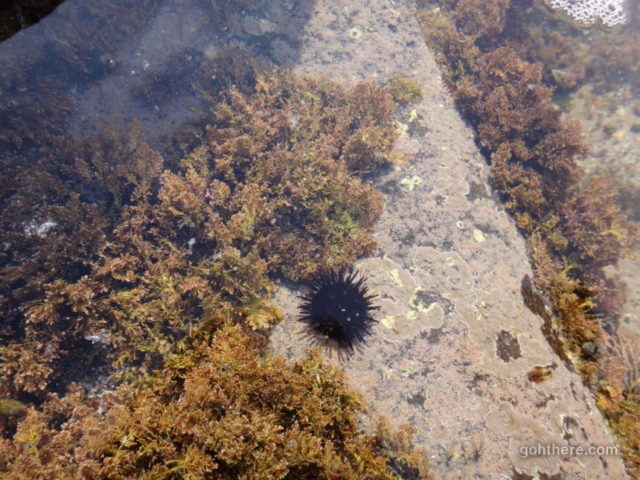 Sea urchin!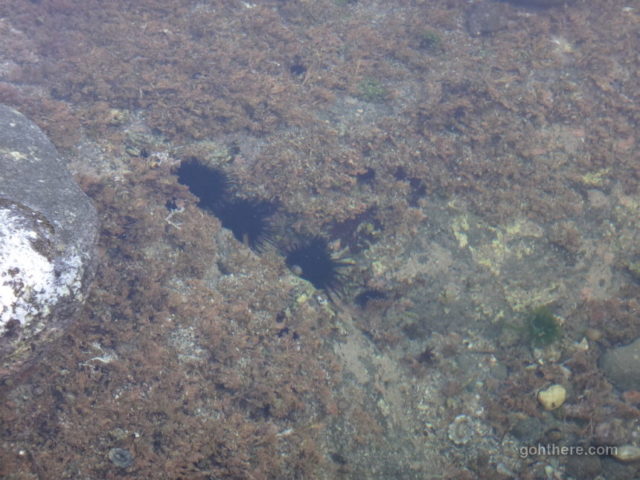 Most of them were between rocks. They held on very tight to the rocks, it's not easy to move them.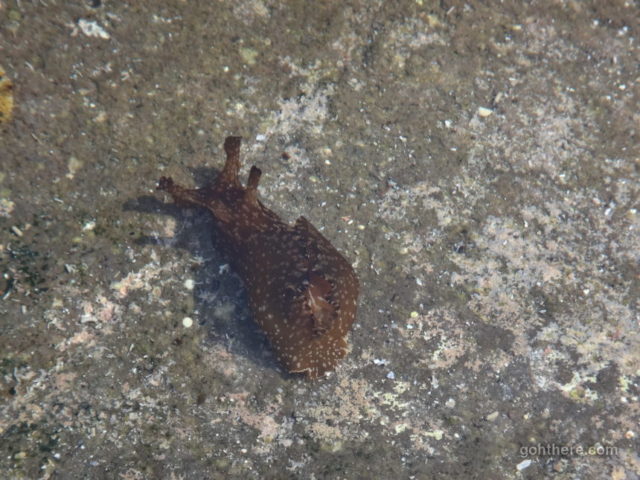 And we found this snail like thing in the water.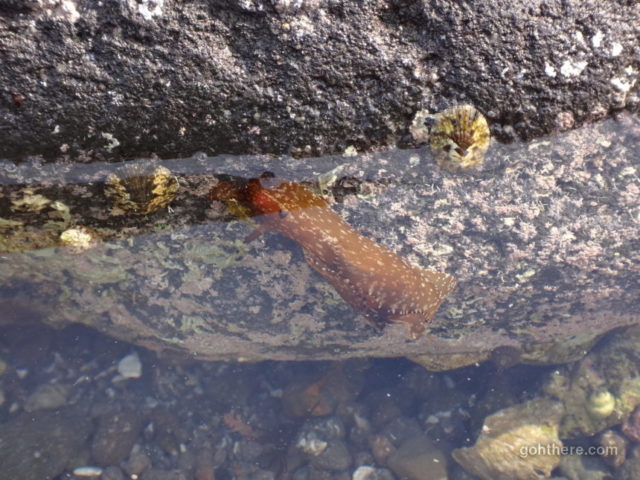 There were a few families having picnic and kids catching stuff in the rock pools.
The promenade ends here and then walking trail joins the main road again. We decided not to carry on, as before we knew it, we had almost spent 2 hours here watching sea life! It should be time for that eatery we had wanted try to open again for dinner.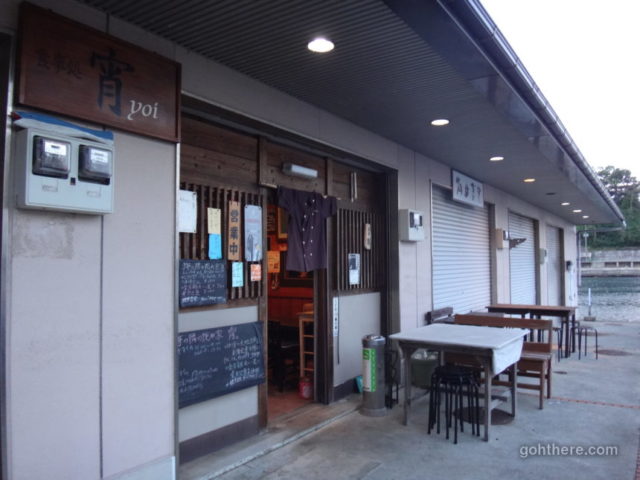 Yoi (宵) was the name of the place. Turned out it would only open at 5:30pm instead of 5pm we had thought. So we waited at the seats outside.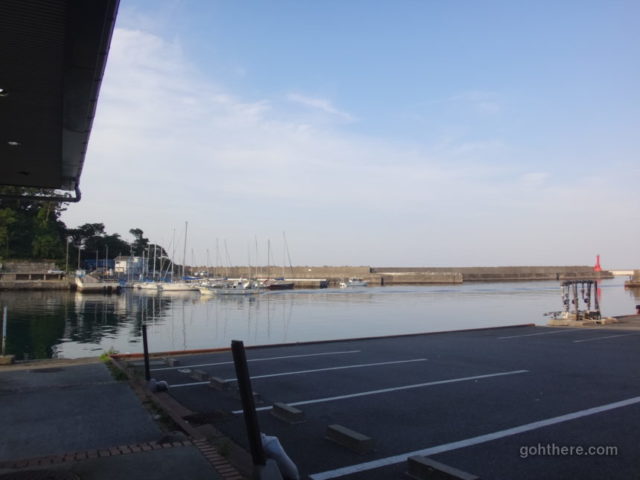 Most of the day trippers (not that there were many) seemed to have gone already, and the port was very quiet.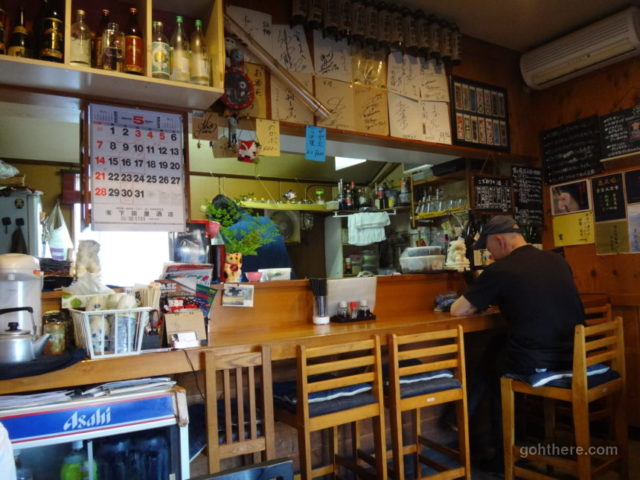 Finally it's time to go in.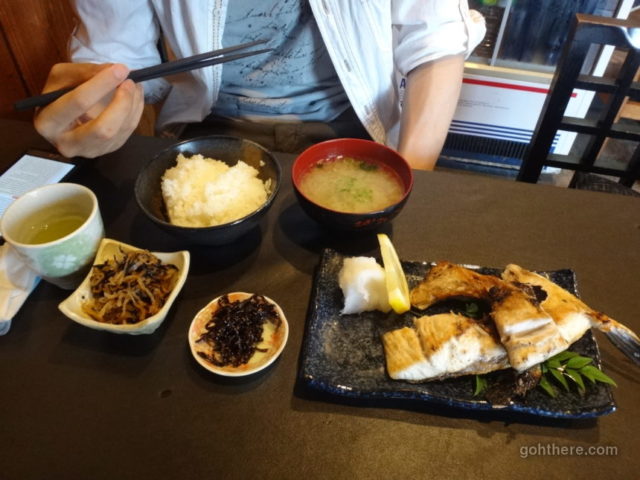 There were quite a few interesting items on the menu (can you believe a place like this would serve spaghetti!). But we went for the standard but most popular set meals. This was the grilled fish set ordered by me. Excellent for less than 1000 yen.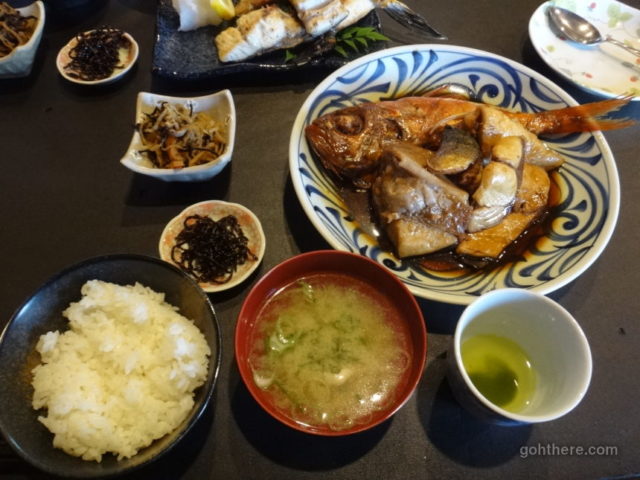 But it was topped by the whole sea bream cooked in sweet soy sauce. This for the same price!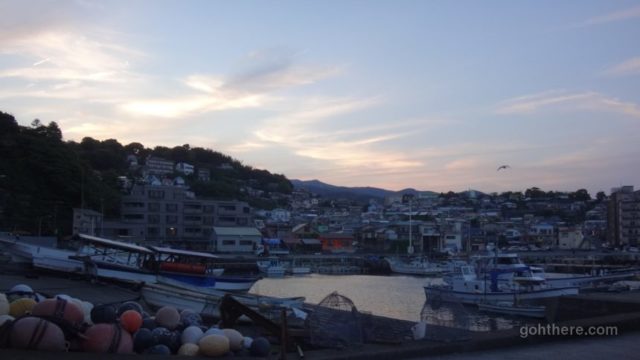 Sky was still bright after this early dinner. We walked back up the hill to the train station and returned home to Tokyo.
Given our late start today, we just made it a relaxed outing and didn't explore much in Manazuru this time. We will come back again.