The spell of fine weather finally lost its grip, and we heard it had been raining outside all night. I left our only indoor activity on Rebun Island for today, so at least we wouldn't have to worry about the weather in the morning. In the afternoon we'd be moving on to the next destination of our trip, Rishiri Island, and it would be a bit more tricky there.
Pension Uni (ペンションう~に~)
After our one night stay at this place we weren't surprised at the overwhelmingly positive reviews. In addition to the great service and nice dinner yesterday, at every turn you see they tried to make this place special – paintings and crafts on the wall (all made by the owner couple!), and all sorts of items bearing their sea urchin logo.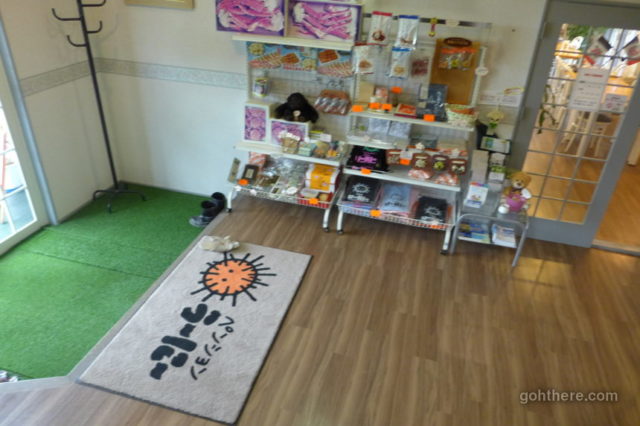 They even have their own T-shirts!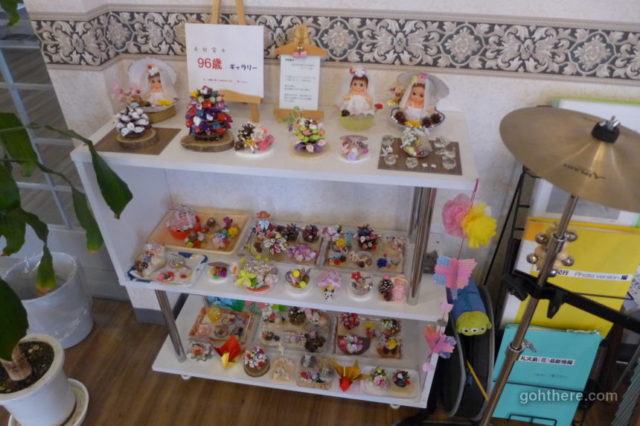 Handmade crafts by a 96-year-old local!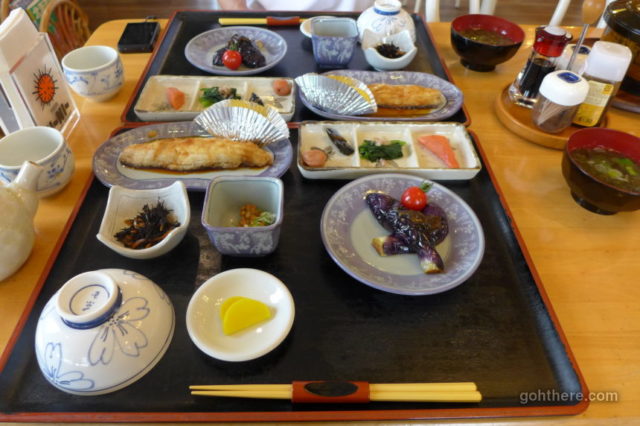 A grand breakfast. A bit of shame the fried fish got a bit cold…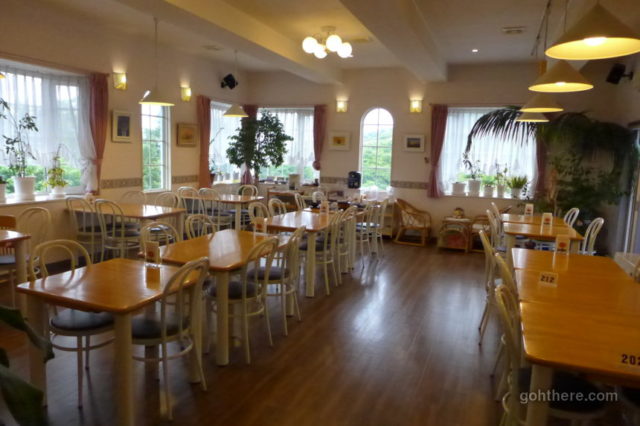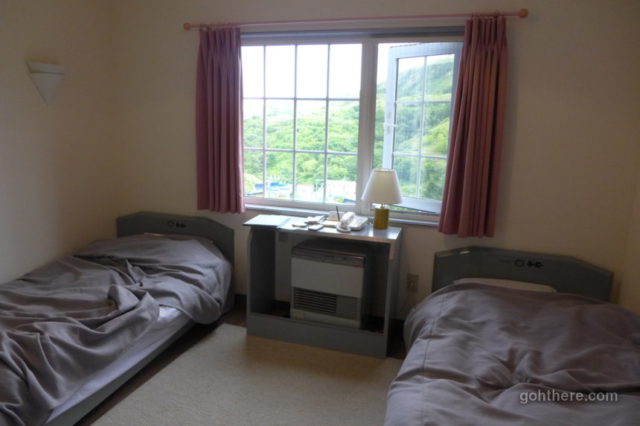 It's an en-suite bedroom – rare for a pension.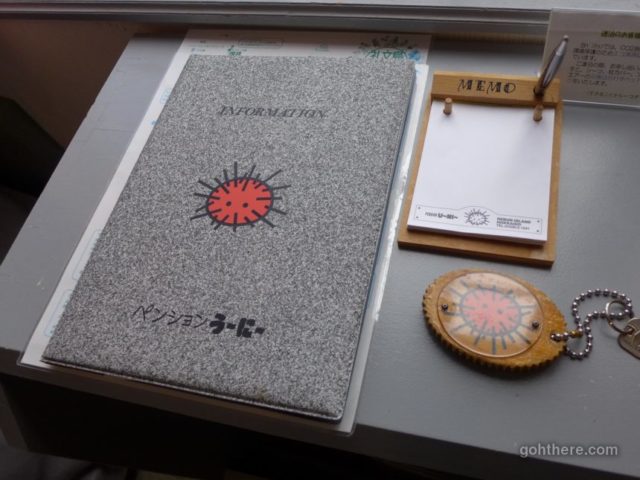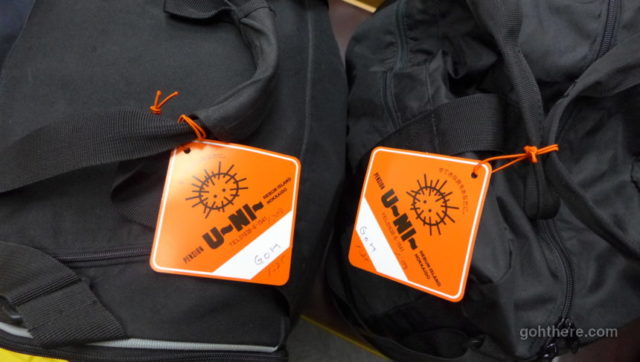 As we'd be visiting the Sea Urchin Centre, they would keep our luggage and bring them to us at the ferry terminal before we depart in the afternoon.
Sea Urchin Opening Experience Centre (うにむき体験センター)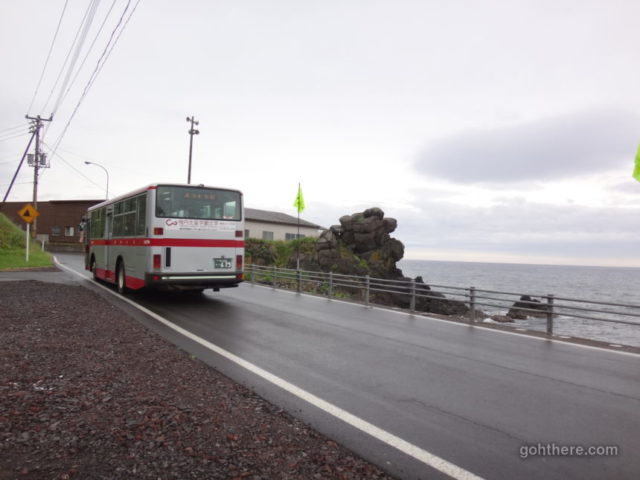 It took about 20 minutes to get to the Sea Urchin Centre by local bus from the ferry terminal station. Strangely for such a tourist-oriented place, the bus stop was poorly marked – in fact, it's such a minor stop it didn't get included the bus timetable leaflet, and the simplistic website of this place (Japanese only) also didn't have any transport information. Only the locals knew we had to get off at the bus stop called Kitousu (キトウス) – after getting off, the place was just ahead on the right.
Well, I presume most tourists would be coming here as part of an organised tour, instead of relying on local buses like us.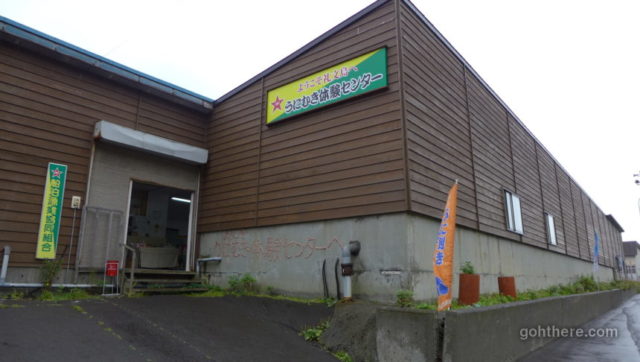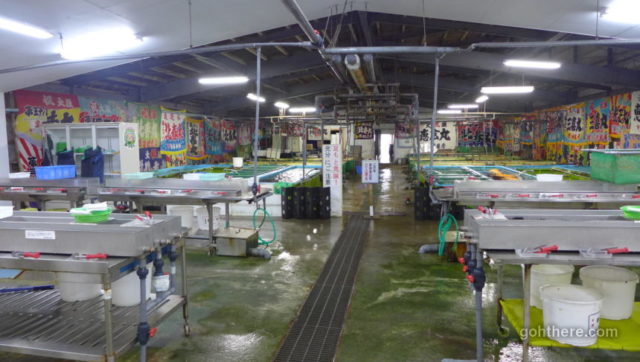 Very large inside, can handle a whole tour group. But we were the only visitors at that time.
As the name of this place implies, visitors can try their hands on opening sea urchins. The price is a very reasonable 500 yen per sea urchin, which of course includes eating it afterwards.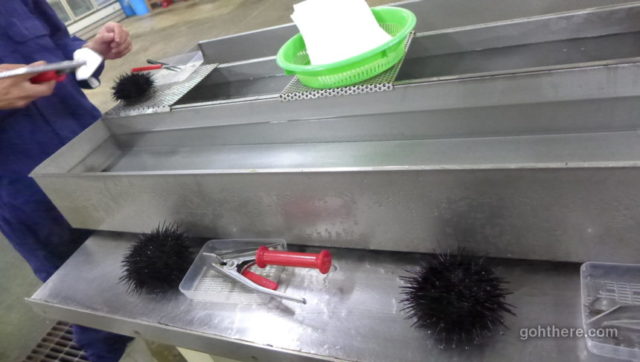 A staff gave us a demonstration as we went. We were given two huge ones!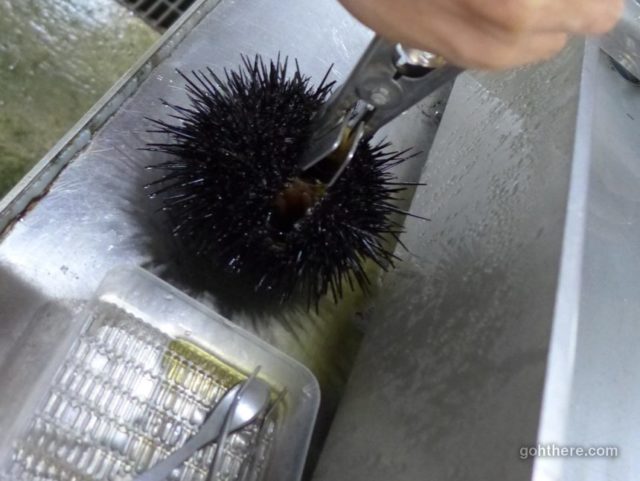 A special tool is used to crack open the shell. Pretty easy.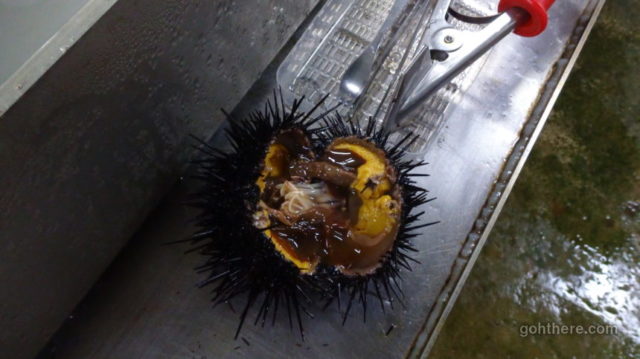 Sea urchin opened in half. The yellow roe is the edible part, there's a small spoon to scope it out.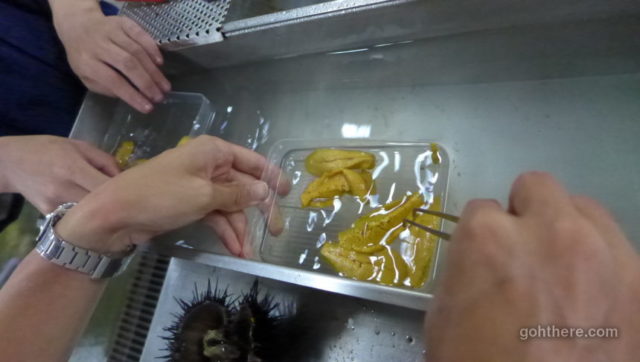 Wash them in sea water. And then it's ready to eat raw!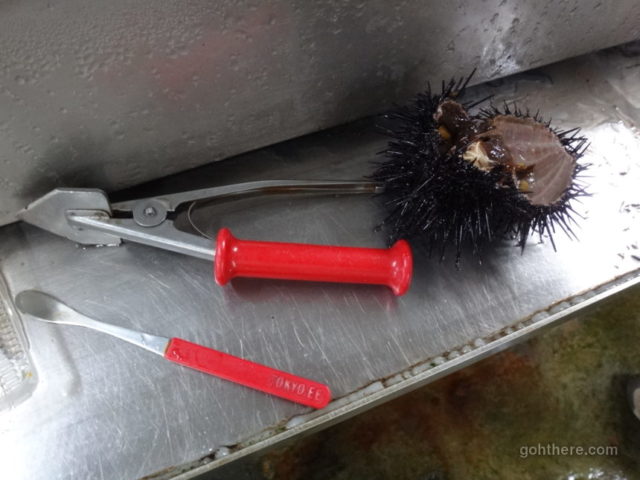 Empty shell and the tools.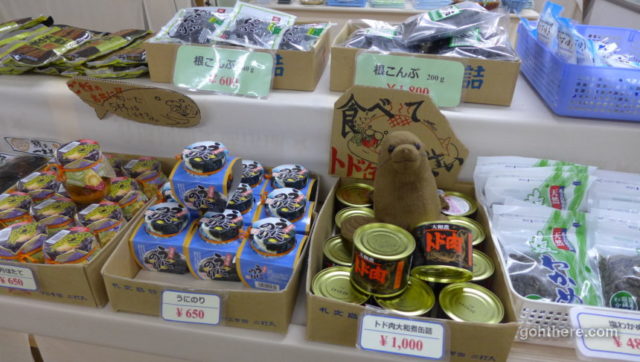 Various food (such as this canned Walrus meat!) and souvenir for sale in a little shop there.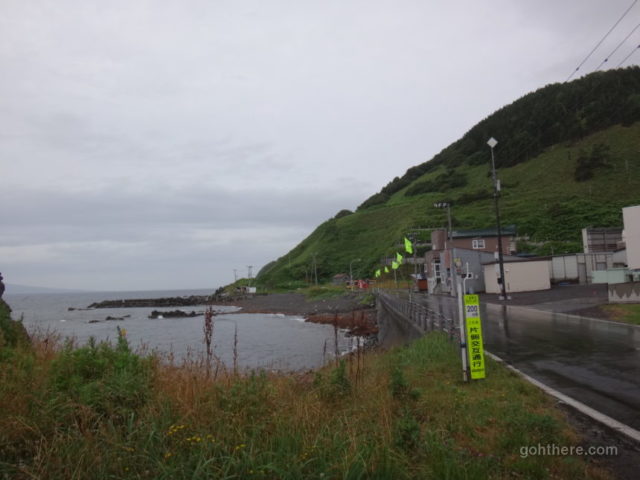 We only spent about 40 minutes there, including browsing in the shop. There's really nothing else around that place, so we just had to wait for the next bus to come which should be in about half an hour.
Eventually one of the staff came out and saw us waiting for the bus. He offered us a ride as he would be driving to Kafuka as well. But just at the same time the bus came (hmm, we could have saved the bus fare!)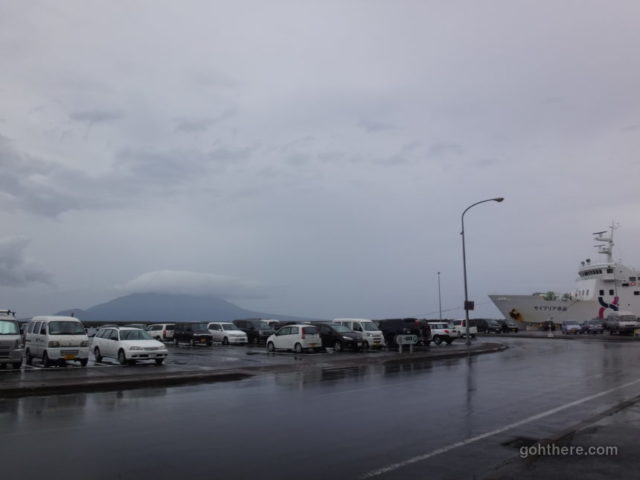 Back at Kafuka Port (香深港). We would get some lunch before our 1pm ferry to Rishiri Island. Thick cloud over the top of Mount Rishiri…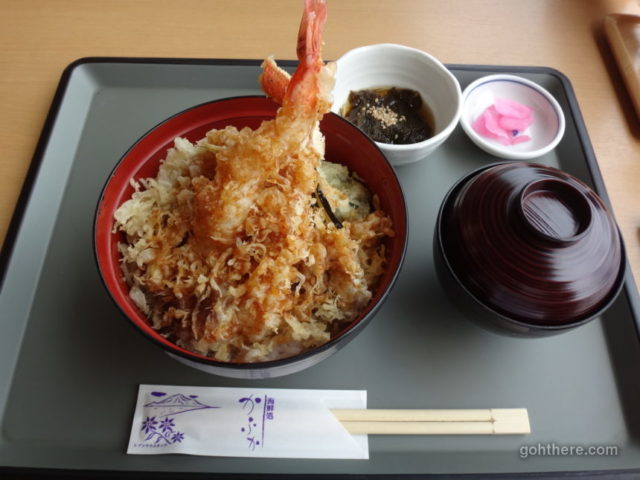 We tried to find another place for lunch but then decided to go back to the same place as yesterday. No grilled fish and sea urchin this time, just some normal set meals. But of course still seafood related…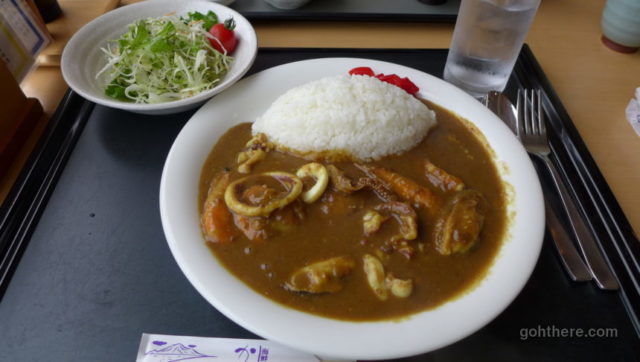 Seafood curry.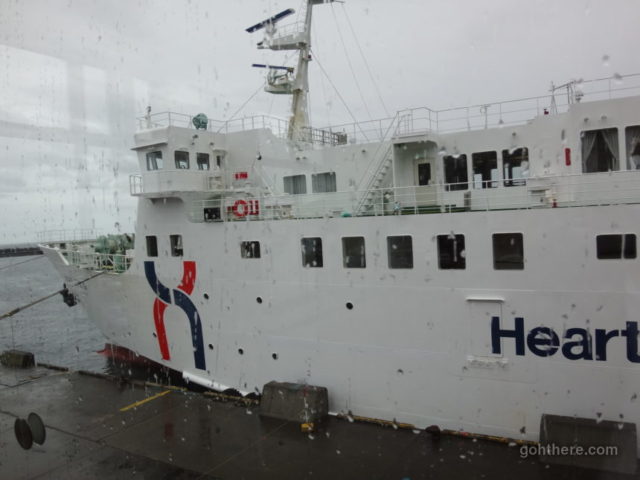 The host from Pension Uni came to the ferry terminal and handed us our luggages. And then we were off to Rishiri Island!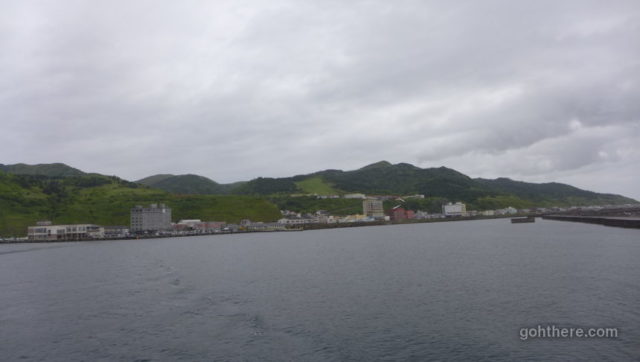 Farewell Rebun Island!
Rishiri Island (利尻島)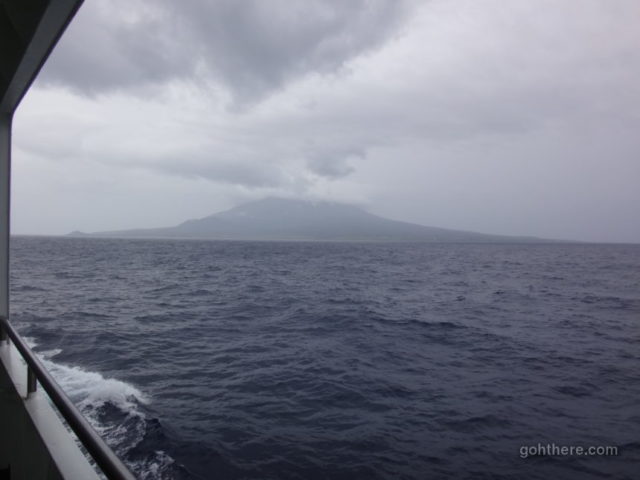 It takes about 50 mins to get to Rishiri from Rebun. Getting closer to Mount Rishiri… and the weather didn't look good.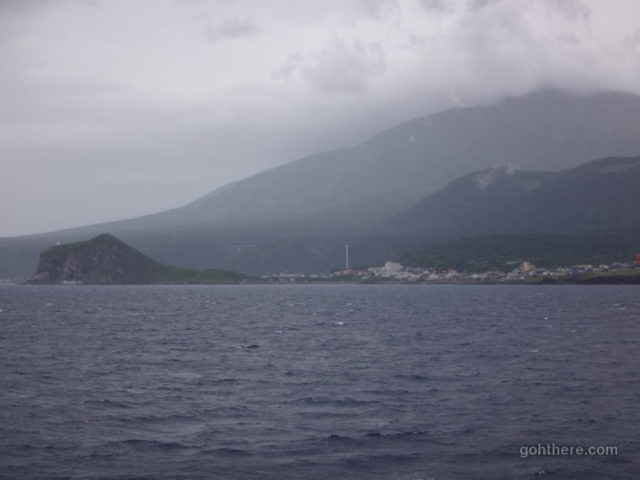 Cape Peshi (ペシ岬) on the left. The ferry terminal is just behind it.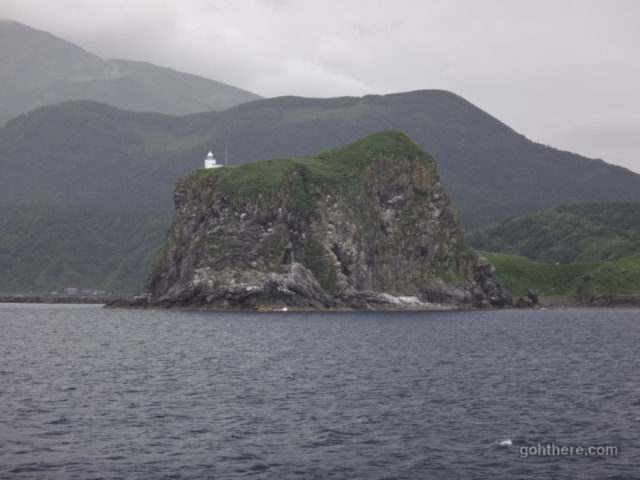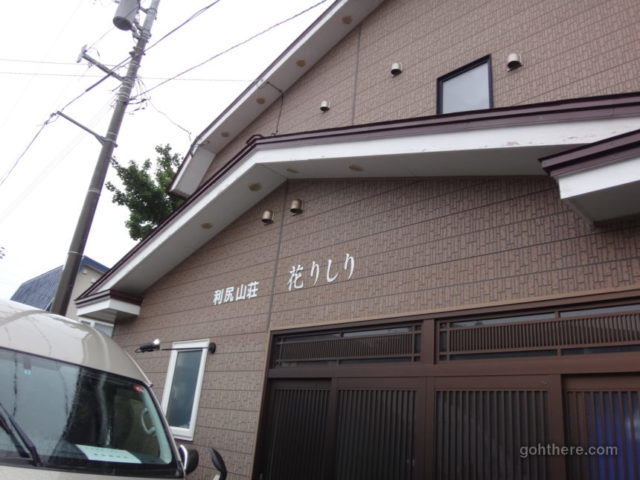 We booked two nights at the guesthouse "Hanarishiri" (花りしり), which is about 5 to 10 minute drive from the ferry terminal. A staff came to pick us up as expected, but he definitely didn't seem very welcoming – when I first went over and introduced my name, he just asked – with no greeting whatsoever – "Yes I know. Two people? Two people right?" (in Japanese that is, so it's not because of poor English). Quite a contrast after the friendly service we had at both the accommodations in Rebun Island!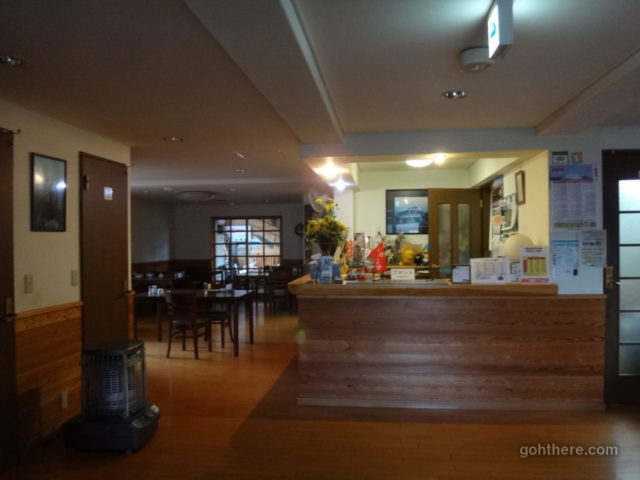 The fairly heavy rain dampened out spirit somewhat, as cycling (the main activity we planned to do) would be out of the picture today. Other nature sight-seeing spots also wouldn't do much good either.
And of course the staff didn't say anything, like asking about our travel plan, or offer any sort of advice.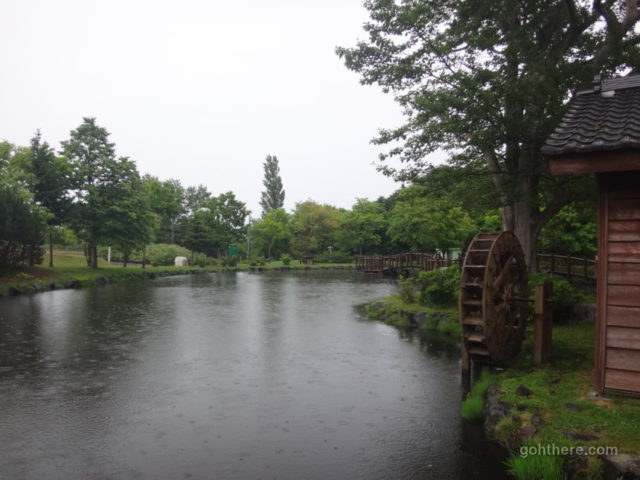 But it was still several hours before dinner time, it would be a waste to get stuck in the room. So we put on our waterproofs and ventured out anyway to explore the nearby area. Following the map, we found a landscape park, and an alpine plants garden.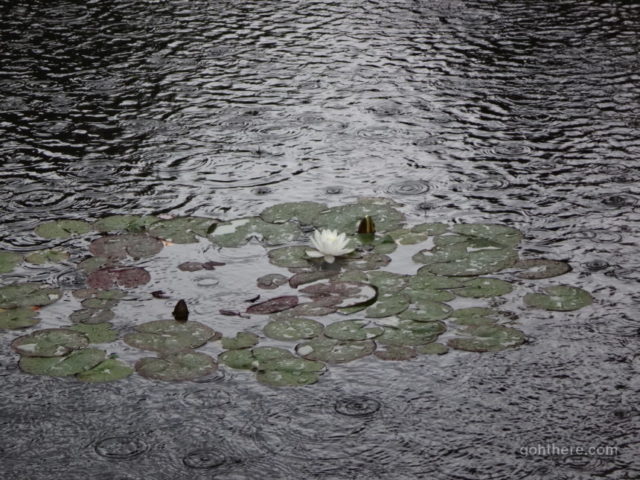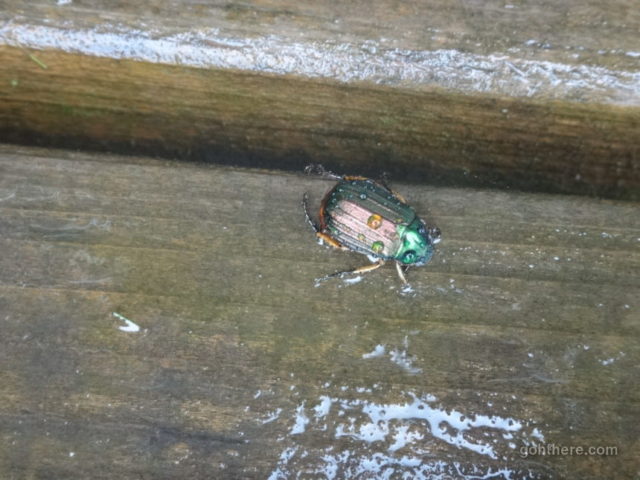 Shiny beetle in the rain.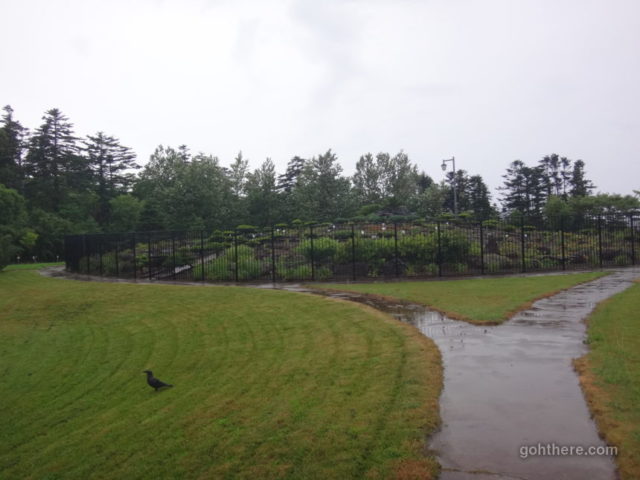 Alpine plants garden (高山植物園)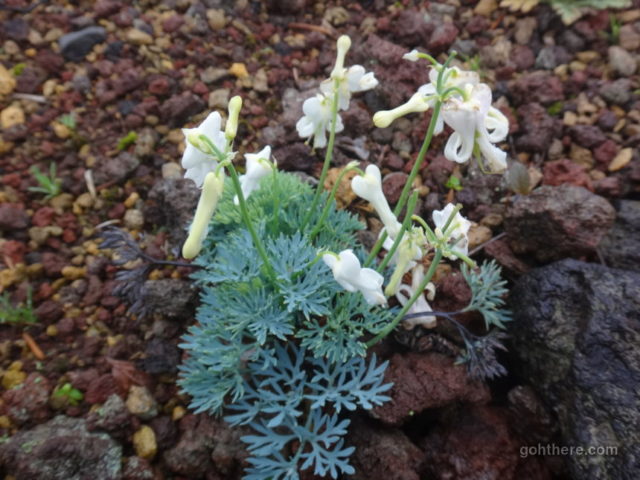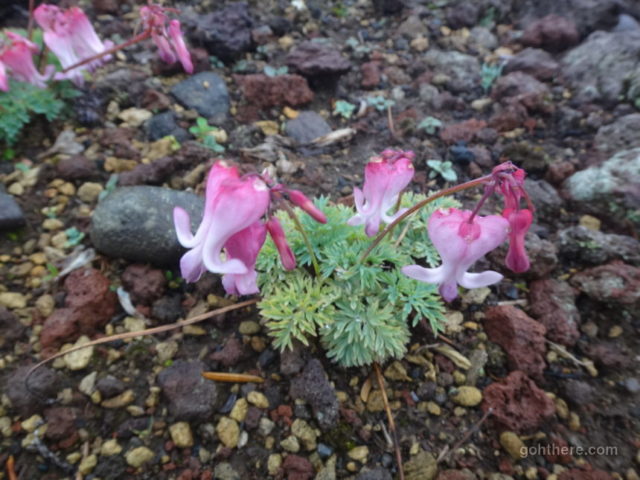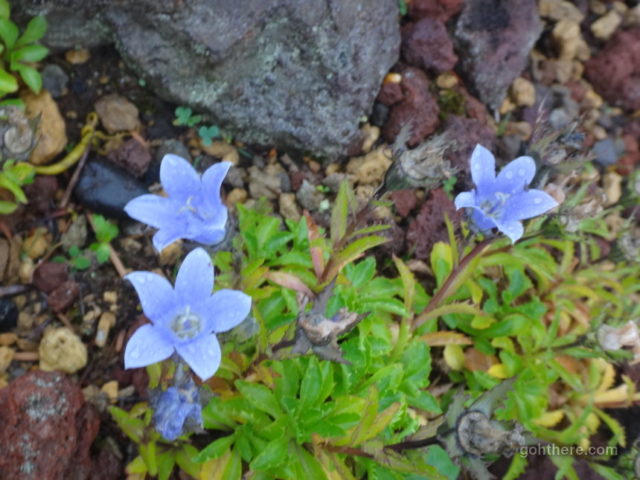 After that, we headed towards the direction of the ferry terminal, to check out some shops in the small town of Oshidomari (鴛泊)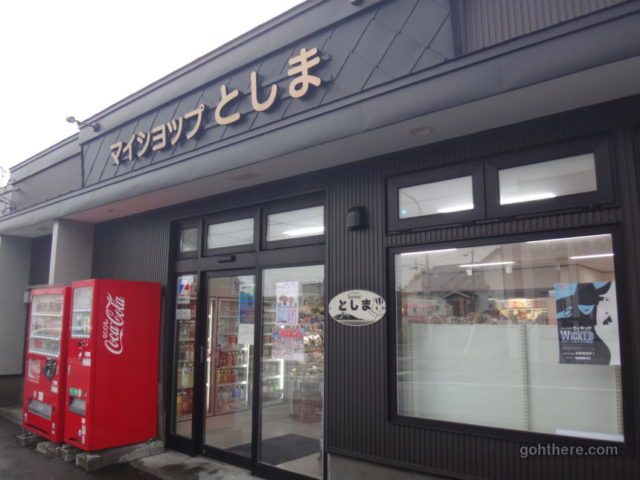 Came across a few convenience stores. Mostly the same stuff found in other places in Japan, but only a few special ones like dried Hokkaido salmon snacks.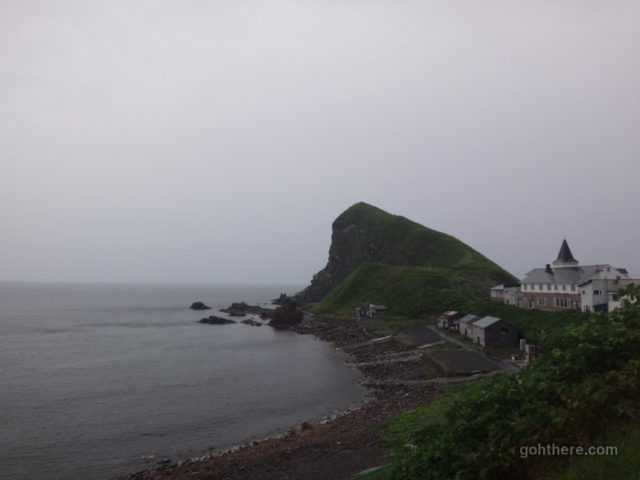 We saw this Cape Peshi on the ferry. There's a path that leads to the top, but given the poor weather we'd try it another day.
After walking about for 2 hours, we went back to the guesthouse.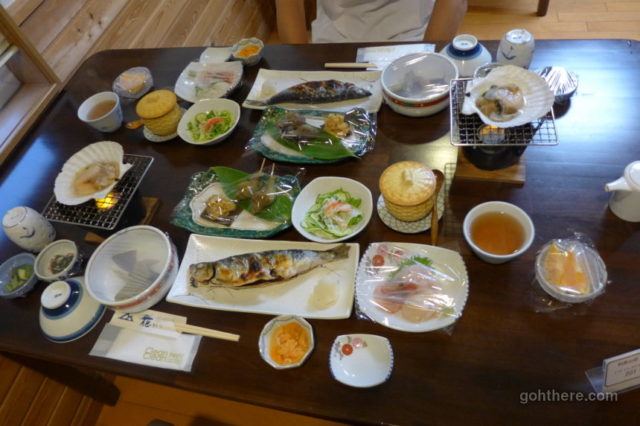 A huge dinner, lots of seafood and mostly local produce. My wife enjoyed this, but for me again there weren't enough hot dishes.
Food was served by the hostess and for a change, she was amicable and full of smiles. What's up with the other guy?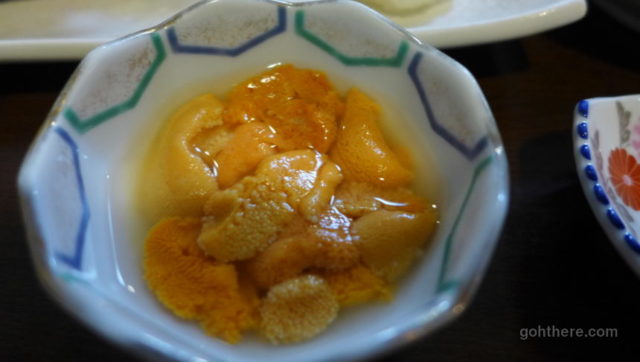 Can't go a day without sea urchin!