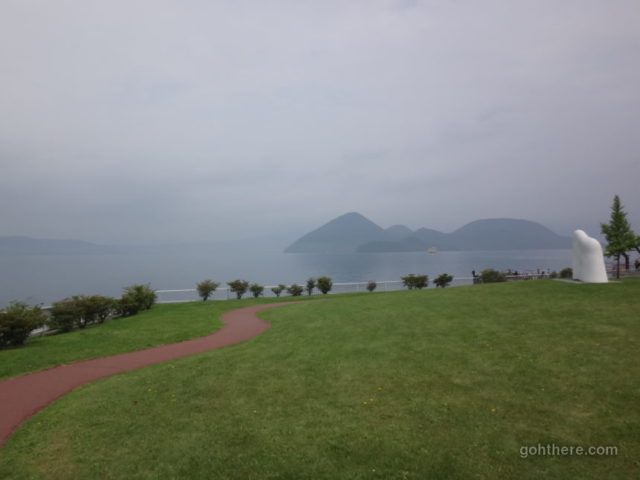 Yesterday we finished the northern Hokkaido part of the trip; but before returning to Tokyo this evening, we had time to visit two more places not too far from Sapporo – Lake Toya (Toyako)(洞爺湖) and Lake Shikotsu (Shikotsuko)(支笏湖).
I love water scenery in general, but Toyako in particular is a place I had wanted to visit for a long time as a pilgrimage (anyone who knows about Gintama (銀魂) would understand); Shikotsuko is another intriguing place, ranking top for water clarity for lakes in Japan.
Lake Toya / Toyako (洞爺湖)
Toyako is just over 100 km from Sapporo. We picked up our rental car at the shop and set out just after 8 am.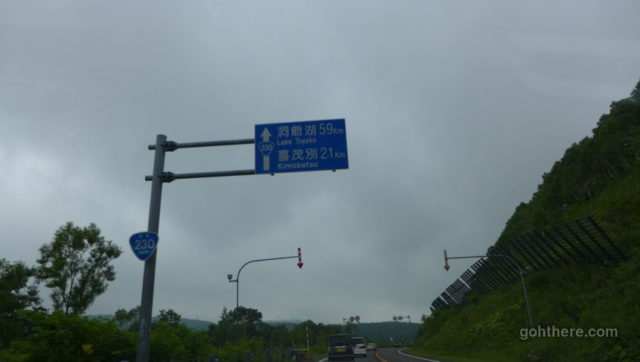 Taking Route 230 to Toyako. This goes through a fairly mountainous area.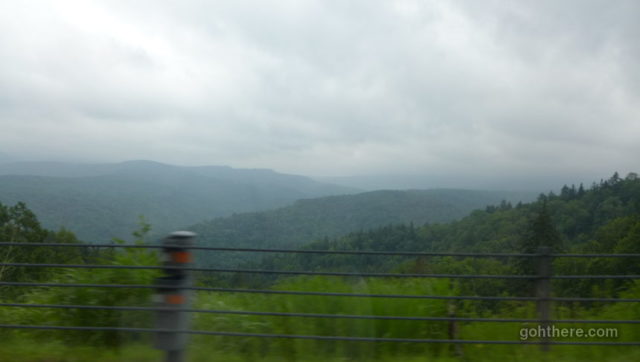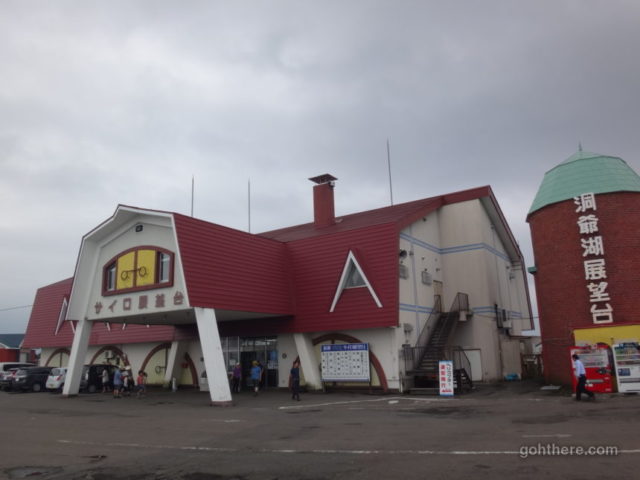 Before going straight to Toyako, we first made a stop at Sairo Observatory (サイロ展望台), a popular place for getting a view of the lake from a high point.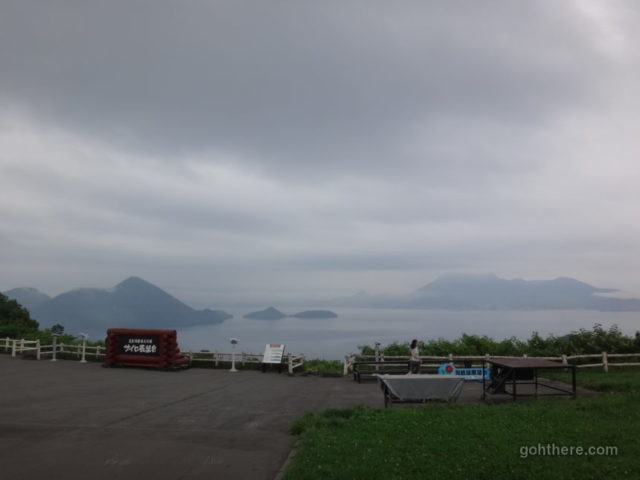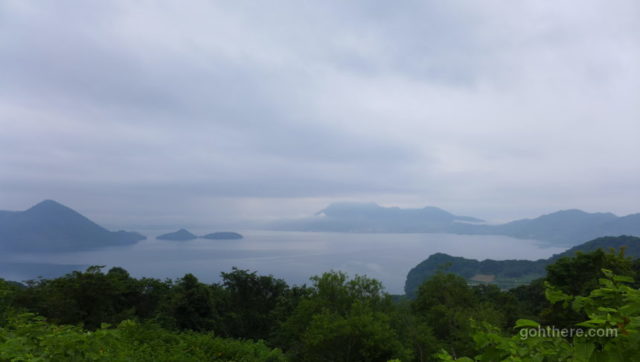 View of Toyako.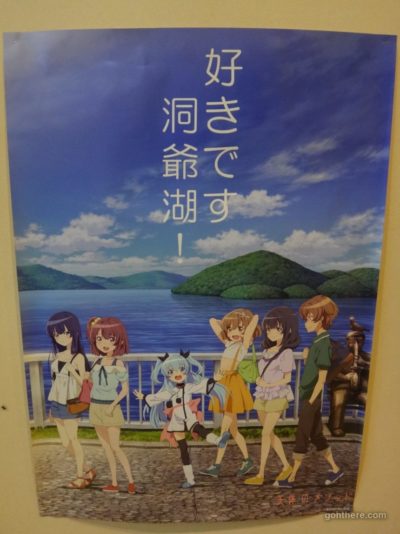 Poster of anime "Tentai no Method" (天体のメソッド), which has Toyako as its setting.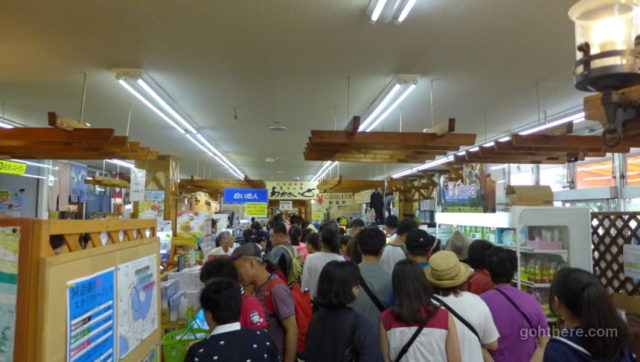 Sairo Observatory is a very touristy place – with a big souvenir shop, restaurant, and even helicopter cruise over the lake. While we were there, several tour buses arrived, filling the shop with Japanese and foreign tourists.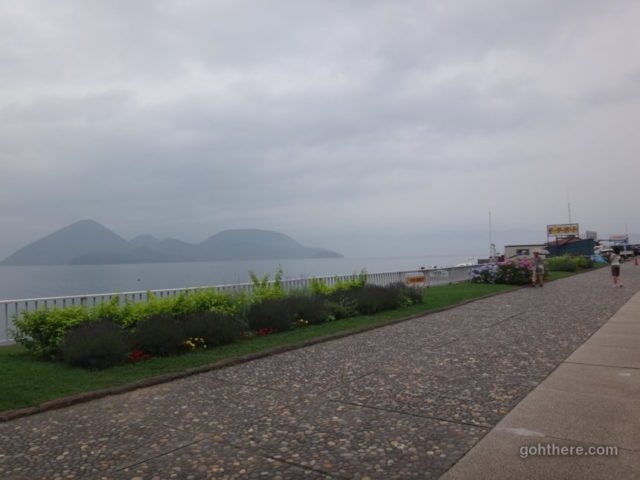 Leaving Sairo Observatory, we drove for another 10 km to the Toyako Onsen town, on the south of the lake. Most of the hotels and places of interest are around this area.
There's a long promenade next to the lake which is a good for a leisurely walk. Several shops also have boats and bicycles for rent.
The most distinctive feature of Toyako is probably the island (Nakajima) in the middle. It's accessible by a regular tourist-oriented ferry service. There are supposed to be deer roaming freely on the island and I would've liked to check it out, but this whole side trip would probably take a few hours and we didn't have time.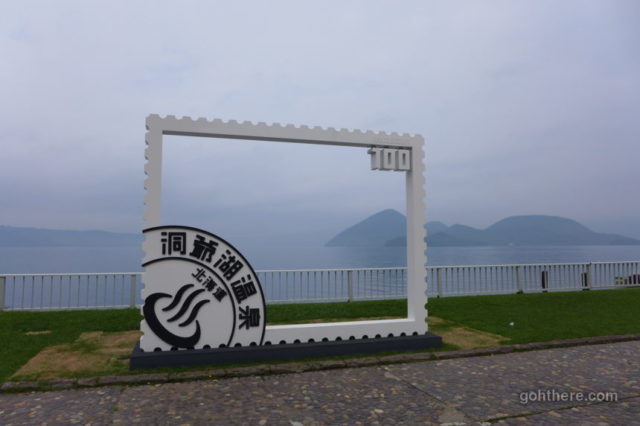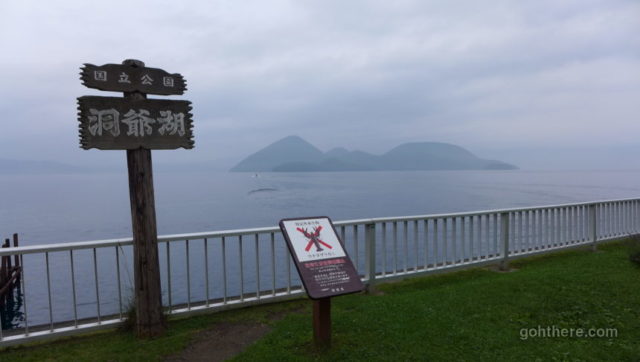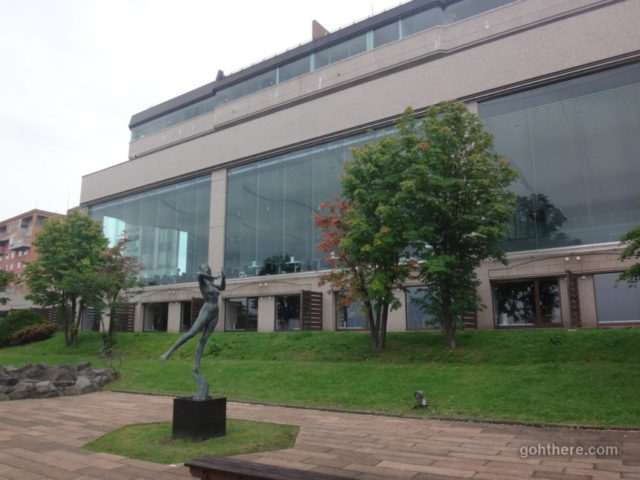 Lots of hotels by the lake. The view must be good but the prices aren't going to be cheap.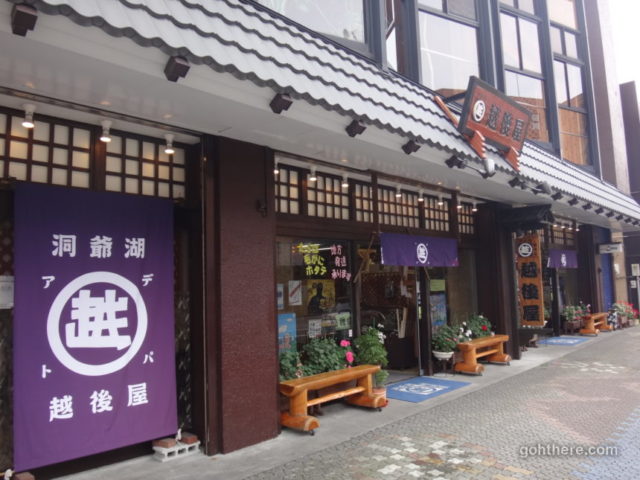 And finally to the main dish – the famous souvenir shop where you can see "for real", the wooden sword "Toyako". They even have an engraving service if you buy one.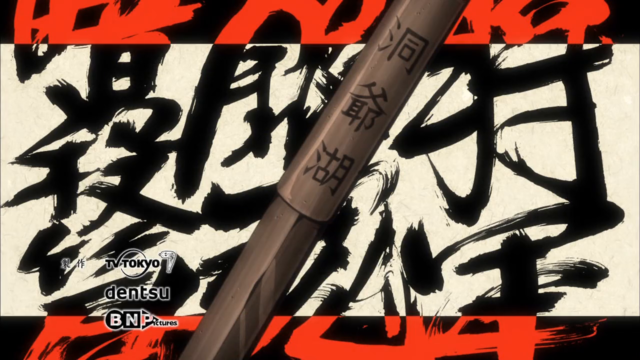 "Toyako" from Gintama (taken from episode 301).
Unfortunately the shop didn't allow photo inside.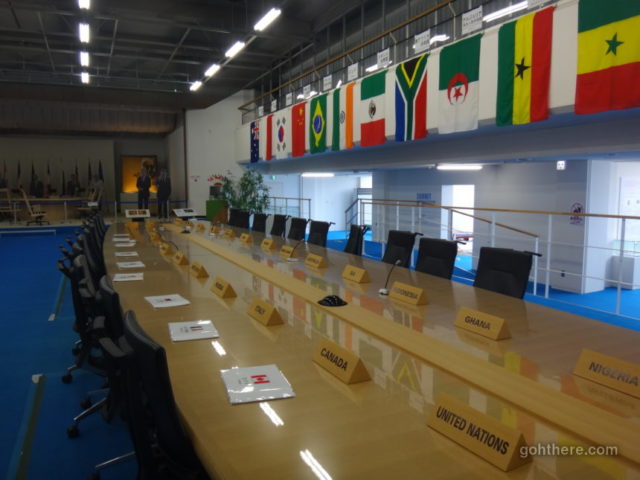 No problem if you don't know about Gintama. Toyako is also known for being the place selected for the 2008 G8 Summit. There's a memorial museum which is free entry.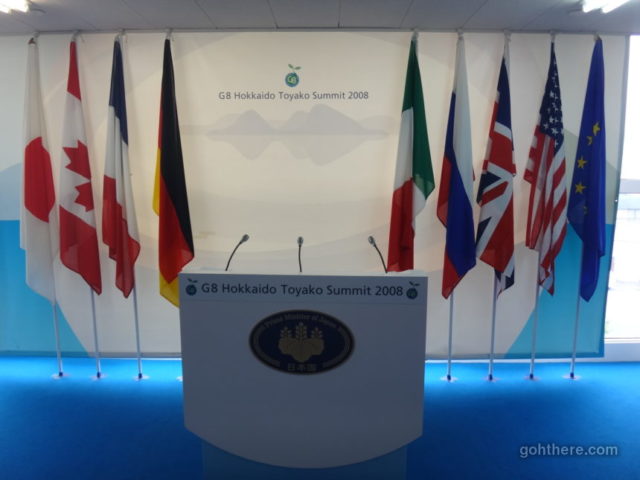 Take a photo as the spoke-person.
There are a few other places to explore nearby. Of particular interest would be the hiking trails near Mount Usu (有珠山), which offer views of an area that was fairly recently destroyed by a volcanic eruption. This could really expand into a day trip, but we had to leave around noon and make our way to the next stop at Lake Shikotsu.
Lake Shikotsu / Shikotsuko (支笏湖)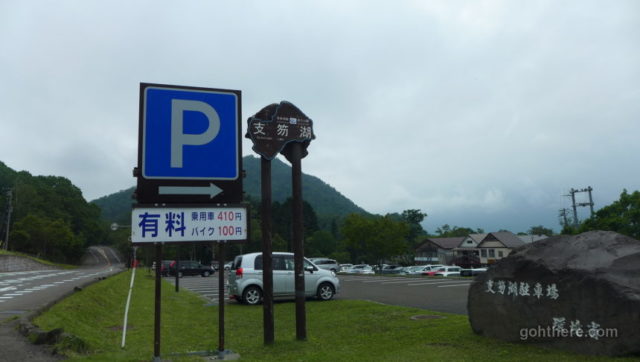 Visit at Shikotsuko would normally be based at the small cluster of shops on the eastern shore of the lake. This is also where the main (only?) car park is. It is not free, but there isn't anywhere else to park nearby.
Shikotsuko is a bit bigger than Toyako, but as a tourist destination it is much smaller, without a proper "town" like Toyako Onsen, and only very few accommodation. Still, being somewhat close to Sapporo and the Shin-chitose International Airport means it still has a fairly large number of day tourists.
The usual activities are available here: lake-side park, some restaurants and sovernir shops, rental boats. But how to best appreciate its greatest asset – the extraordinary clear water? We found a canoe shop offering short tours so we could see it up close!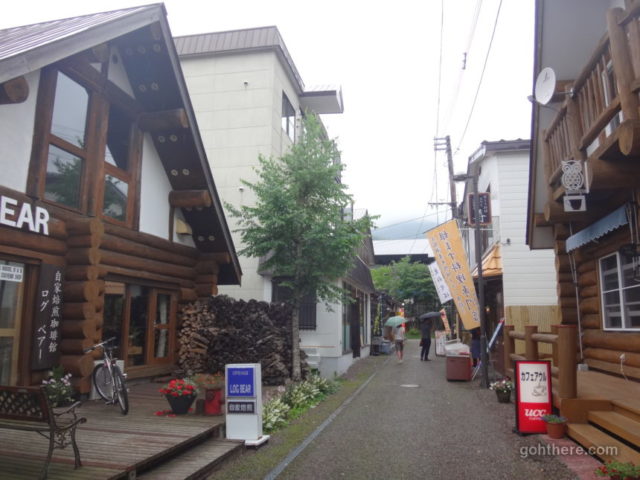 Cafes and restaurants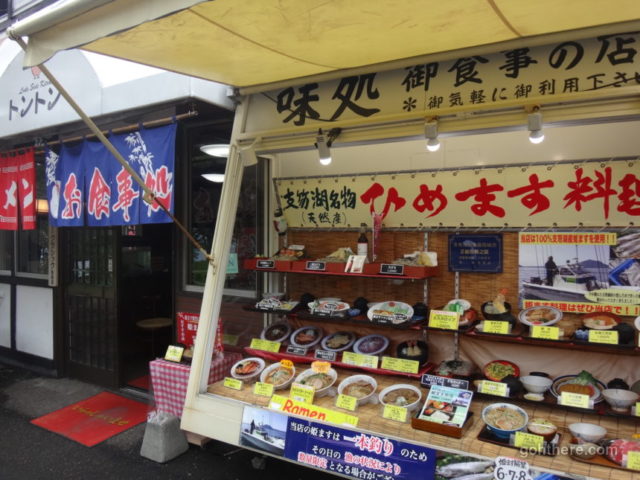 "Hime Masu" (a kind of freshwater trout) (ひめます) is the local speciality, caught straight from Shikotsuko itself. So we gave it a try in this restaurant.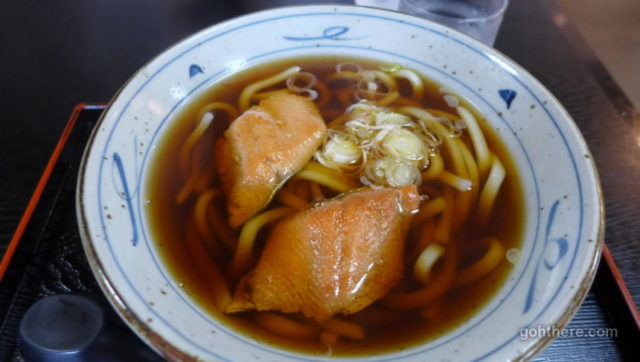 A bit underwhelming…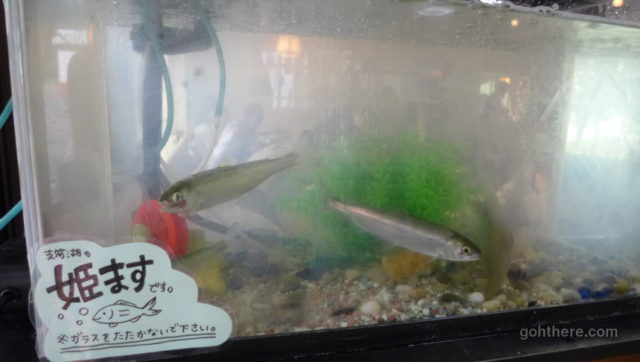 Aquarium with Hime Masu.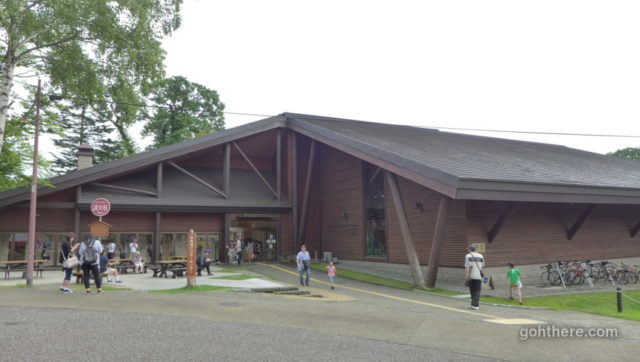 Shikotsuko Visitor Centre (支笏湖ビジターセンター). It has some exhibits as well.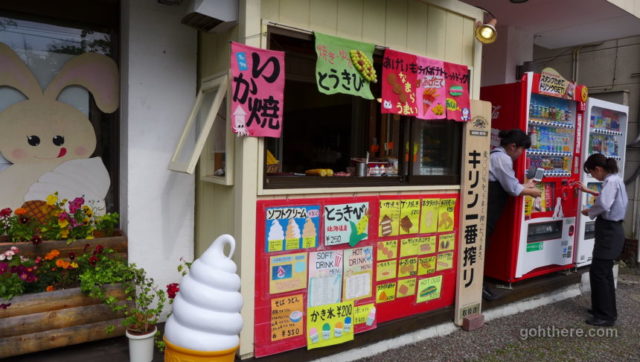 The noodles weren't enough. We bought a grilled sweetcorn here. But again underwhelming. Is that all tourist-quality food around here?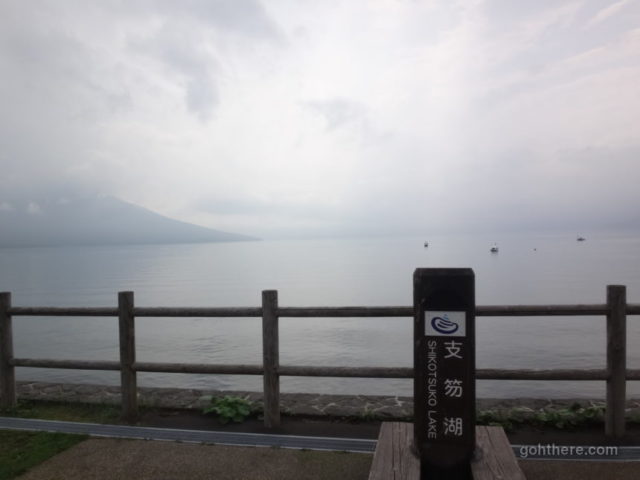 In good weather, it's possible to see reflection of the nearby mountains.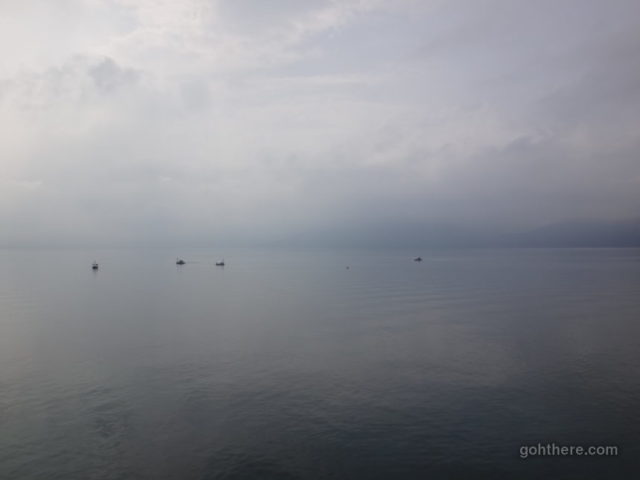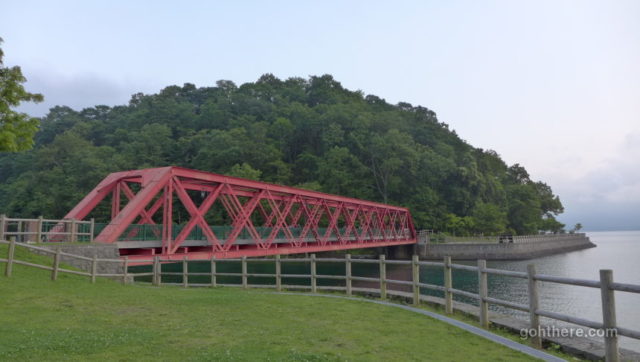 This red bridge crosses over River Chitose, which flows into Shikotsuko.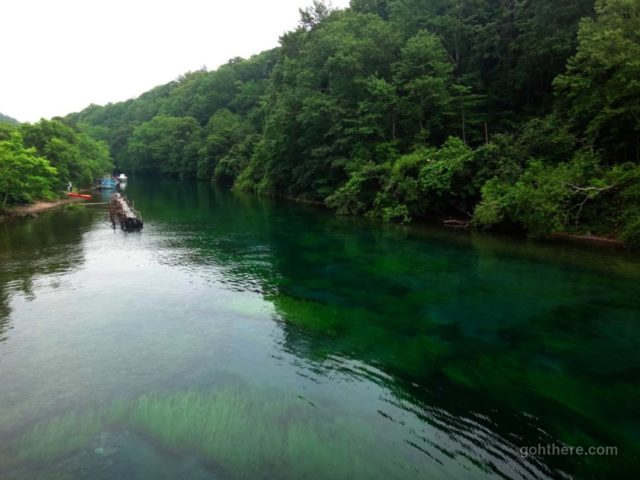 Amazingly clear water seen from the bridge. Lots of aquatic plants and fish. This is where we would be doing the canoe session!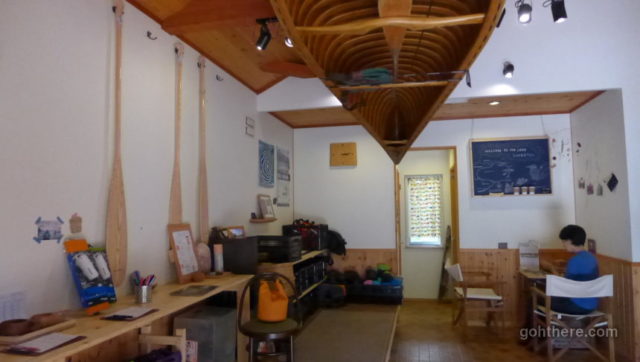 We had booked a session at this shop Canoa (かのあ) through their website beforehand. They have various plans including proper canoe lesson or full day tour; we went for the basic "family session" (i.e. ok even for kids with no experience) which was 1.5 hours.
"Family session" would be on the River Chitose we saw earlier. The water is very calm there and the area is fairly small, so is suitable for beginner.
The cost was 4500 yen per person; Earlier we found another shop by the lake offering similar canoe tours but for at least half the price. The shop front was definitely not as nice-looking as Canoa, but might worth checking out to compare the details (how many guides, the equipment etc).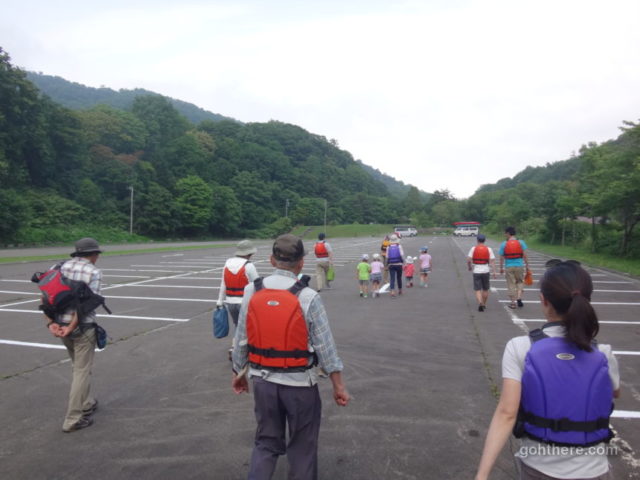 After putting on life-jackets, the guides brought us to the river side. Few other groups also doing the same session. It's a Saturday after all.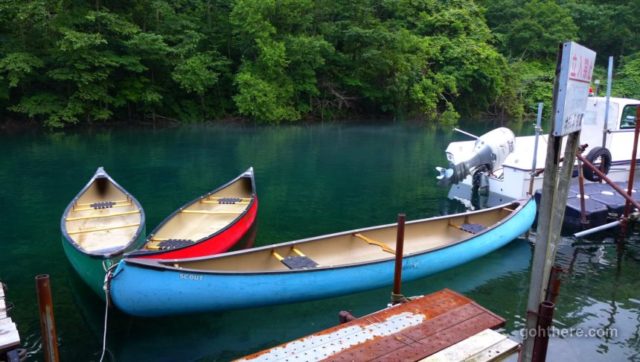 The guides gave some instructions on pedalling, but of course it's hard to imagine on dry land and we just had to try it for real! As long as we take care not to overturn the canoe, there should be no problem.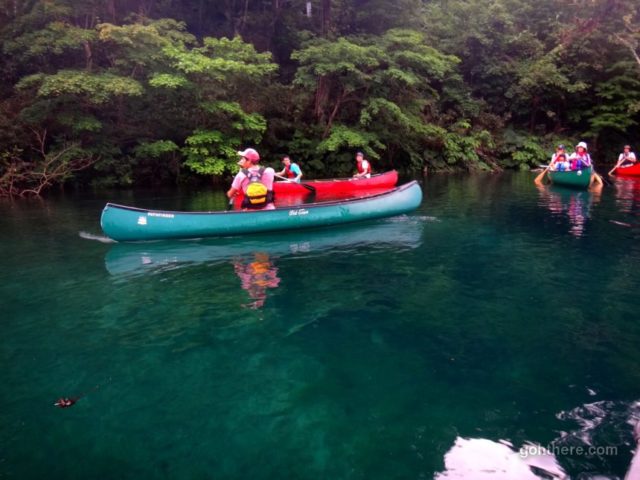 The guides continued explaining how to control the canoe while we slowly moved upstream.
We found it a bit of challenge to keep our canoe going straight!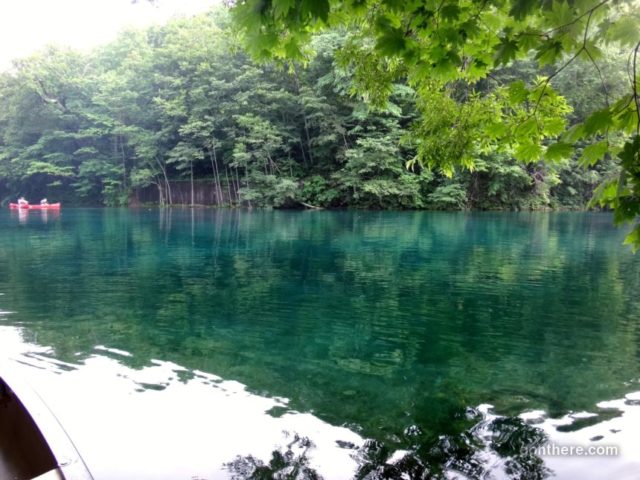 The guides showed us places where we could see shrimps.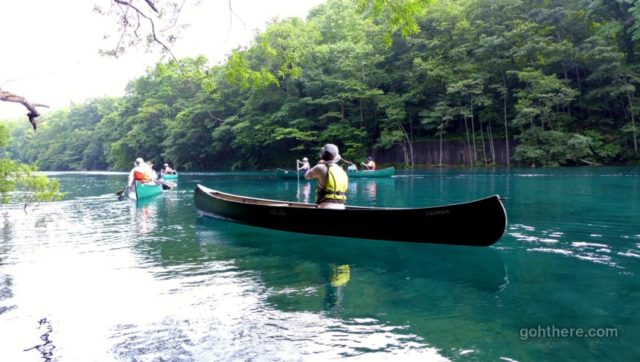 The colour of the water was beautiful. Rivers usually become cloudy after heavy rain, but here it's still extremely clear. Well-deserved for top ranking in water clarity.
We saw some photos taken when there's sunshine, and it looked even more amazing with the canoes like floating in mid-air.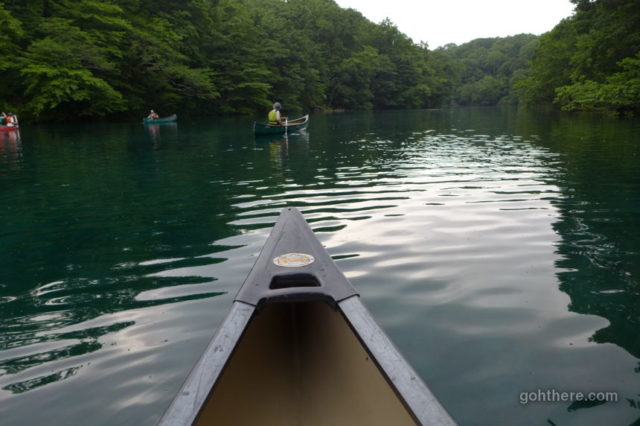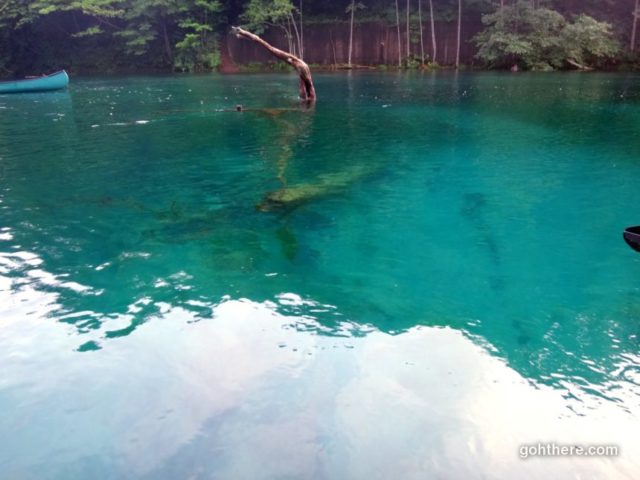 Could see deep into the water.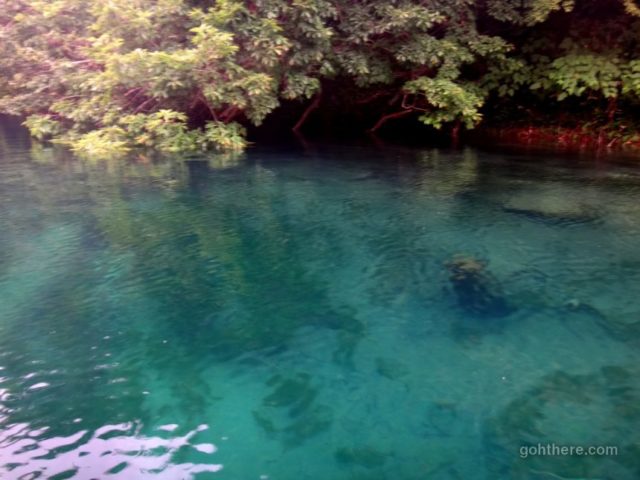 Time on canoe was exactly one hour and it felt to be over so quickly. We headed back to the shop and they took some photos for us which was included in the plan.
If the weather is good, I'd like to do something similar again (though we didn't get much better at controlling the canoe!)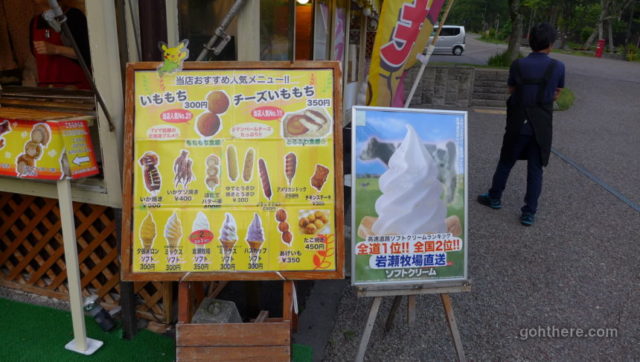 We tried one more tourist snack before leaving – this shop claimed its milk soft-serve ice-cream was ranked second in Japan highway service areas, and delivered fresh from the farm.
It's good. I guess you can't go wrong with milk ice-cream.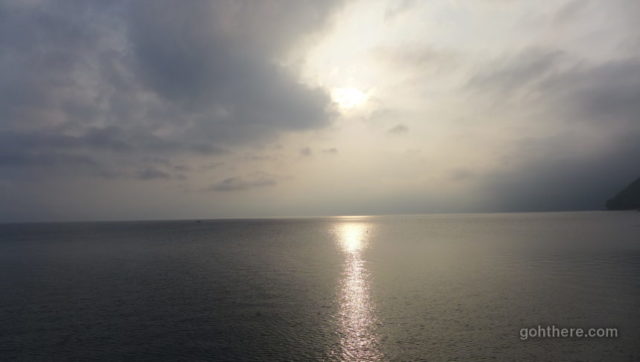 Finally some sunshine in Shikotsuko. It's almost 5:30 pm and most of the tourists were gone.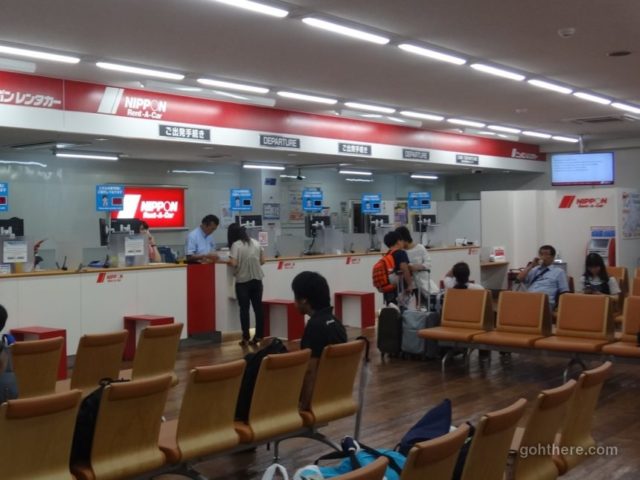 Our departing flight at Shin-chitose Airport would be at half past eight. Shikotsuko is only about 40 minutes drive away, so that would leave us some time for dinner.
All the major rental car shops have large branches at Shin-chitose Airport; we only needed to return the car there and use their free shuttle to get to the terminal building.
We made a few wrong turns when heading to the rental shop though, thanks to the somewhat confusing sat-nav direction.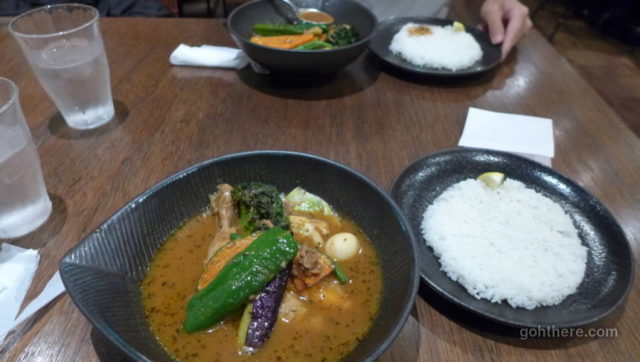 One more soup curry to conclude this Hokkaido trip. We didn't expect much from a restaurant in the airport but it was surprisingly good.
We experienced some poor weather on this trip in particular on Rishiri Island, completely missing the Mount Rishiri view at Otatomari Pond. Nevertheless, we did have sunshine except the last day in Rebun, and enough dry weather for some cycling in Rishiri on the second day. From the weather report, Hokkaido prefecture was under continuous alert for severe rain for the latter half of the week, and while the heaviest rain moved to the north, we just managed to escape back to Sapporo, and had a dry day for canoeing! Pretty fortunate we were able to enjoy the trip to the full.