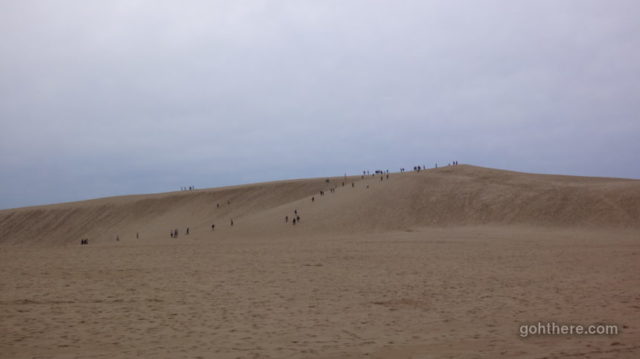 The overnight train journey on the Sunrise Izumo (サンライズ出雲) was certainly a highlight of the trip, but it was just the beginning! We got off at Matsue (松江) which is the capital city of the Shimane prefecture (島根県). This would be our base for this trip for exploring the Sanin region.
Regarding itinerary planning – actually it might be better to keep moving hotel as you visit different places, as this would save time to travel from and to your base. But this time we were using a travel package (as mentioned in depth previously), so there were certain limitations.
Weather forecast for these few days was pretty unstable. Today was overcast but pretty certain without rain, so we made Tottori Sand Dunes our main spot for the day – dry weather definitely better for such a place!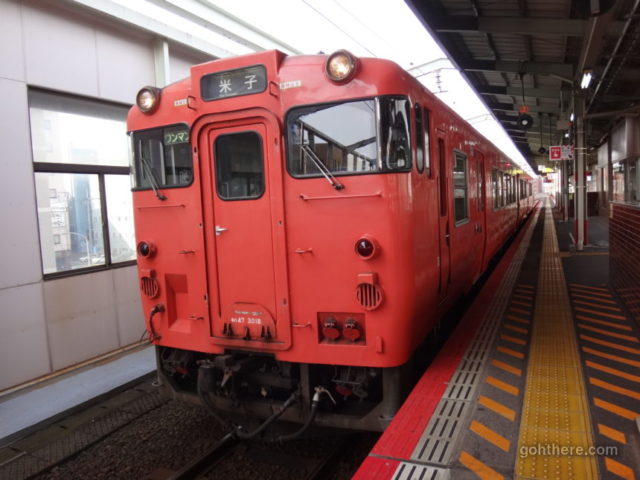 After leaving our luggage at the hotel in Matsue, we took the train again heading to Tottori (鳥取).
Tottori is the adjacent prefecture and it's a 2-hour-plus train ride (there is also express train which takes a shorter 1.5 hour, if you are fine to spend extra). Not to forget we would have to come back the same way tonight, so altogether a good chuck of time on transport. Which is why I said it might be more efficient to stay at where you visit, instead of staying in one place for the whole trip.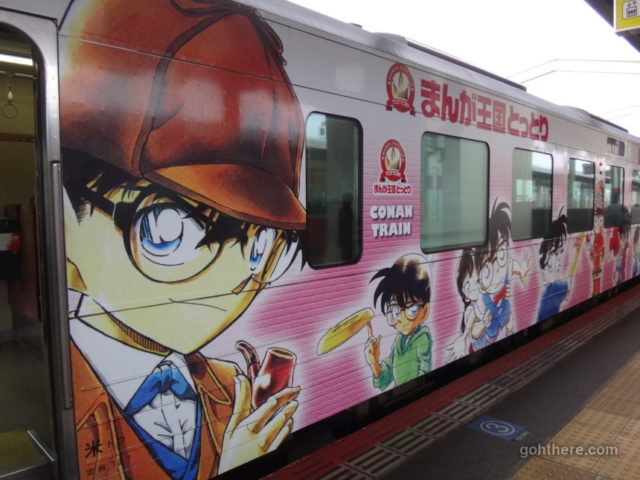 A change was required at Yonago (米子), and this was our next train terminating at Tottori. Tottori is the home town of the author of the famous Detective Conan (名探偵コナン) manga, which is why they have this Conan-themed train!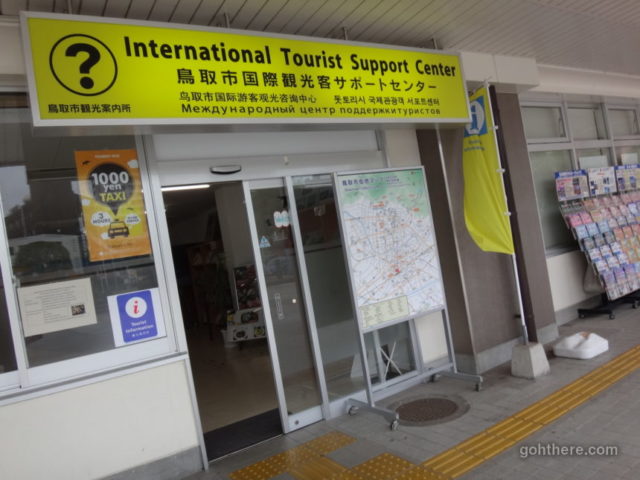 At Tottori station (鳥取駅), we found the tourist information booth and grabbed some maps. And then we noticed outside there's another tourist information centre specifically for "international tourists". We found they offered an incredible "1000 yen taxi" service, for which effectively you get a private driver for 3 hours! No need to worry about infrequent local buses!
It's sad that such good deal was only targeted to overseas travellers – it's unfair to people like us living in Japan and travelling within the country (even not for myself, but for those hard-working Japanese – at least give them a break!). Fortunately for this particular service, traveller visa was not required. But the fact that we cannot get bargains like the Japan Rail Pass always gripe me.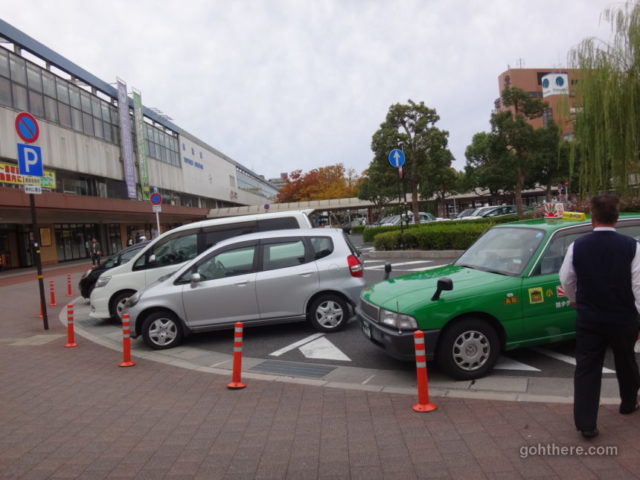 After proposing the places we had planned to visit, the staff at the information centre called the taxi company. And soon we were setting out.
Karoichi Tottori Port Seafood Market (かろいち鳥取港海鮮市場)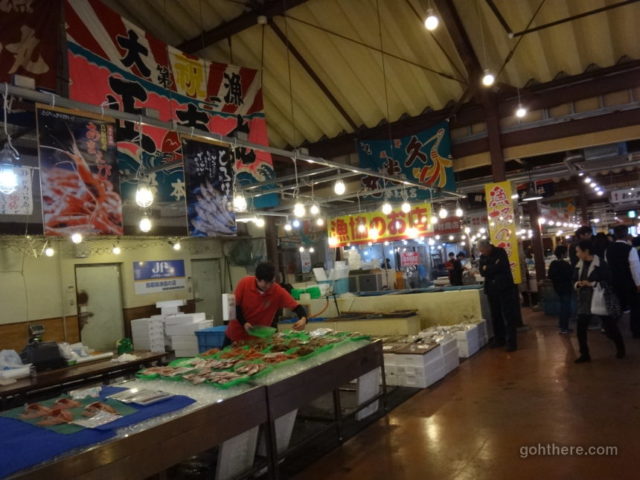 Situated next to the Sea of Japan, there's plenty of seafood in Tottori, so a visit to the fish market was a must.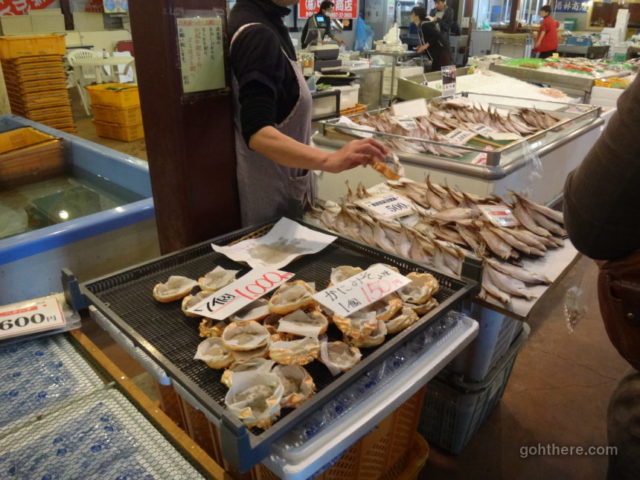 Brown crab meat on sale.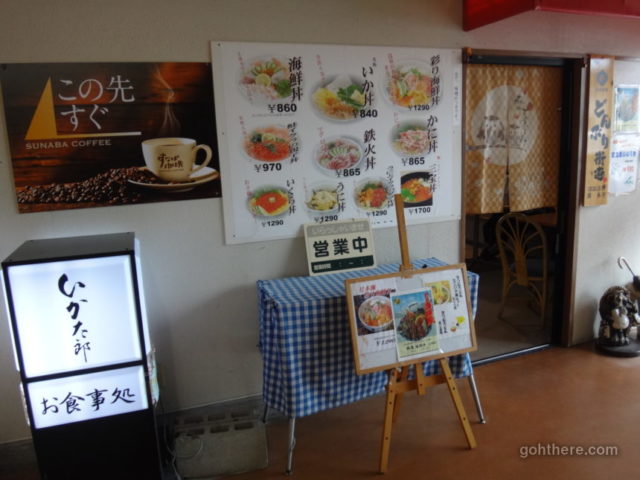 Lunch at this seafood restaurant in the market (there were quite a few nearby, we just picked one).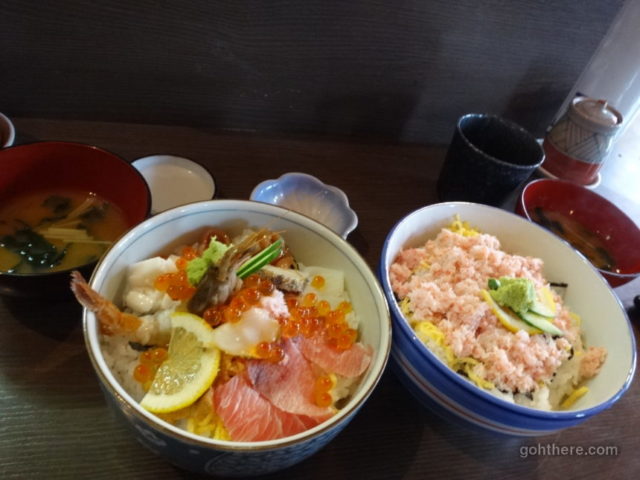 Sashimi rice bowl and another one was cooked crab.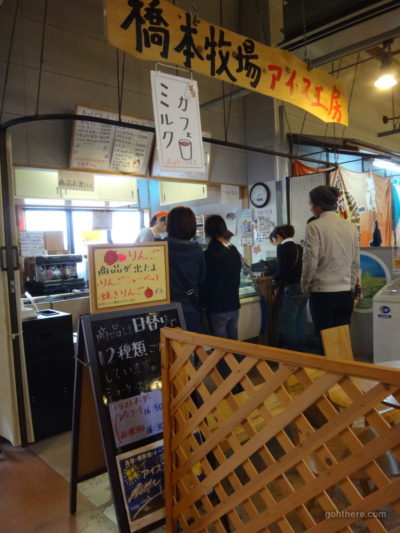 Conveniently for dessert there's a gelato shop ran by a local farm Hashimoto (橋本牧場).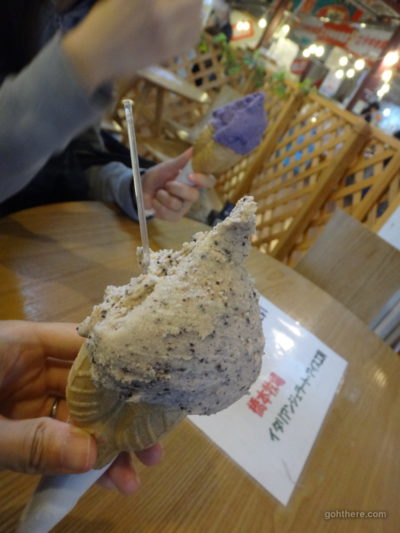 I had the chocolate flavour.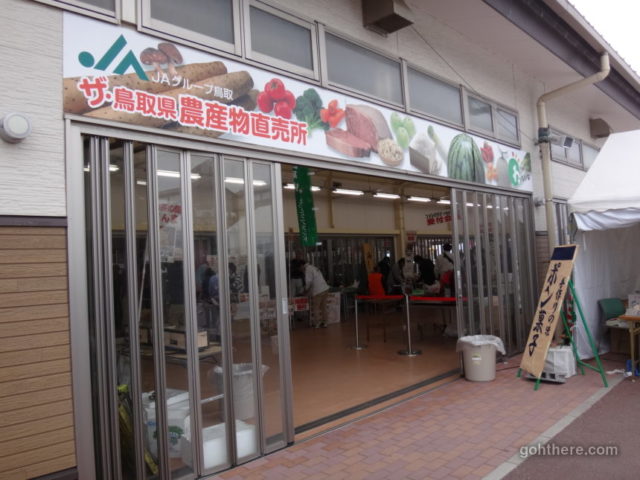 Next to the seafood market was another market selling farm produce.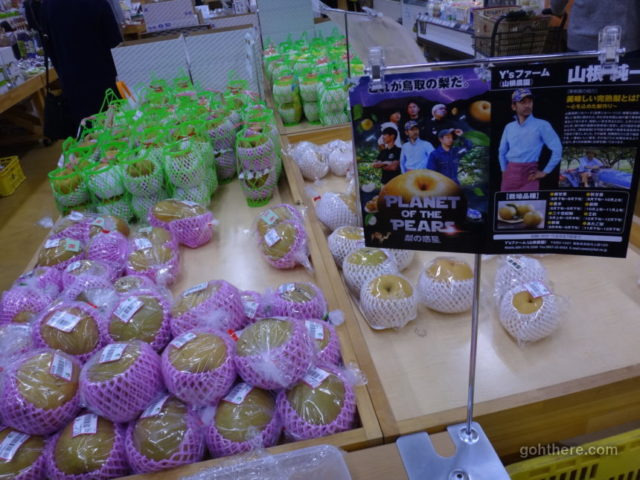 Pear is another famous produce of Tottori. The pear farmers became the cast of "Planet of the Pears"!
Supposedly this particular type of pear called "20th Century Pear" (二十世紀梨) originated from Tottori. With that they also created plenty of souvenir confectionery.
Crab Aquarium Kanikko (かにっこ館)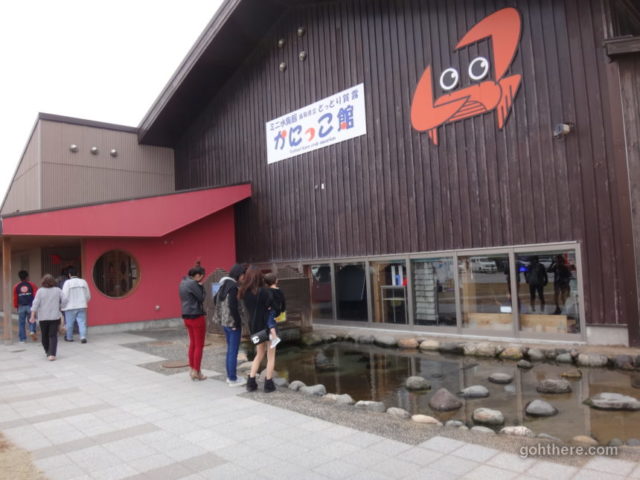 One more place to stop by near the market was this crab aquarium – it's free admission!
Many places along the Sea of Japan (日本海) are famous for crab, and Tottori promotes itself with the nickname "crab-tori" prefecture (蟹取県)!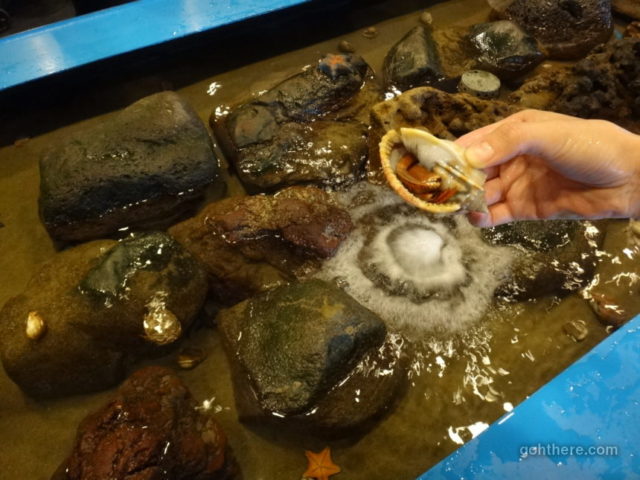 A touch pool. This was the biggest hermit crab we've seen.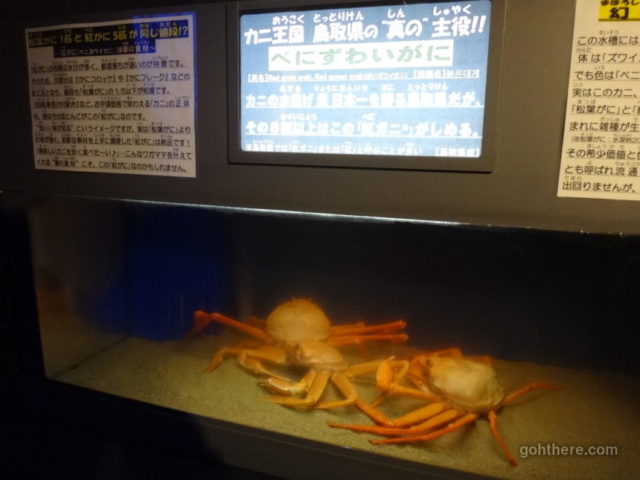 Displays of various types of crab.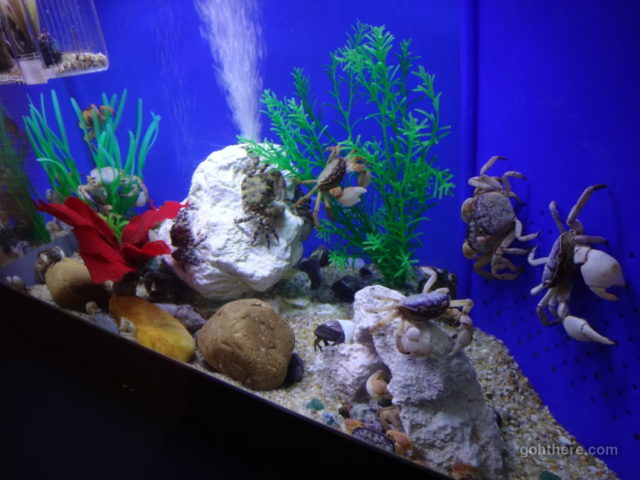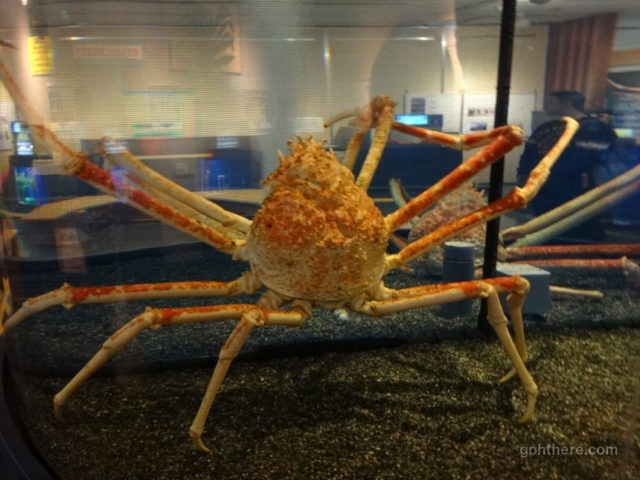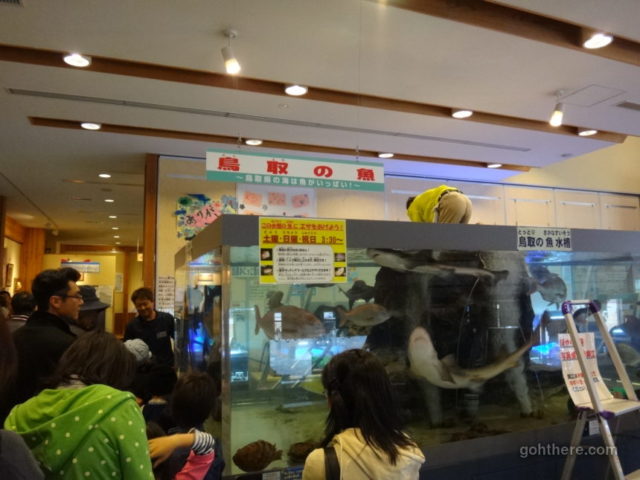 Given that this aquarium was free, it's also quite small. But it's rare to see a crab-themed one like this.
Tottori Sand Dunes (鳥取砂丘)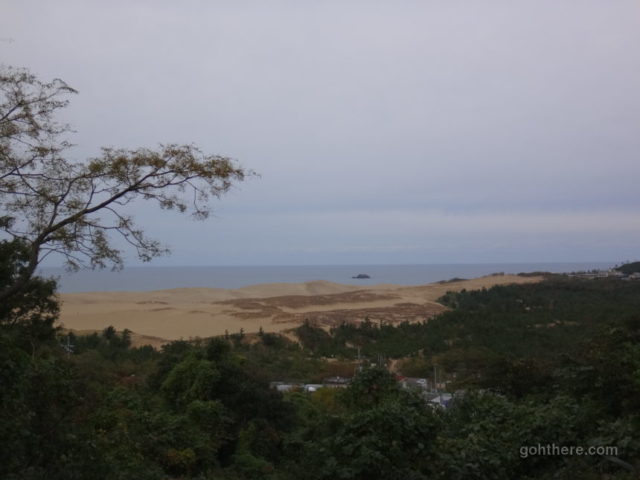 Our next stop would be the most famous spot in Tottori – the sand dunes. It's a short drive from the market area, and before going there the taxi driver first brought us to a vantage point higher up. But it's a bit too far to get a good view.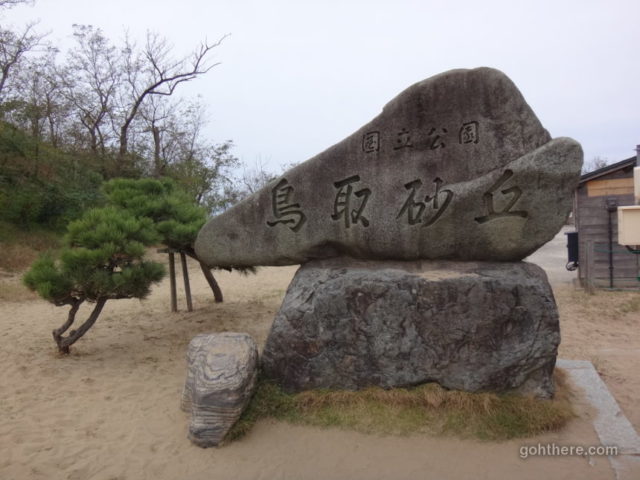 We bid farewell to the taxi driver as he dropped us off at this main "entrance" of the sand dunes. From the outside it just seems like approaching a normal beach.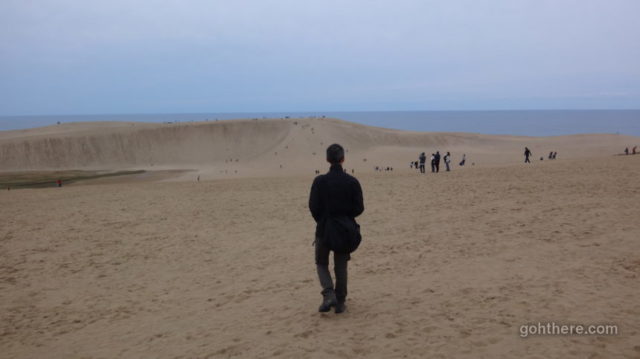 But after making a short climb we got the full view!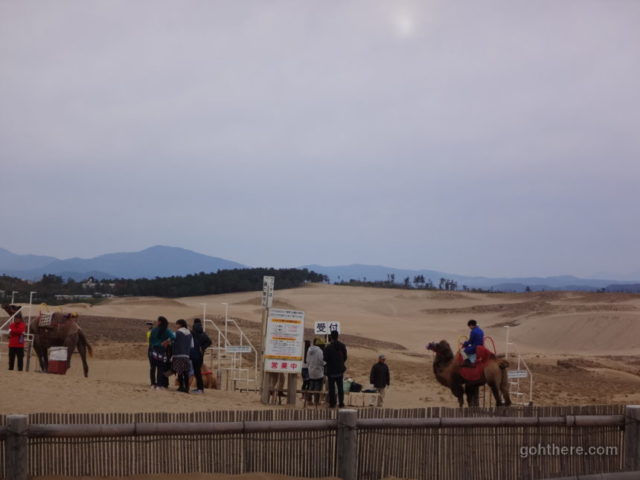 It's a pretty big expanse of sand, but of course no, there's no wild camel. I guess people just thought it's a suitable place to offer camel rides for tourists.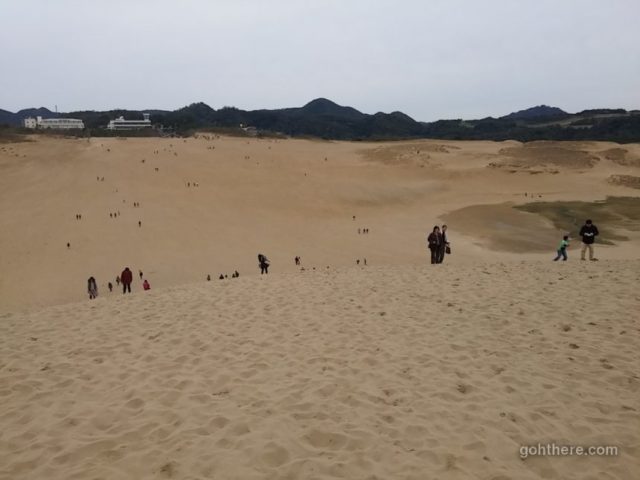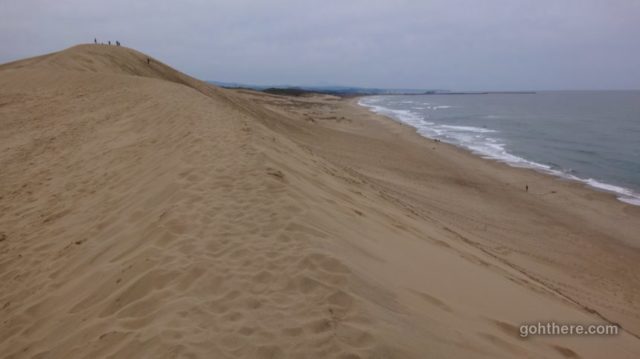 The sand dunes were right next to the sea. So it's really a beach, but a huge one.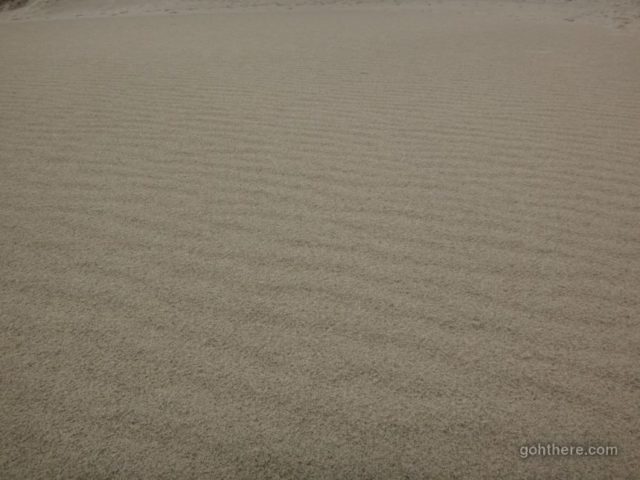 Getting there late in the day means most of the place was already covered with footprints. But as we walked further out we could still find some undisturbed patches where the sand pattern could be seen.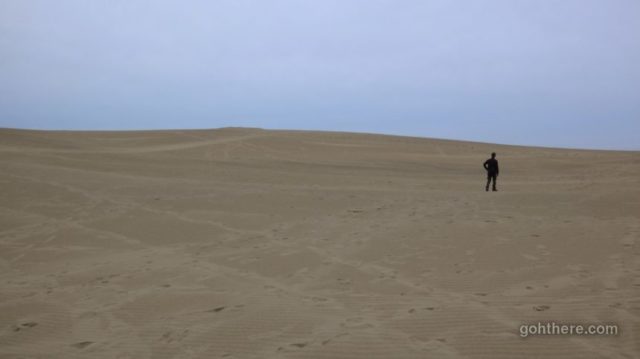 While not the scale of an actual desert, it's still a unique place considering this is Japan.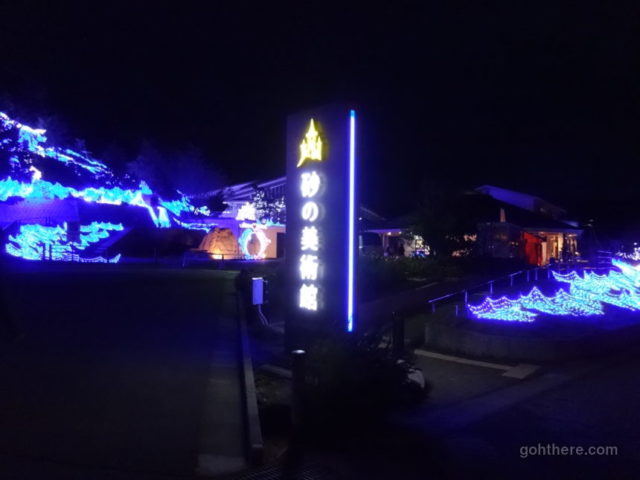 It was getting dark and we left the sand dunes and shopped for some souvenir in nearby shops. We then checked out this "sand art museum" (砂の美術館) which happened to have a light-up event going on.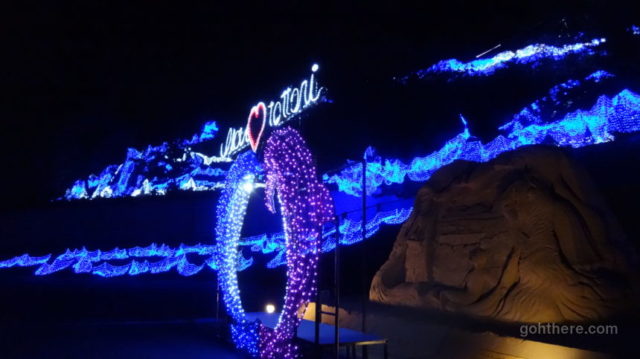 Admission was required for entrance so all we did was to take a few photos outside.
For our way back to the train station, we had to wait for a local bus. No taxi any more!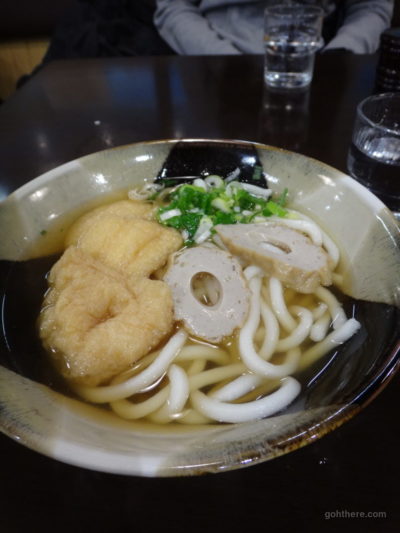 In the Tottori station building was this cheap noodles place called Sakyu Soba (砂丘そば), literally "sand dunes soba". The circular thing called ago chikuwa (あご竹輪) was another famous local food, made from flying fish meat. This was surprisingly delicious.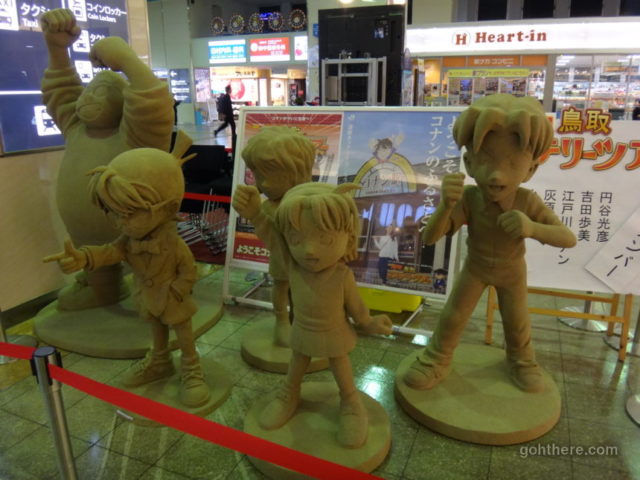 Detective Conan statues made from sand – Tottori's selling points.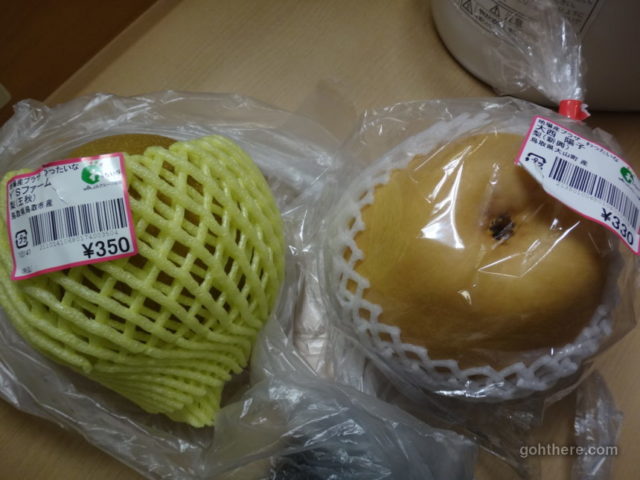 It's another 2-hour train ride to go back to our hotel in Matsue. For night snack we had these Tottori pears bought during the day.