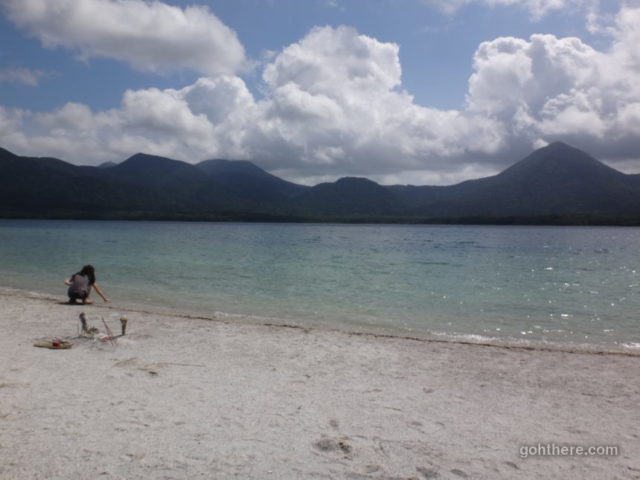 We were getting to the northern-most section of our Northeast Japan trip. Osorezan (恐山) (literally: fear mountain) was our first destination. It is one of the "top three spiritual sites" (三大霊場) in Japan, but no worry if you're not into that, as next to Buddhist temple complex is a unique geothermal area (which supposedly resembles the hell) and a beautiful caldera lake, which I'd say was actually the highlight of the place.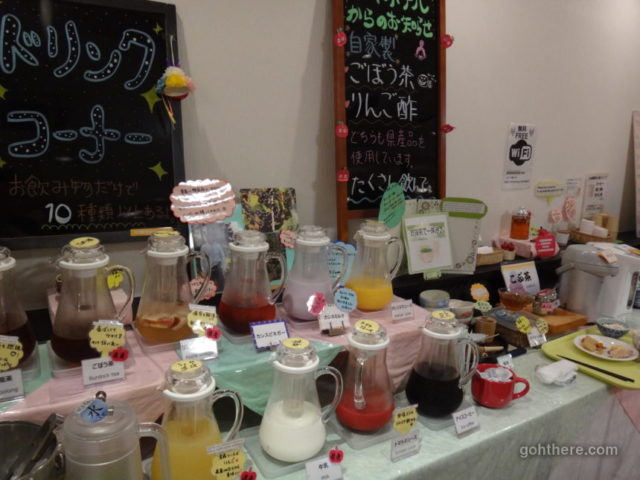 Last night we stayed at this hotel called "Art Hotel Color Aomori". A pretty standard business hotel but its breakfast was surprisingly good, in particular its selection of drinks, making full use of the apple – Aomori's top produce.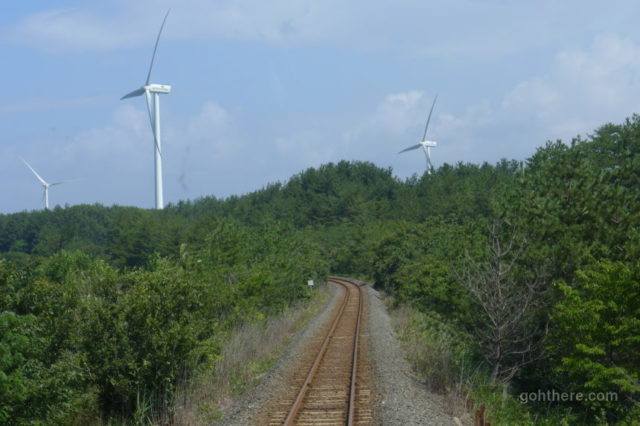 We then left Aomori City, taking the Ominato line (大湊線) train heading north to the Shimokita Peninsula (下北半島).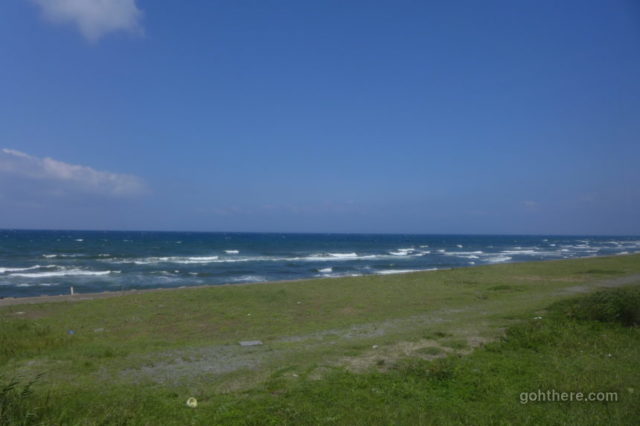 The route goes along the western coast of the peninsula, with some good views on the way.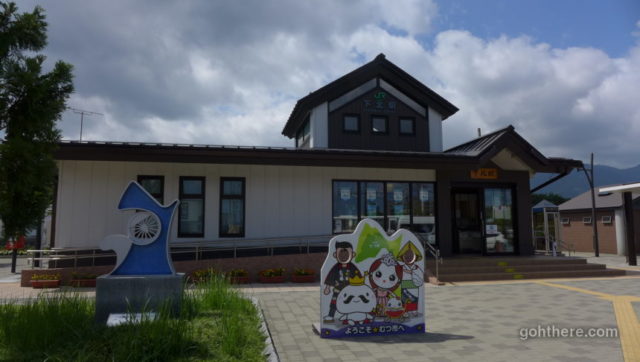 Getting off at Shimokita station (下北駅). We had reserved a rental car and the shop was just next to the station. From here on we'd be driving for the next few days as public transport is not very convenient for the places we'd be visiting.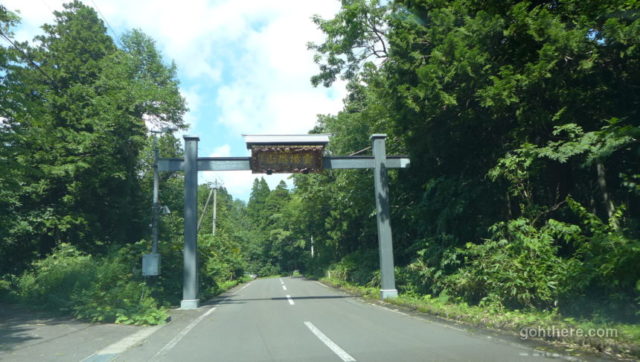 Following Prefecture Route 4, we arrived at the Osorezan area in just half an hour.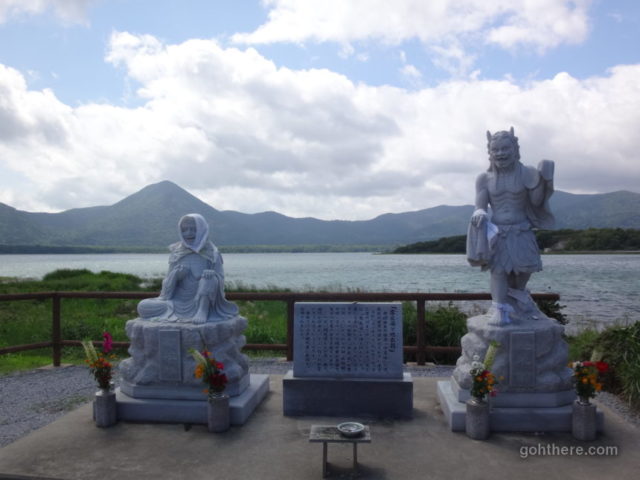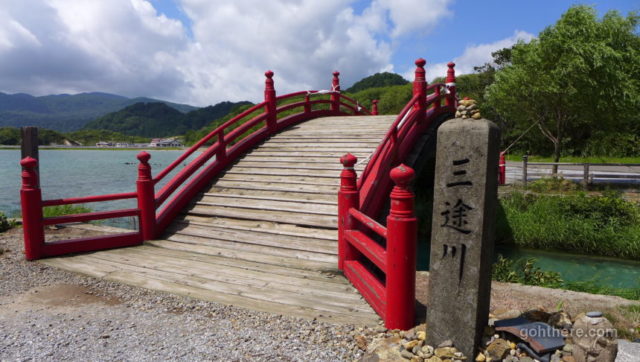 Before reaching the temple area we made a stop to see this bridge over Sanzu-no-kawa (三途の川). In Japanese belief, after people die they'd cross over the Sanzu River to the "other world". It's of course not real the name of this river here, but a representation that we're crossing over to the other world…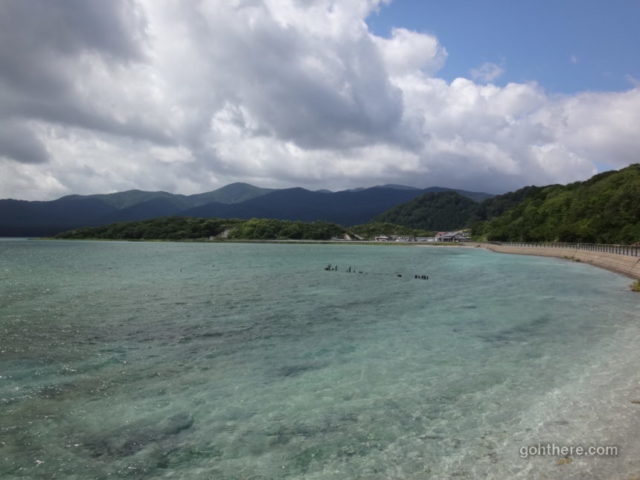 The caldera lake Usori (宇曽利山湖), the temples are just further ahead.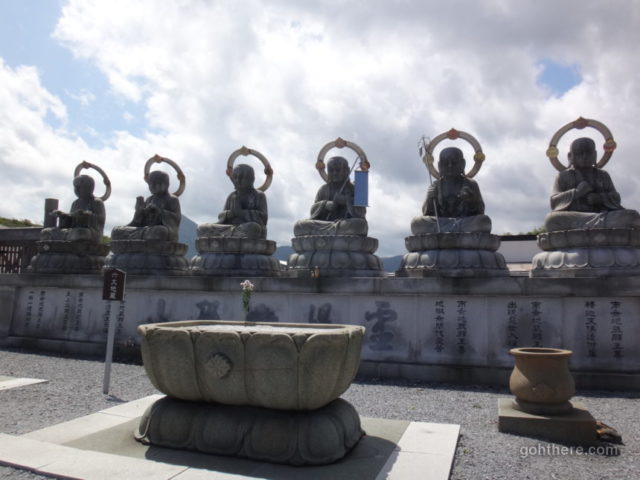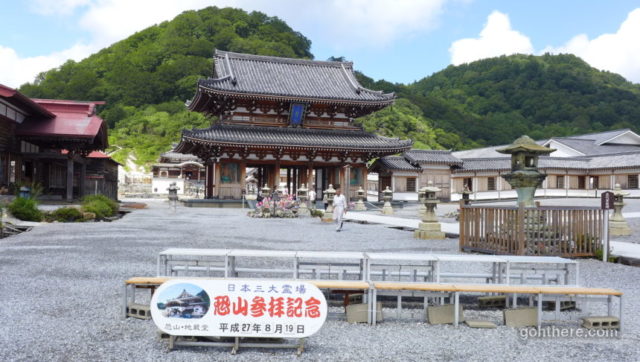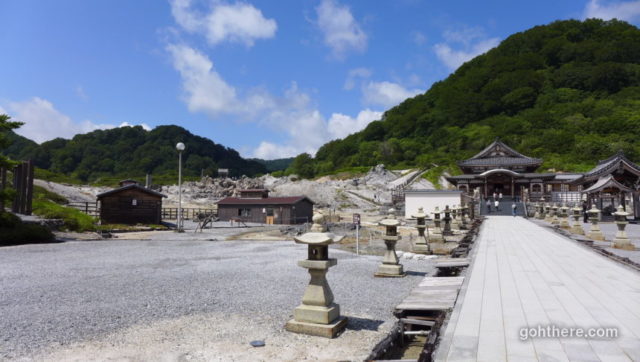 Going through the temple on the main approach, the geothermal area is just on the left.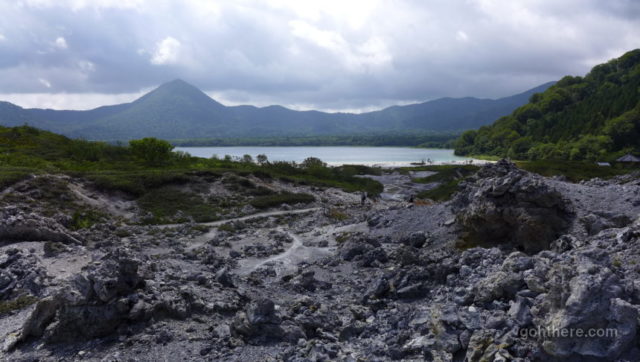 A desolate terrain, and with volcanic gas seeping out of the ground, this is the impression of hell.
But it's really a relaxed walk as the trail is mostly flat.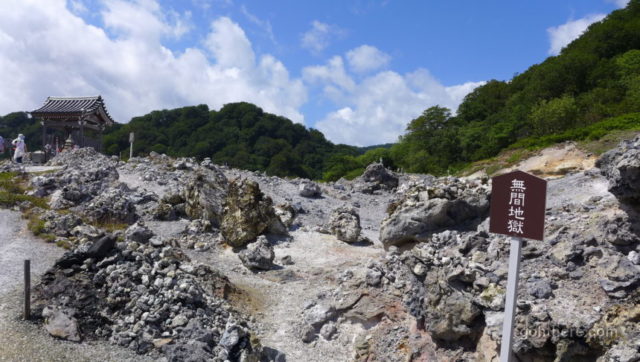 A few signs dotted the area with names of various "hells" in Buddhist belief.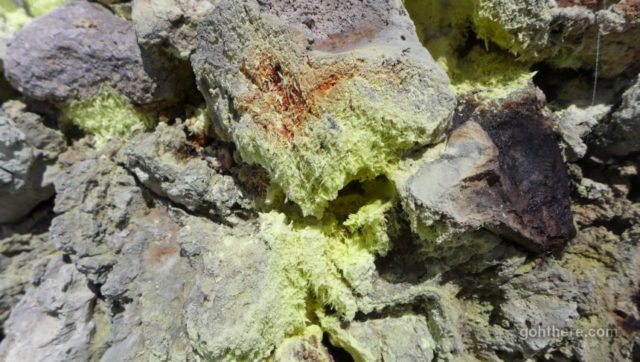 Bright yellow sulphuric deposit typical of geothermal area.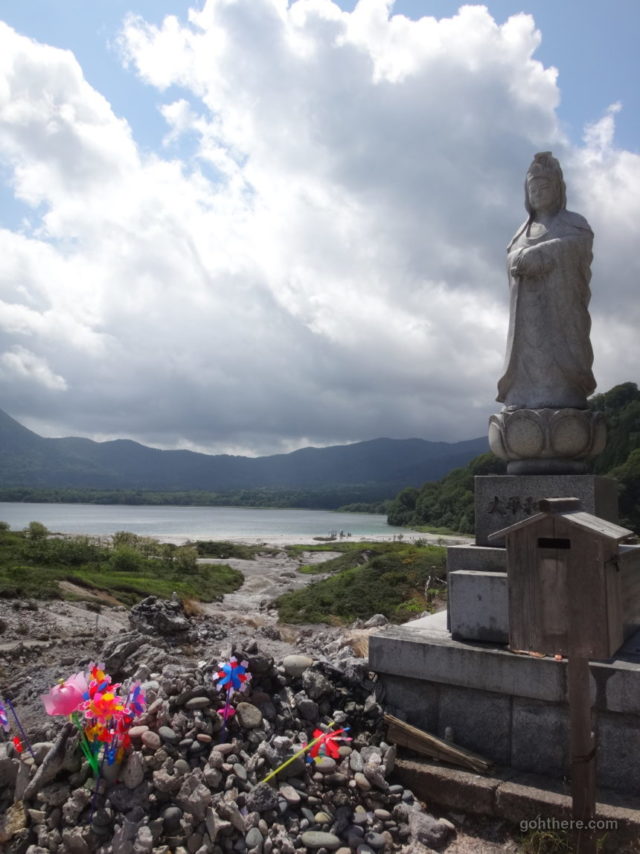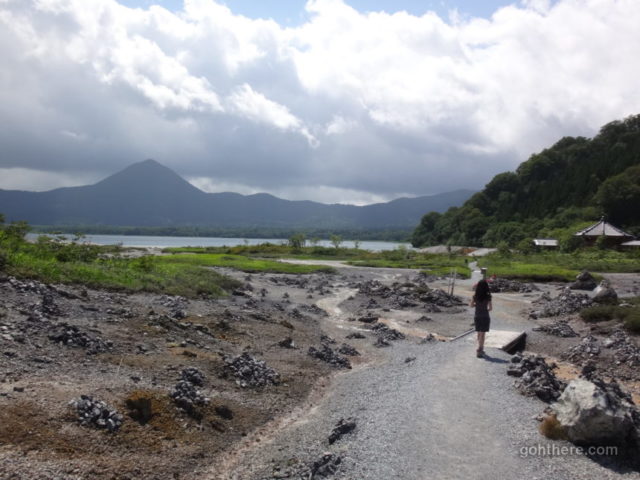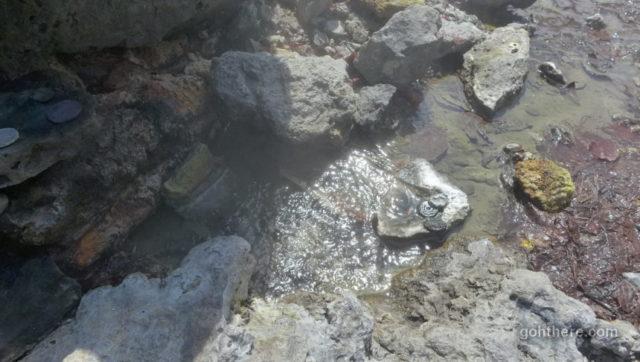 Little hotspings found around the area. The water is acidic, some people left coins there and could see them heavily corroded.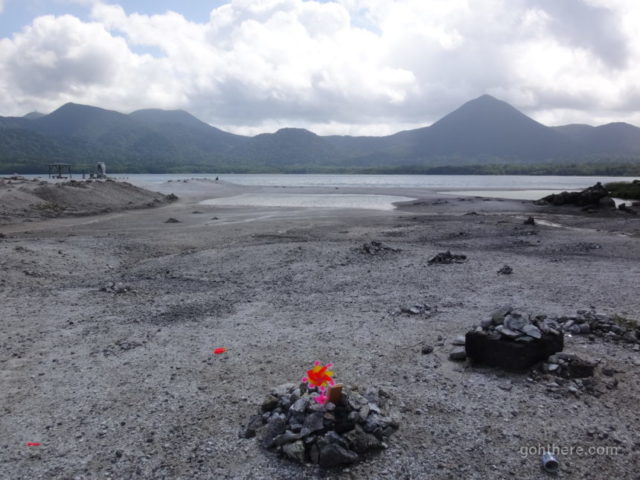 The trail leading out to Lake Usori.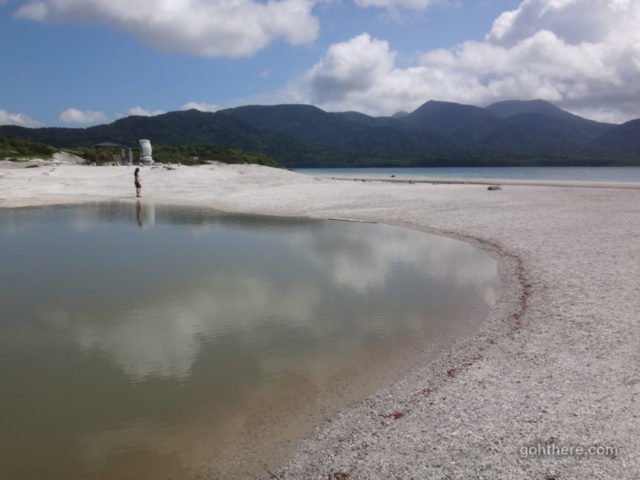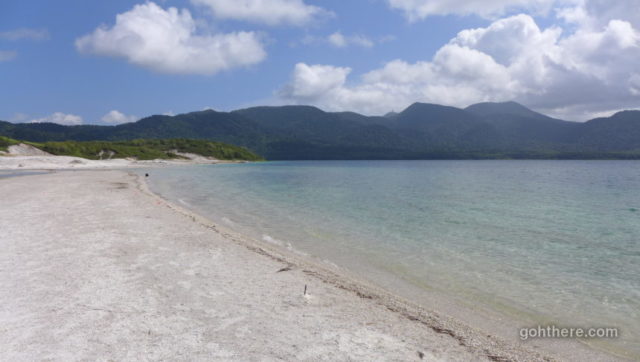 Pale sand and exceptionally clear water that could be mistaken as a tropical beach. This is named "heaven beach" (極楽浜) which is an interesting contrast to the "hell".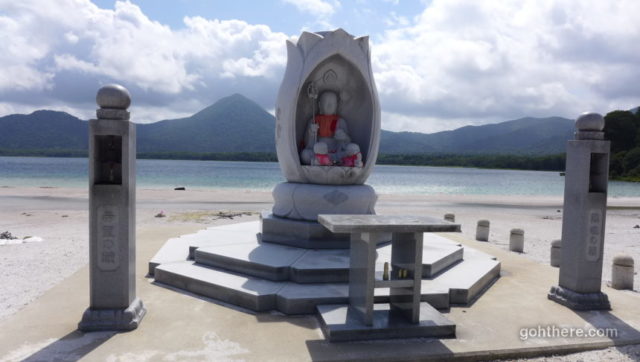 A new monument created in remembrance of the 2011 disaster.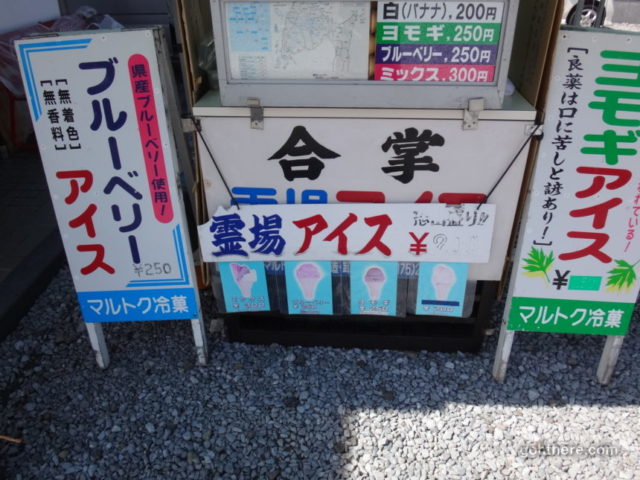 Finishing the trail looping back to the temple area, we bought an ice cream from the snack store. It's made from blueberries produced in Aomori.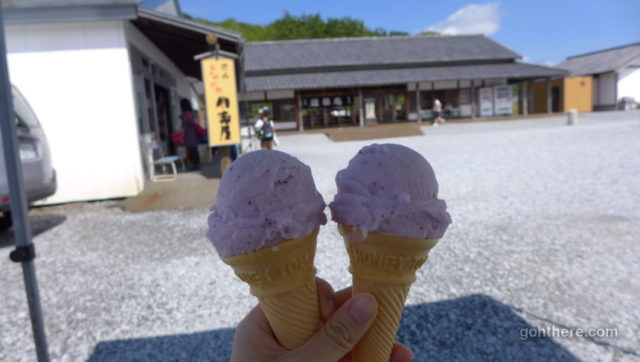 Given the location, it's not surprising there's also a hotspring for bathing in Osorezan. But it's time for us to move on to our next destination, Cape Oma.