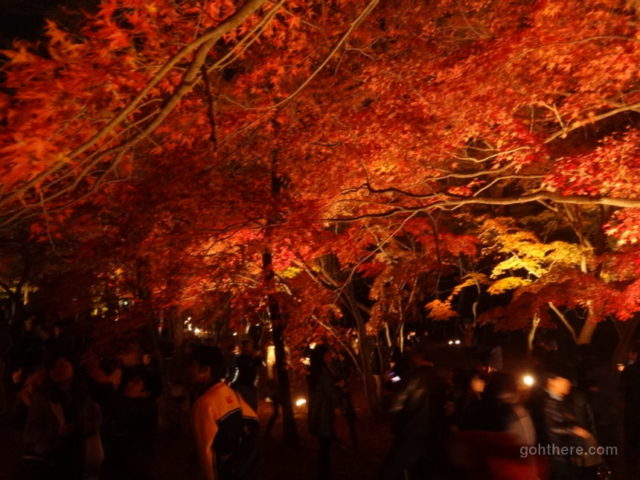 To see some autumn colours, and have a short day trip away from Tokyo – this time we went to Nagatoro (長瀞) in Saitama prefecture, northwest of Tokyo. It has a park named "Tsuki no Ishi Momiji Koen" (月の石もみじ公園), literally "Moon Stone Red Leaves Park" – can't go wrong with that right? ("Momiji" is Japanese Maple, but literally is just "red leaf")
In fact, Nagatoro is usually ranked as the best place in Saitama prefecture for autumn colours. During red leaves season (late November), the park opens until late hours, and the trees are lit up in the evening. But that's not all – the nearby Nagatoro River Valley (長瀞渓谷) is also a designated site of scenic beauty (国家指定名勝), and one of the national nature monuments (自然記念物), for its special rock formations. Autumn time gives it even more beautiful colours. There are some short hiking trails, and – admittedly a bit tourist-oriented – several companies offer rafting tours down the river.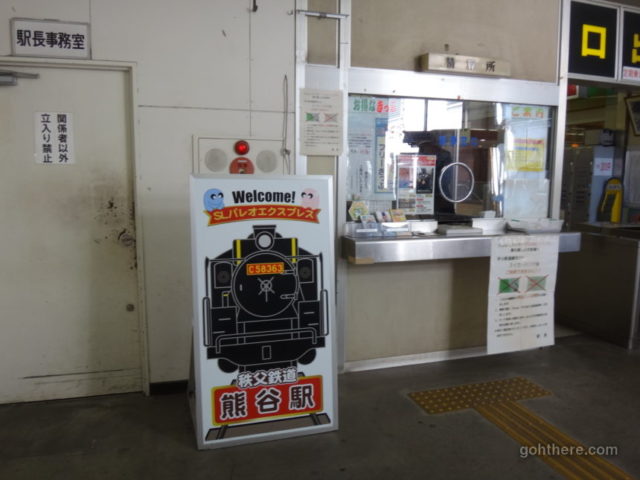 Getting to Nagatoro normally requires taking the Chichibu Railway (秩父鉄道) from Kumagaya station (熊谷駅). Including the time required going from Ikebukuro station (池袋駅) in central Tokyo the whole journey should take just over 2 hours.
There are also some steam locomotive services on Chichibu Railway as shown in the sign board. But these are rare and require prior reservation.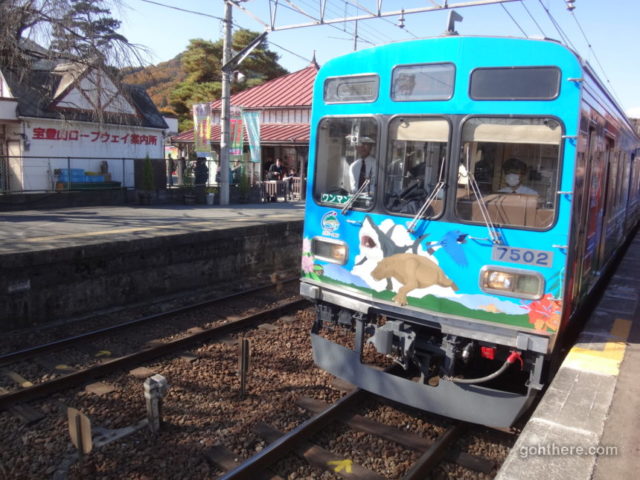 Chichibu Railway (秩父鉄道).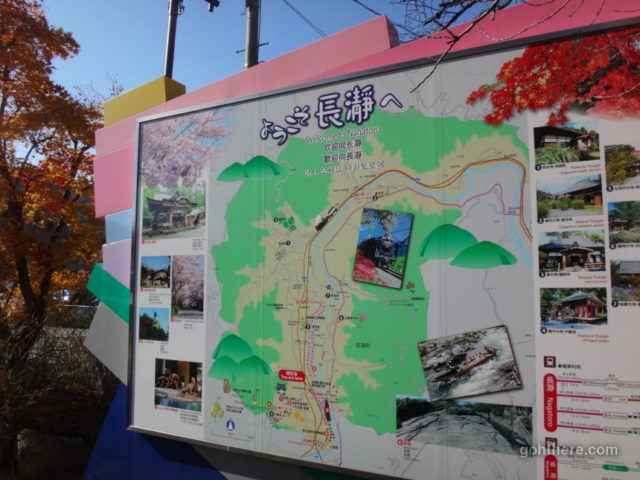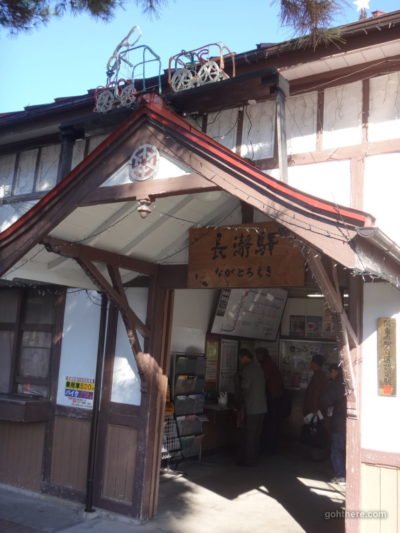 Nagatoro Station (長瀞駅). A small station in the countryside, but when in red leaves seasons (now) it was pretty crowded.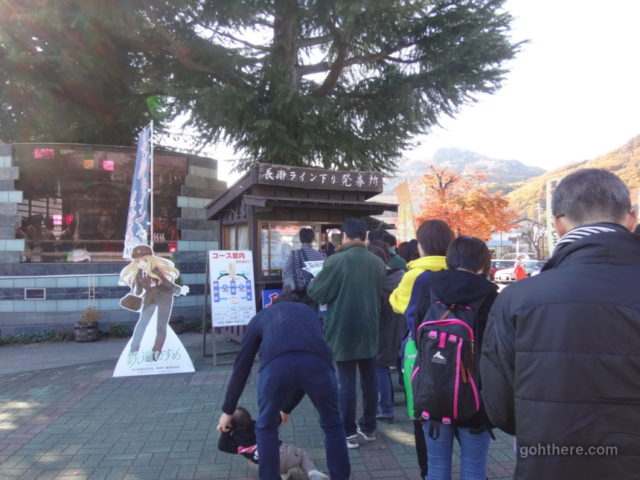 Just outside the station there's a booth by a rafting company (長瀞ライン下り) selling tickets for the tours. There's an A course which starts further upstream and finishes back near the station, a B course that starts from that point and goes downstream, or an "full course" which is basically A plus B. Both of them are for about 15 to 20 minutes covering 3 km (so double for the full course). As each course has its interesting spots, it would be tempting to take the full one, but it's a bit expensive at 3000 yen. In the end we went with B course.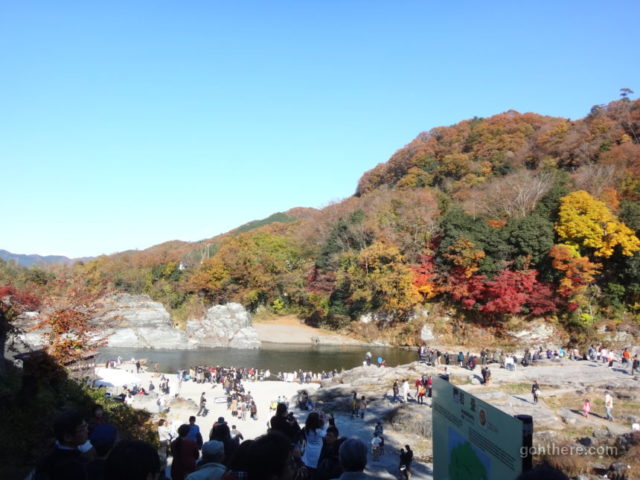 The river is just a short walk from the station. Look at the queue lining up waiting to get on the boats! Oh and some colourful leaves too.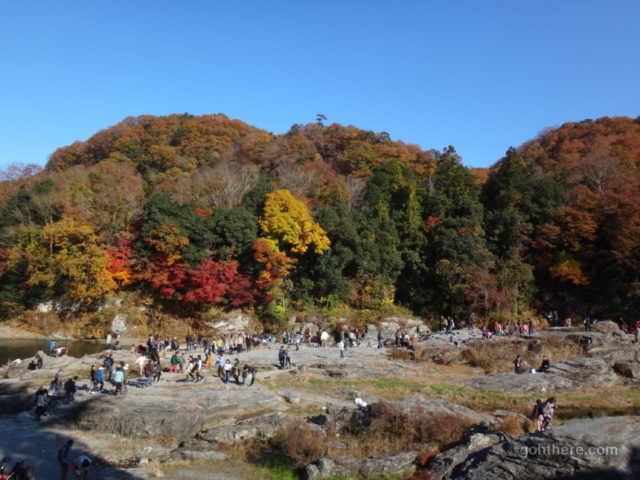 Nagatoro Water Rafting Tour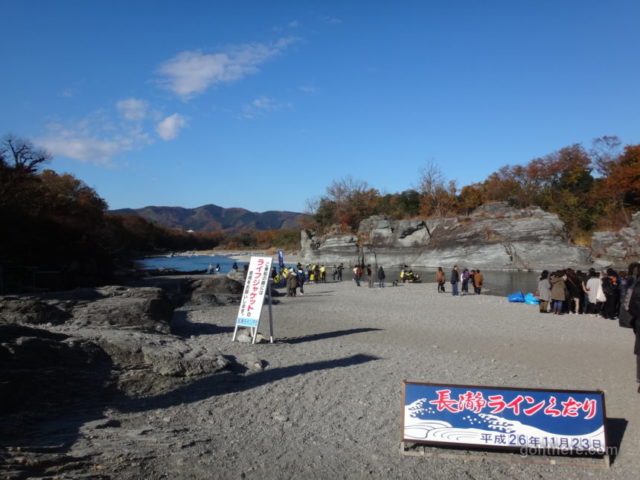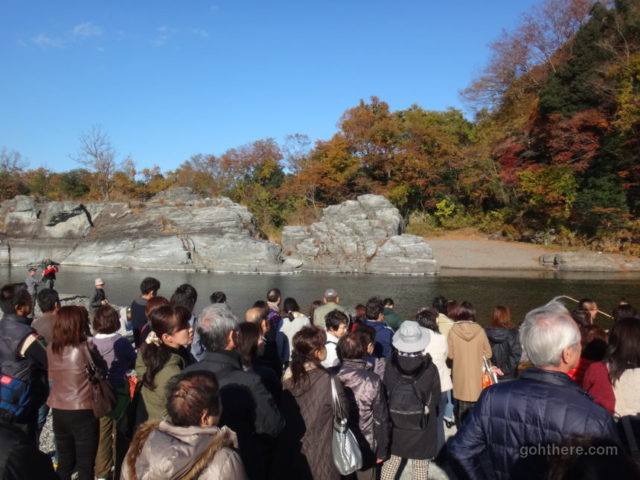 Are we waiting for the next train in Tokyo Station during rush hour?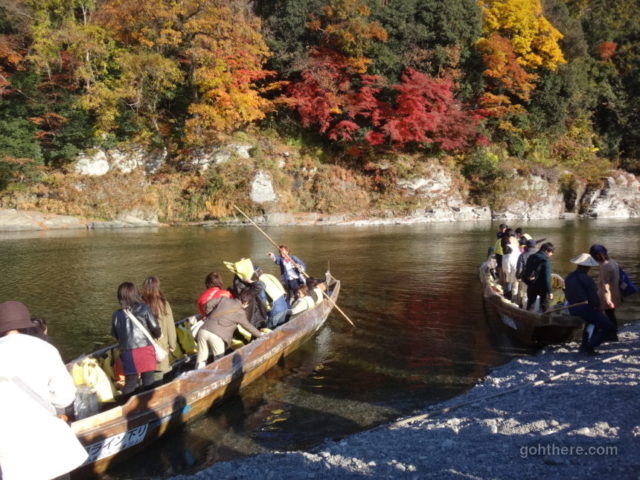 The turn-around was pretty quick though.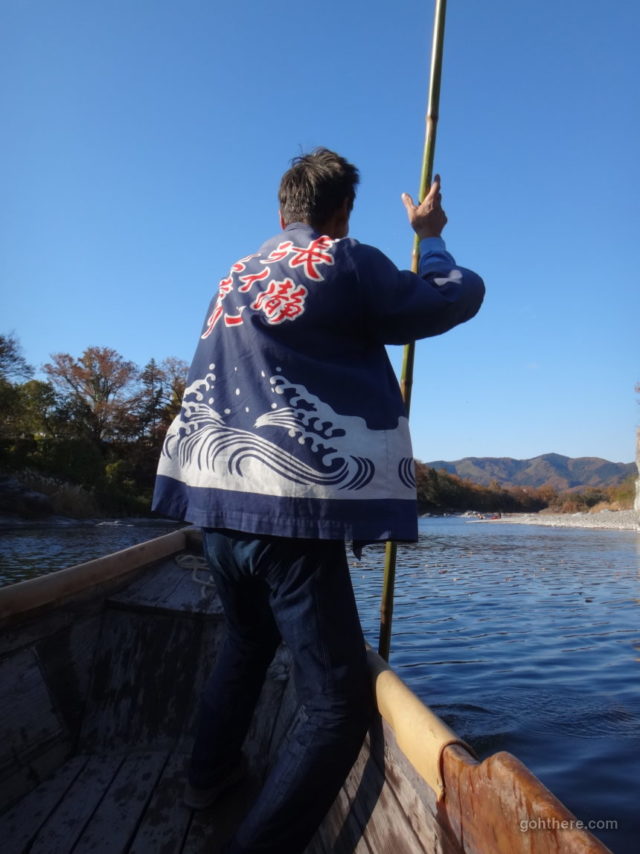 We're off! There are two boatmen, on the front and back; the main work seemed to be done by the guy in front.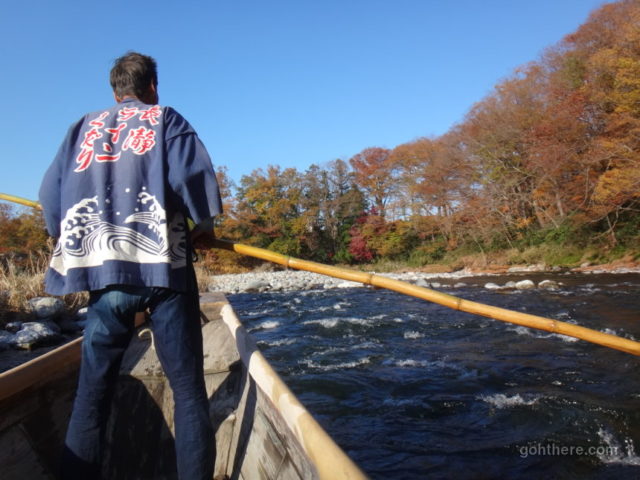 The trees had changed colours.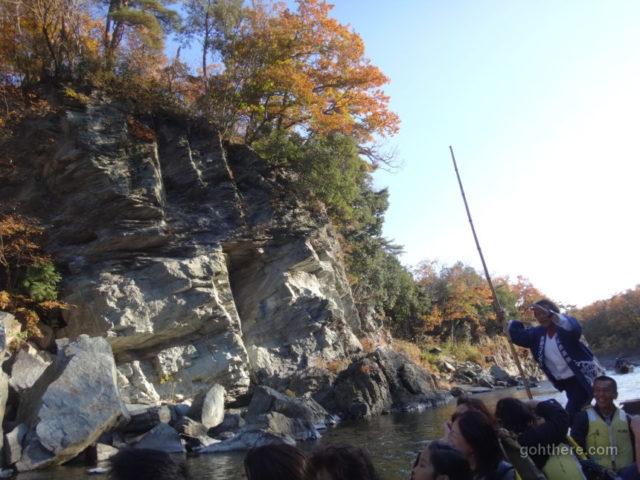 The guy in the back was mainly explaining the various sites of interest on the way. He joked that he was losing his voice today speaking too much.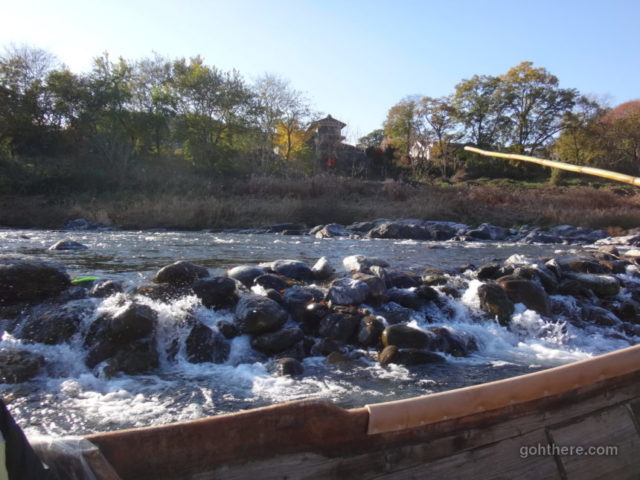 Some small rapids.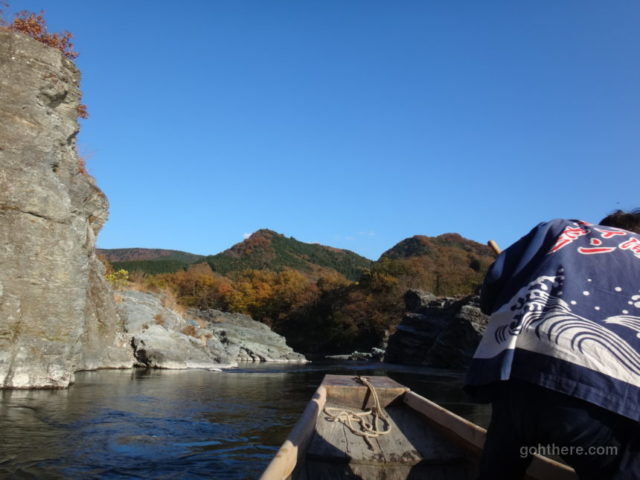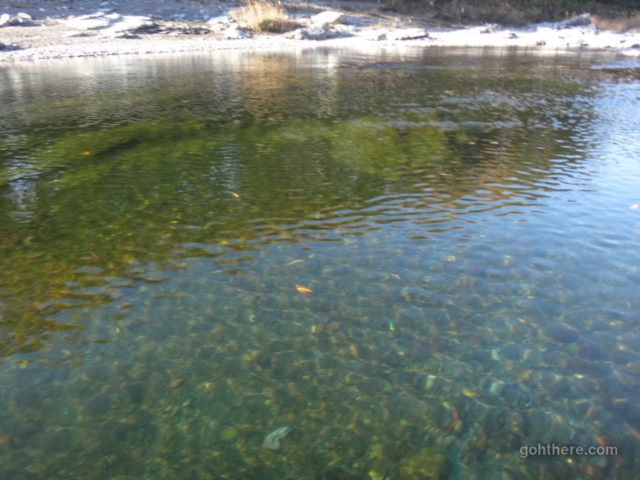 Water was very clear.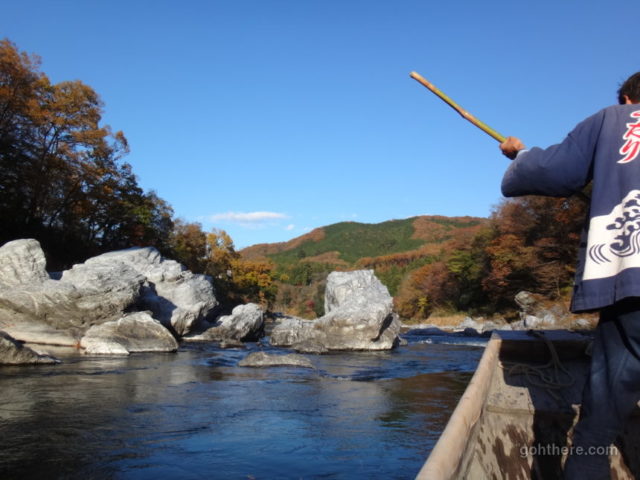 The 20 minute tour was over before you knew it. I'd say it's fine to do it once.
A shuttle bus took us back near Nagatoro station. It was still very early, so we walked a little to the Hodosan Shrine (宝登山神社), which is another good place for autumn colours. There's a also cable-car (宝登山ロープウェイ) going up the hill; we thought about walking it, but turned back after experiencing some steep climb.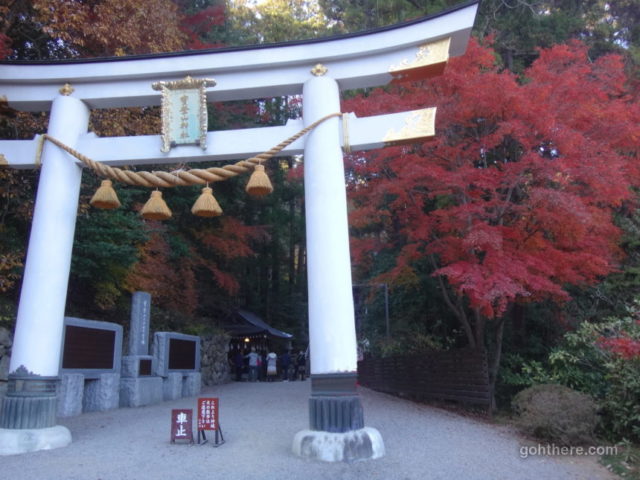 Torii gate of Hodosan Shrine (宝登山神社).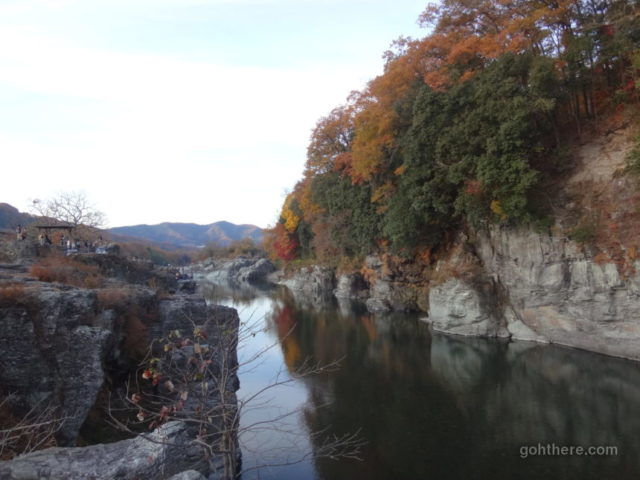 After having some snacks at one of the numerous food stalls near the station, we began a slow stroll on the short trail towards the Red Leaves Park. The direction is upstream going along the valley, and the view was nice.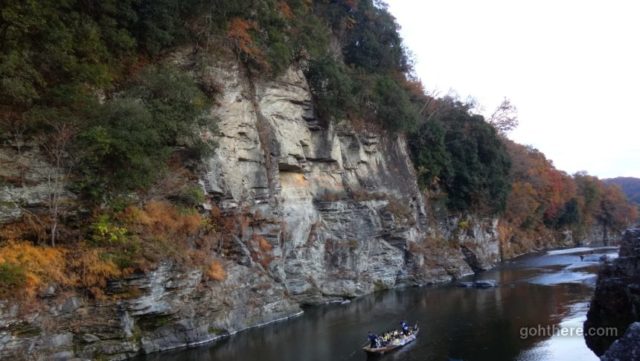 Spotted a boat doing the "A course".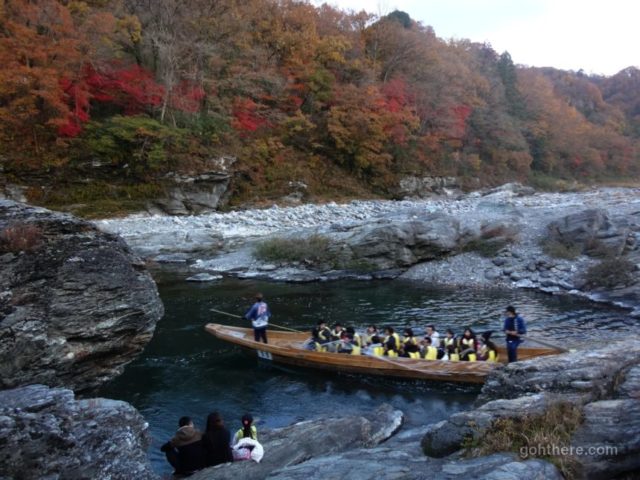 And another one.
Tsuki no Ishi Momiji Park (月の石もみじ公園)
Certainly worthy of its name, there were red leaves all around!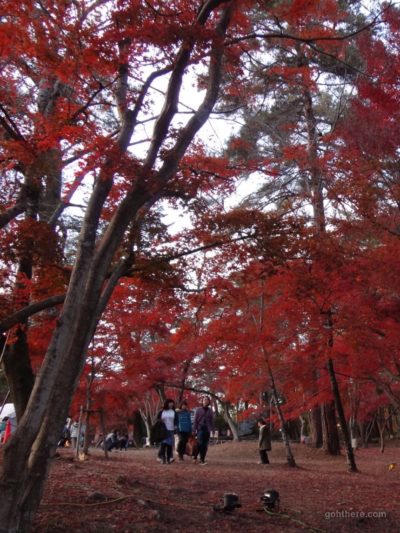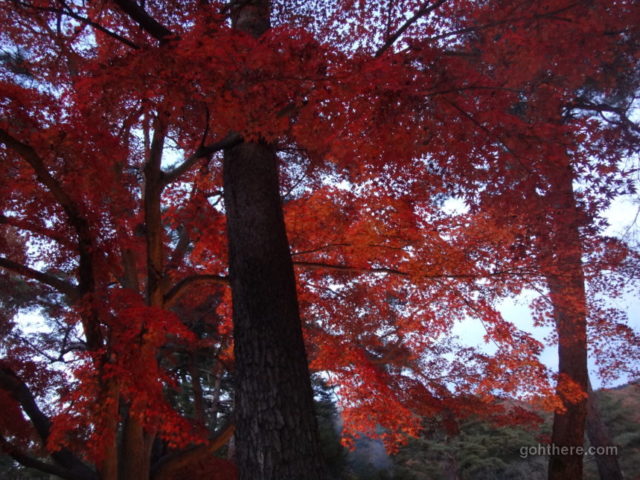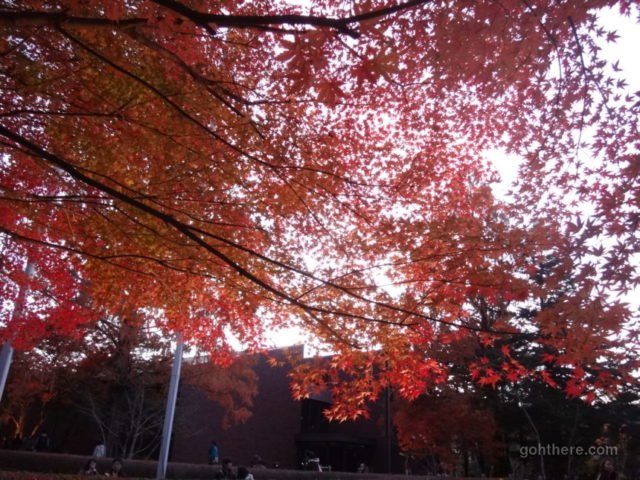 There's a museum next to the park.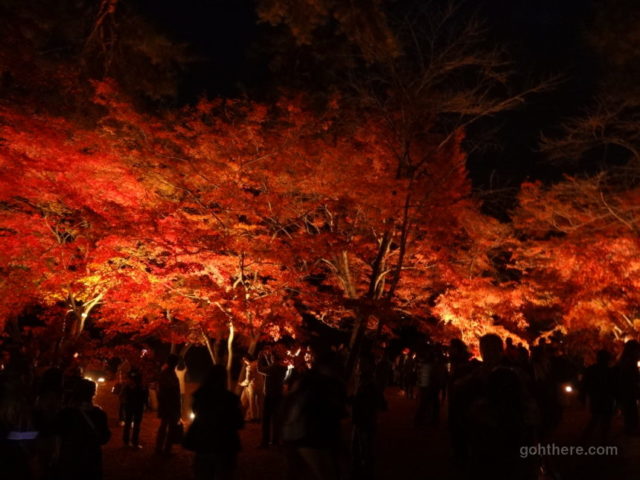 More people arrived at the park as the lights went up. This was only 5 pm, it became dark pretty early in winter.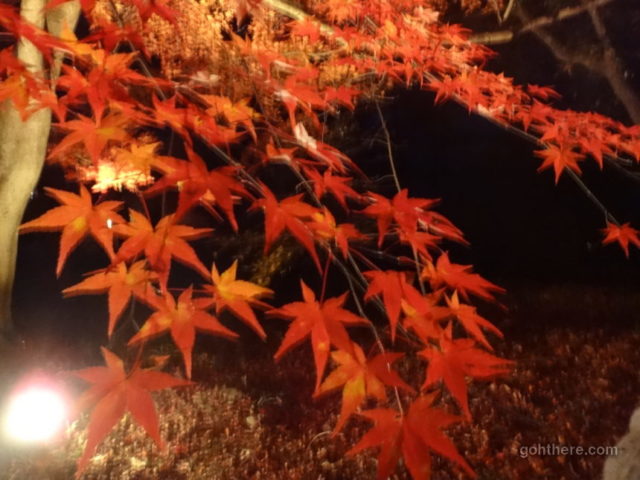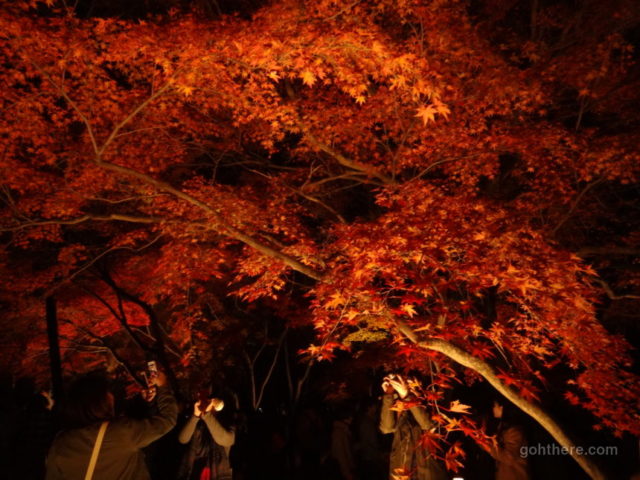 Everyone taking photos with their phones!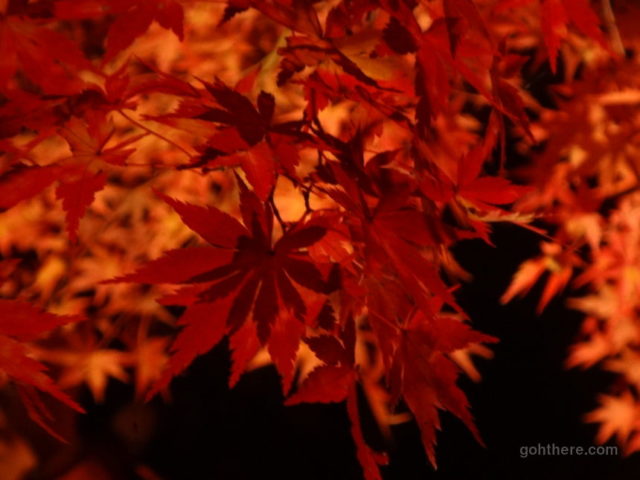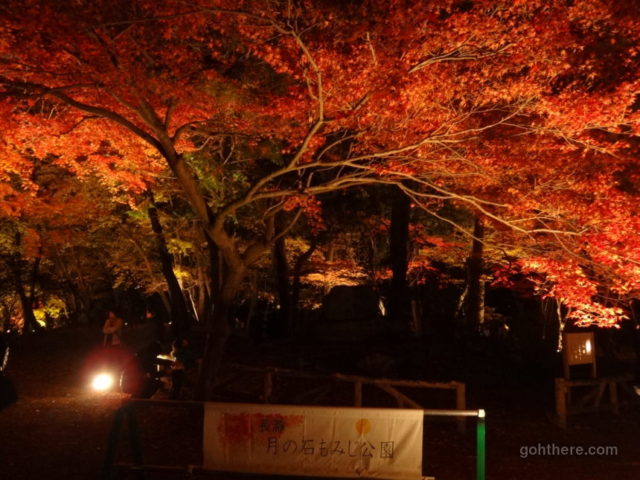 The closest station from the park is Kaminagatoro (上長瀞); we got a bit hungry so we decided to take one stop to Nagatoro to get some snacks first before leaving. As this was a fairly big event with lots of visitors, there were plenty of temporary street lights in the area.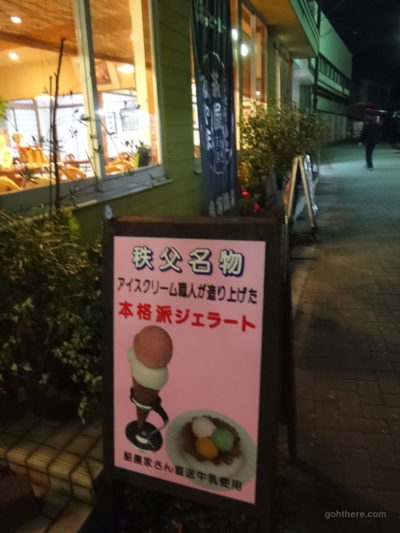 Yes it's cold, but couldn't miss out on local-made gelato.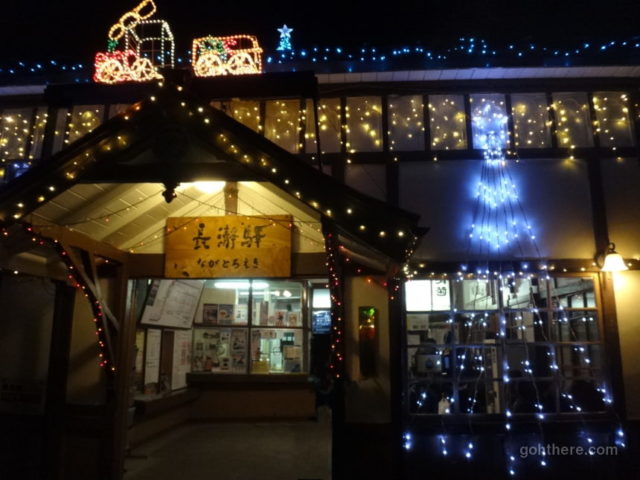 Nagatoro Station decorated with Christmas lights.