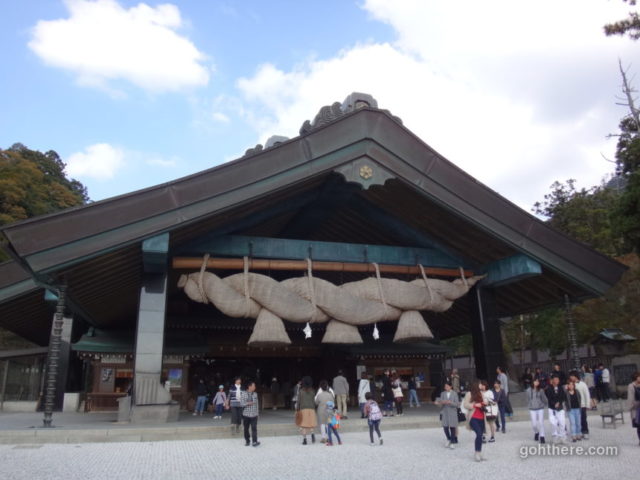 It's already the final day of our trip! After travelling in Tottori for the past two days, today was for Shimane prefecture (島根県). In fact we only had until around 4 pm, so time was definitely tight, but at least we had wanted to pay a visit to Izumo Grand Shrine (出雲大社), which is one of the most important shrines in Japan.
This shrine is particularly popular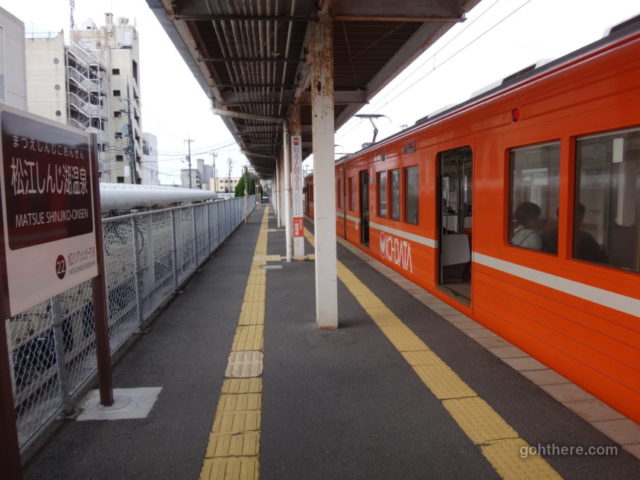 The quickest way to get from Matsue to Izumo Shrine actually isn't by train from Matsue JR Station (as there is no direct train), but first taking a local bus there (about 20 minutes) to Matsu Shinjiko Onsen station (松江しんじ湖温泉駅), for the Ichibata Railway, which has direct service (or require one change) to Izumo Shrine, taking about an hour.
If we had time, another option I would've liked to try was to do part of the journey by bicycle. Ichibata Railway is very bicycle friendly, with rental cycles available in many stations and they allow people talking cycle onboard – this might be the norm in like the UK but definitely not in Japan. For that option, we would take the Ichibata Railway from Matsue City (松江市) station and get off at Ichibata-guchi (一畑口), and from there cycle for around 30 km to reach Izumo Shrine. Based on the information I had found there's some good cycle tracks along the lake. May be next time.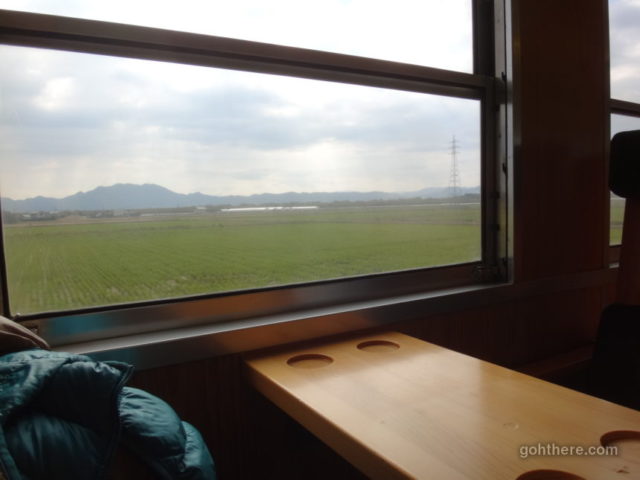 Views of rice fields on the way.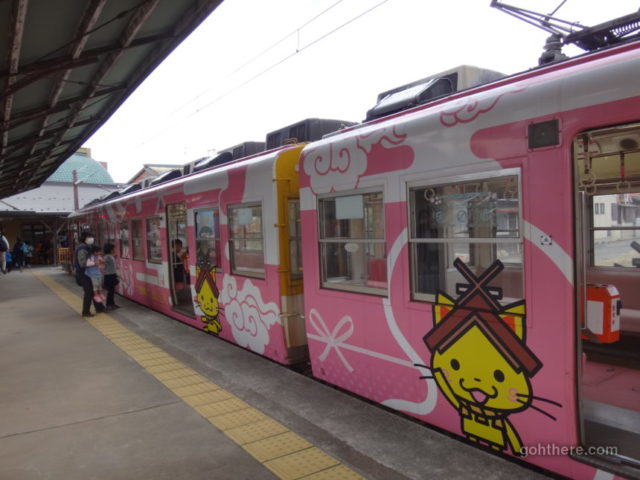 On this occasion we had to make one change at Kawato (川跡), and our next leg was on this train with the Shimane prefecture mascot Shimane-ko (しまねっこ). Neko is "cat" in Japanese, and it's hat represents the roof top of Izumo Shrine – as you'd see later.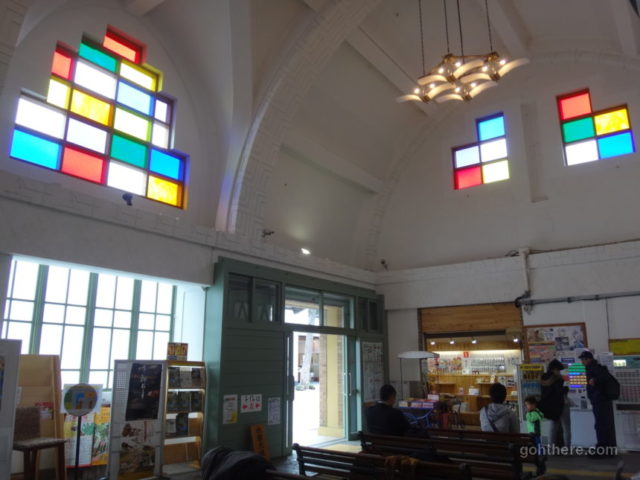 The Izumo Taisha Mae station (出雲大社前駅). For some reason its designed like a western church.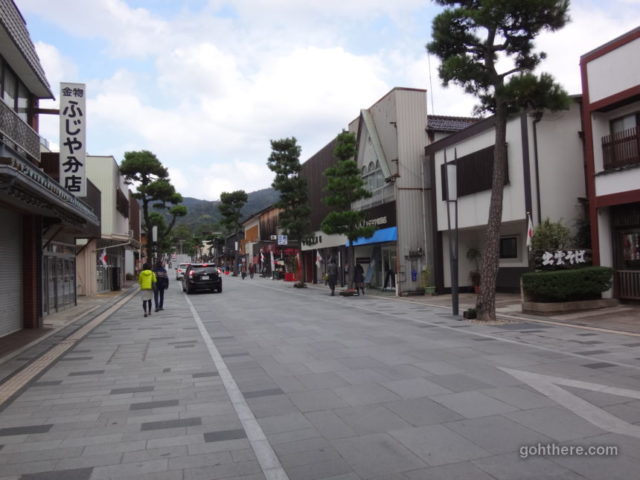 Stepping outside the station, this main road leads straight to the shrine. It's lined with plenty of shops and restaurants, but we'd leave them for later.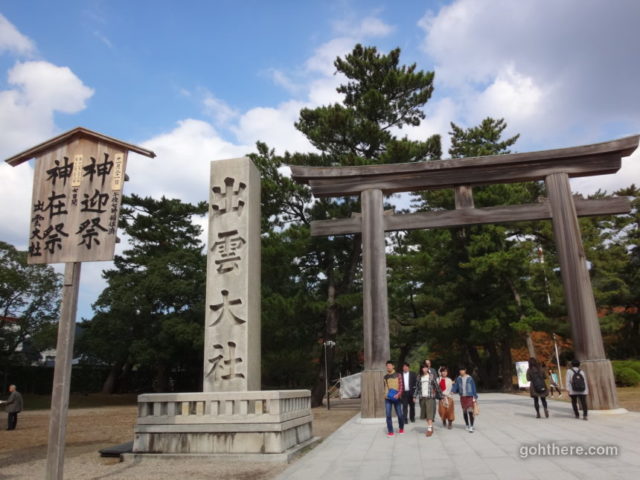 The main entrance of Izumo Shrine.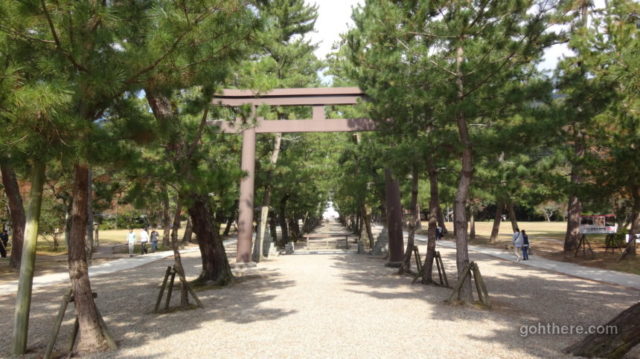 It's said that the middle path is for the Gods. We should walk on the left or right.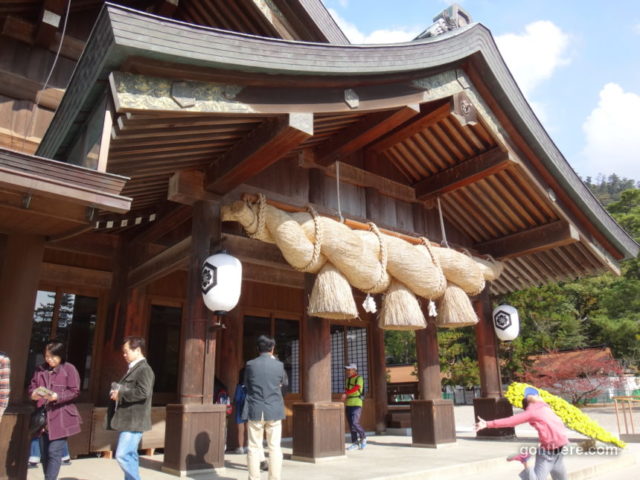 The front hall (拝殿). The kind of twisted rope, called shimenawa (注連縄), like the one hanging on the top here, is often used in the shinto religion for protecting a sacred place. But such a thick shimenawa is a signature of Izumo Grand Shrine, so we took some time admiring it.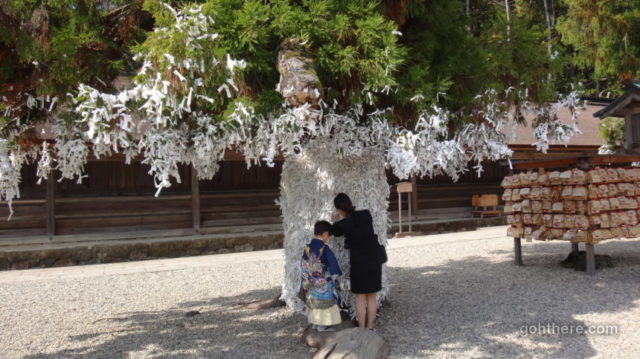 Fortune slips from worshippers covering the tree.
Izumo Shrine is particularly popular with people wishing to get married, as it is the place of worship of the deity of relationships – Okuninushi no okami (大国主大神).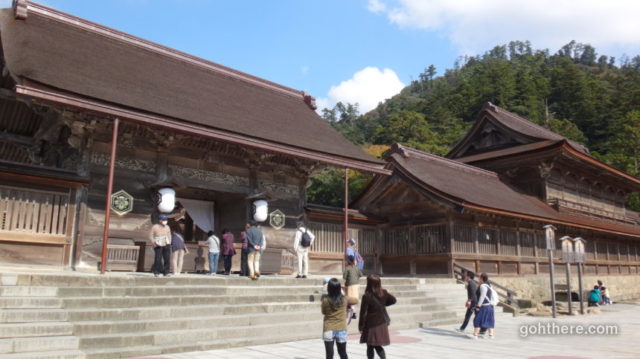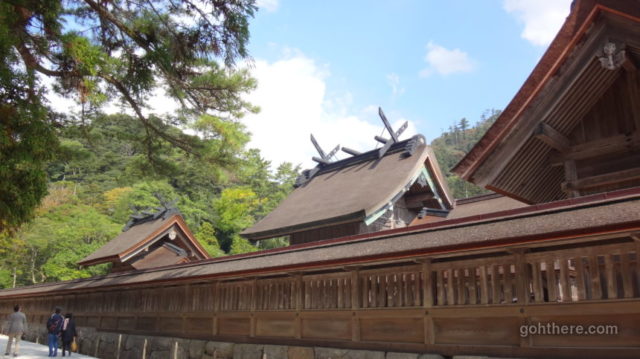 Admission is required for the shrine buildings (including the central hall (御本殿)) inside this enclosed area. It costs something upwards of 5000 yen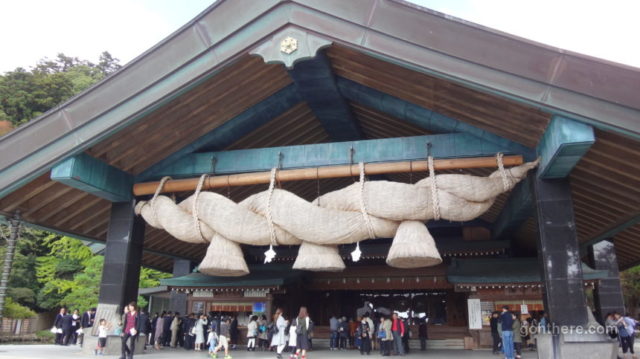 And then we realised the shimenawa (注連縄) rope we saw earlier in the front shrine was nothing – this one at the Kagura hall (神楽殿) was so much bigger!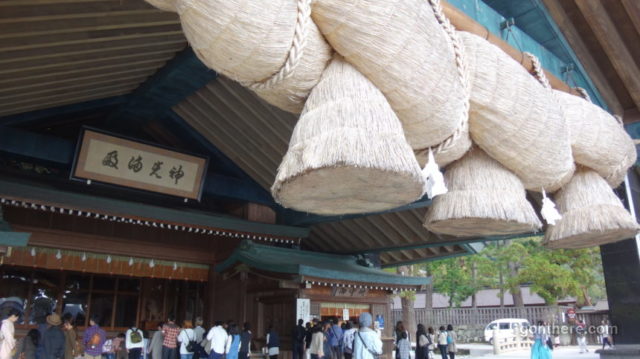 It's huge – the people underneath seemed small in comparison.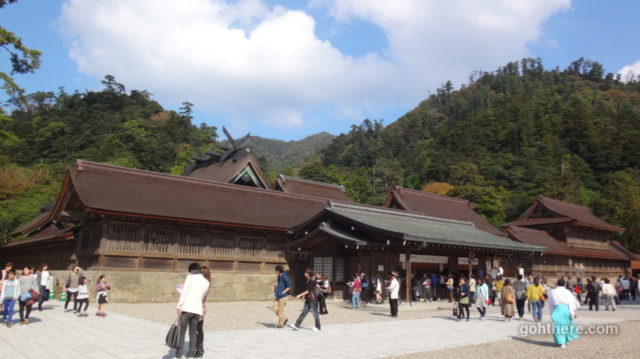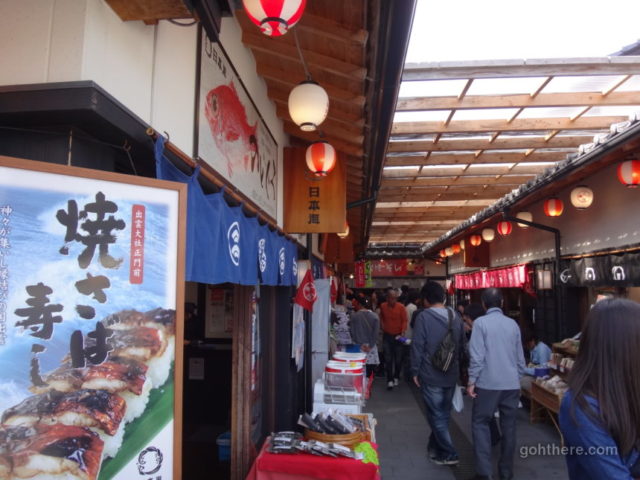 Leaving the shrine complex, it's time to check out the many shops outside.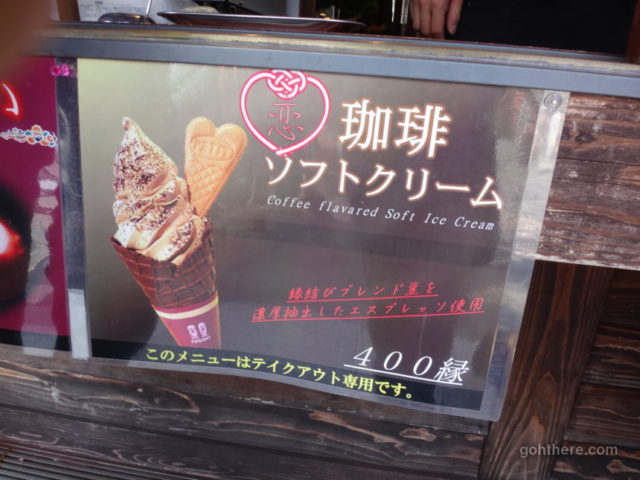 Not a particularly local food, but this coffee ice-cream looked tempting.
It's interesting to see that the prices here instead of using the normal kanji character (円) for yen, it uses a different character with the same pronunciation meaning bond/relationship (縁).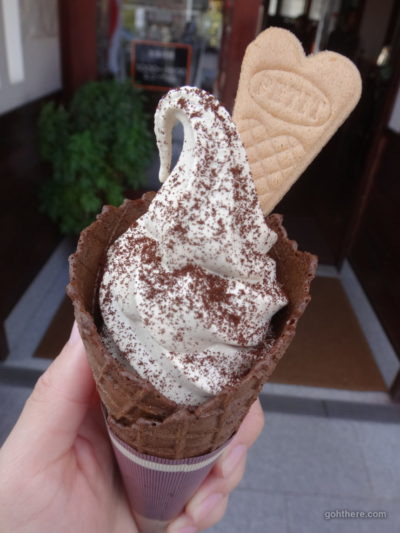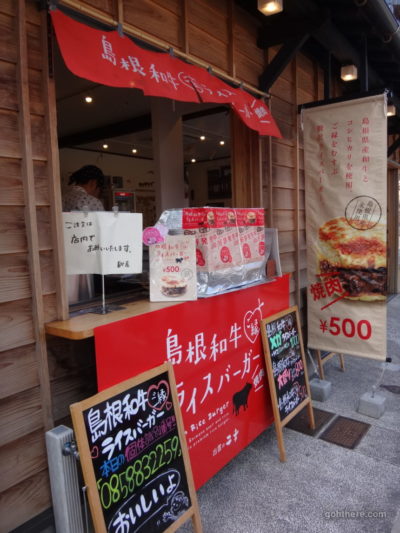 For something more local, we had rice burgers with local Shimane beef (島根和牛ライスバーガー) from this place.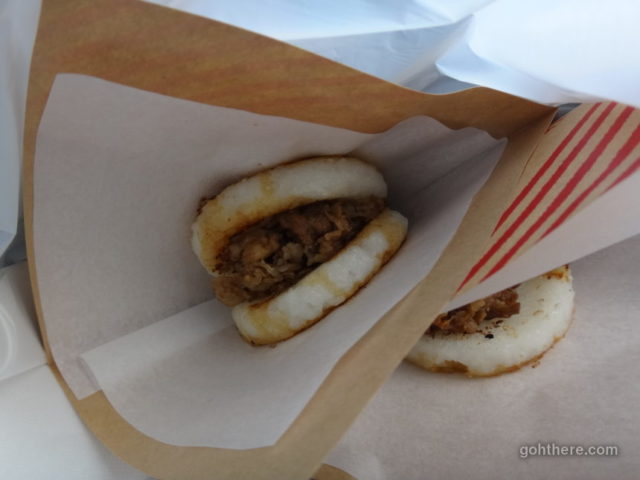 Size was pretty small – just a snack.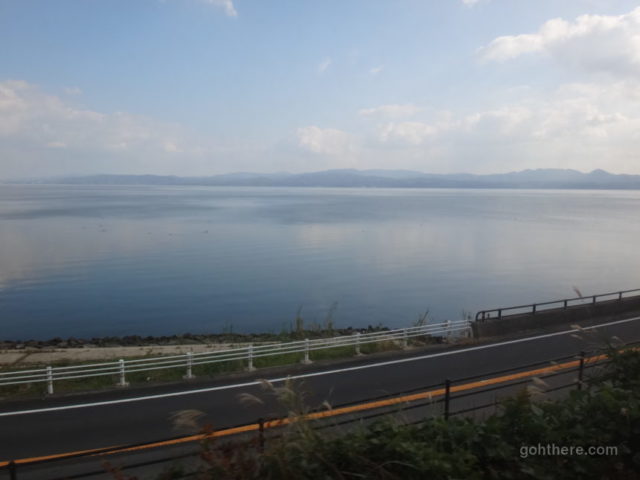 We left by train again heading back to Matsue. This was a good view of Lake Shinji from the train.
I had intended to make a stop to visit the Lake Shinji Natural Museum (宍道湖自然館ゴビウス). It's really an aquarium, and one of those rarer ones that have mostly freshwater displays which I particularly like. But to catch another train later, time would be a be tight, and with some disappointment I gave it a pass.
To fill the few hours we had before our train back home in the afternoon, we decided to visit the Matsue Castle instead, which is near the town centre.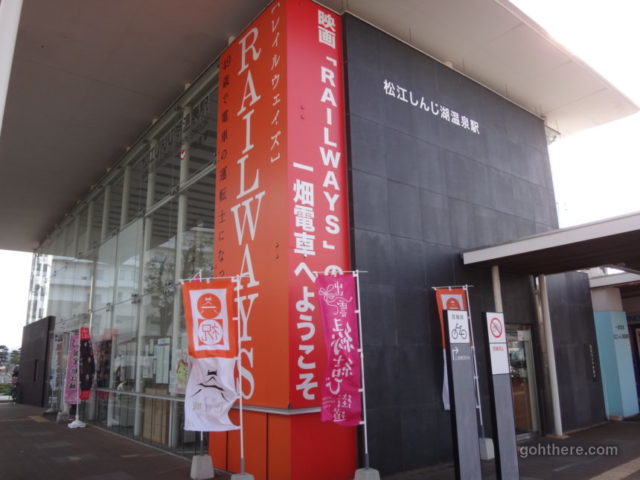 Back at the Matsue Shinji-ko Onsen station.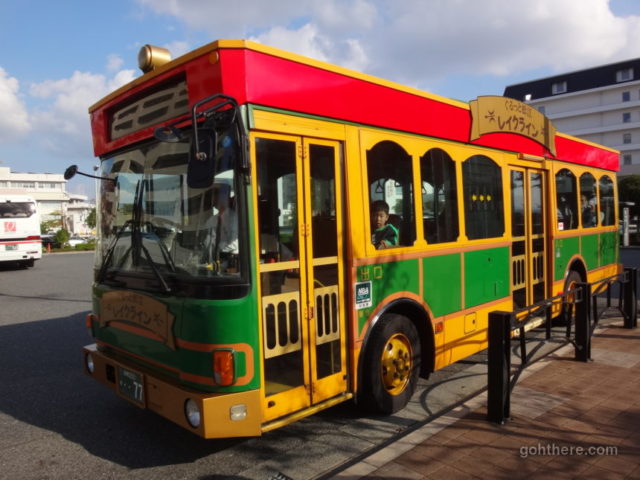 "Gurutto Matsue Lake line" (ぐるっと松江レイクライン) bus. It stops at most of the tourist attractions and main stations in Matsue. Our travel package actually included a day pass of this. We could now use it to go to the castle.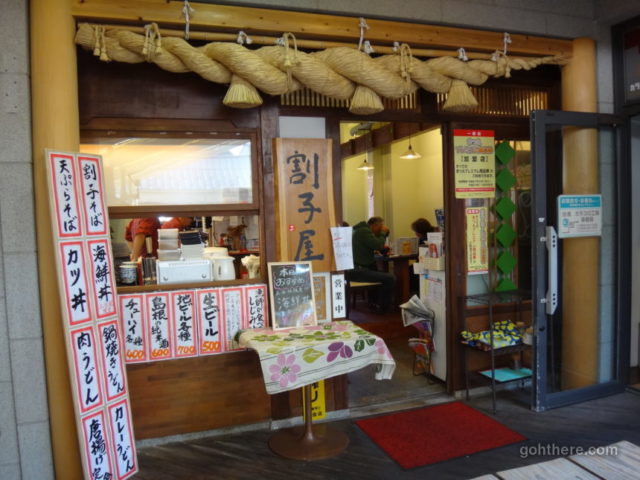 Some eatery on the way. The shop front had that Izumo signature shimenawa rope too.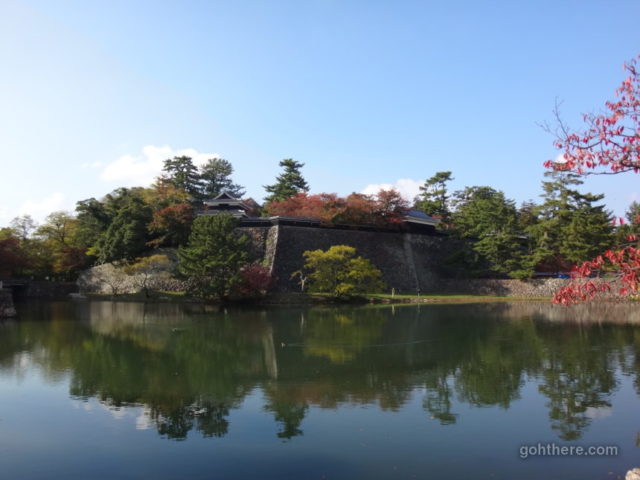 Matsue Castle moat. Decorated with some red autumn leaves.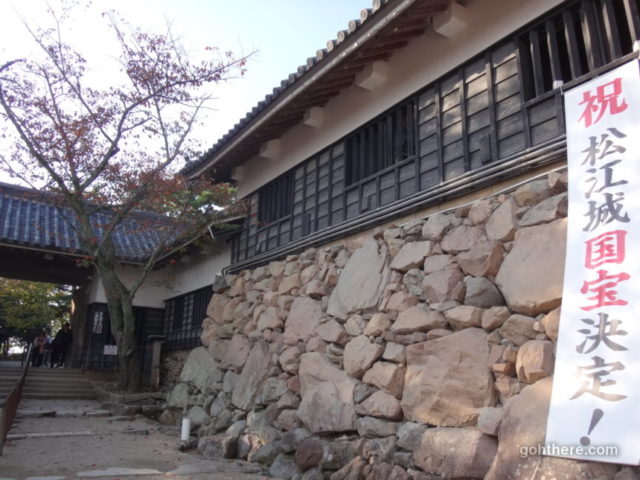 Apparently the Matsue Castle was recently designated as national treasure (国宝). There were lots of promotional banners around.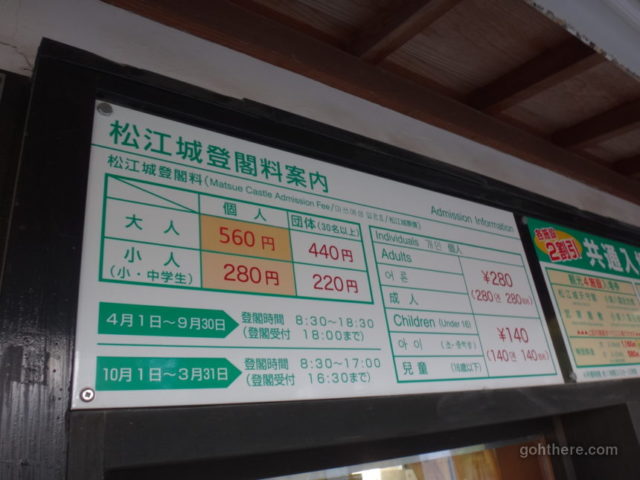 In Tottori 2 days ago I had remarked that bargain 1000 yen taxi plan for foreigners seemed to be quite unfair to the local Japanese; here was yet another strangely unfair pricing – the admission fee for Japanese was 560 yen, but for foreigners was only 280 yen!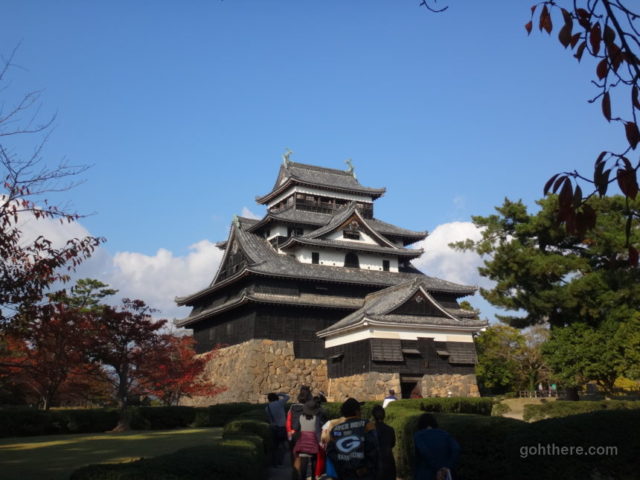 Matsue Castle (松江城) main keep. It's not huge like the famous Himeji Castle, but we liked the fact that it's much less crowded. It's also one of the few castles of which the original wooden structure remained intact, unlike for example the Osaka Castle which was completely rebuilt in concrete.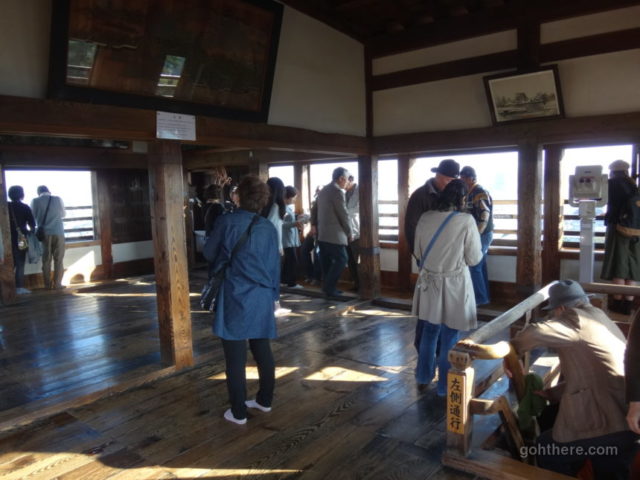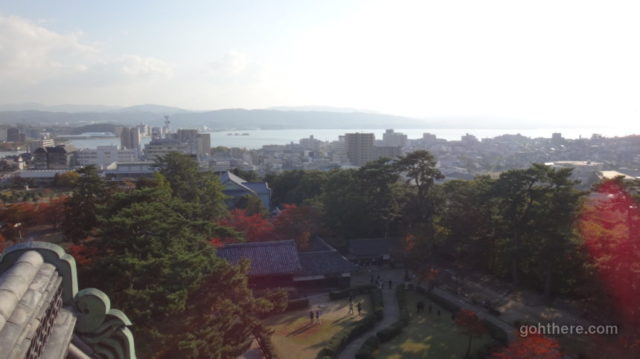 View from the top. Lake Shinji (宍道湖) visible in the distance.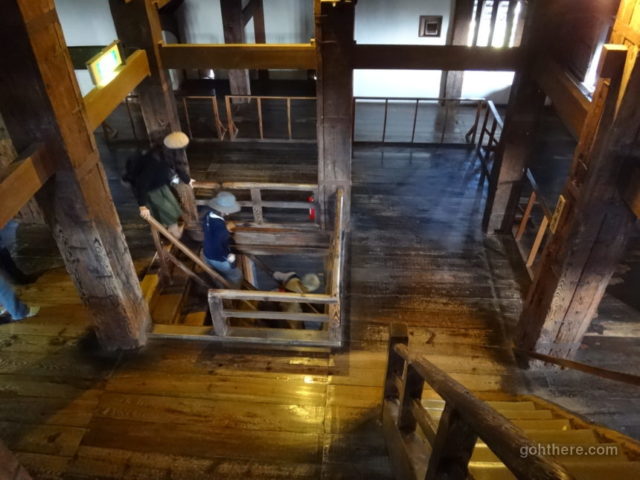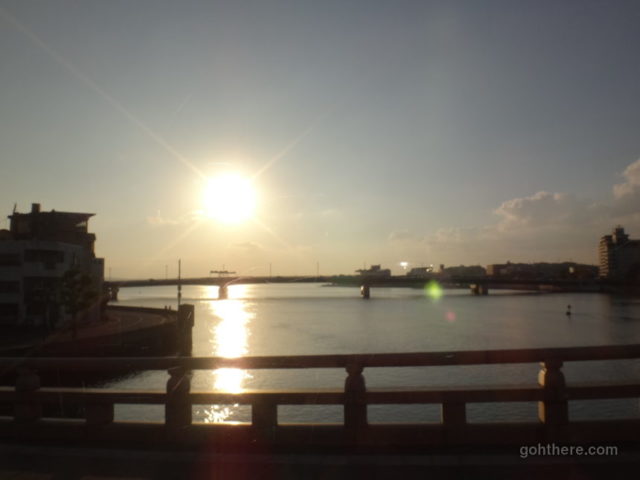 We left in a bit of hurry to catch the bus to the train station for our 5 pm train. The sunset over Lake Shinji is another famous attraction, but we could only enjoy it on the bus.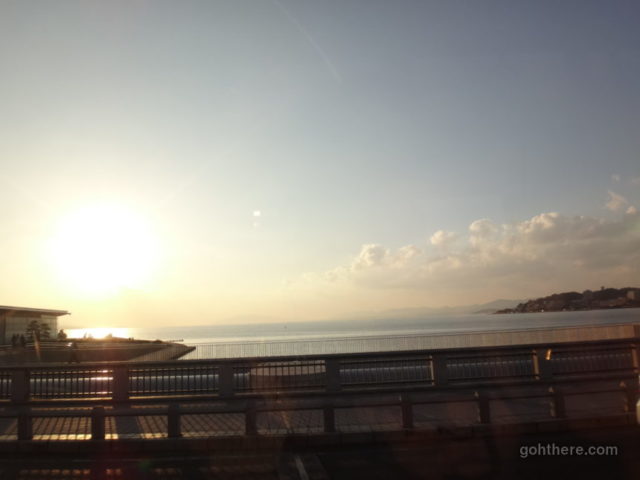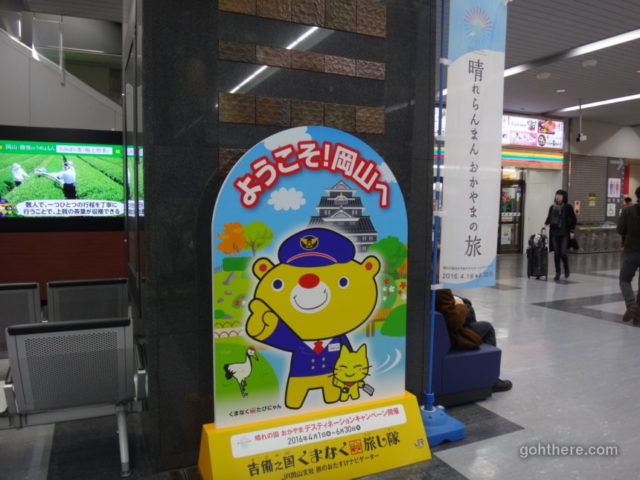 It's a fairly long train journey back – express train for about 2.5 hours to Okayama (岡山), and then change to Shinkansen to Tokyo. By the time we were home it's almost midnight.
As usual we wished we had more time as 3 days were certainly not enough to cover the region!